6Uploads
2k+Views
623Downloads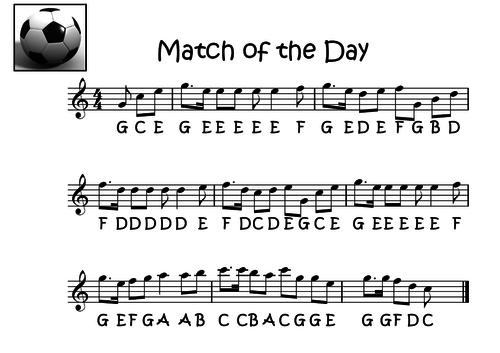 Four differentiated pieces of Music for a Year 7's introduction to keyboard. The pieces encourage good hand position and are supported with video tutorials. Each piece has a 'synthesia' video with suggested finger numbers for students to use as an 'unstuck', and each piece has notation with and without letter names. The Can Can also has a TIF (take it further) activity with the addition of a left hand part.
Harry Potter - Instruments of the Orchestra - differentiated keyboard parts. PDFs and Word documents of the music. Video tutorials to accompany the parts are located here: Musescore files are also available on request as the file type isn't recognised on TES. I teach this as a full classroom keyboard orchestra, with the Griffyndor parts on celeste to start, then changing to flute and bassoon, whilst slytherin plays the string parts etc. The piece evolves with the class that you have in front of you.
A complete resource for KS3 based on Yellow Submarine by The Beatles. This download will include separate sheet music to both the verse and the chorus, that clearly identifies the hand positions for the students. There are separate video tutorials for the verse and the chorus. I encourage the students to try and learn these prior to the lesson (flipped learning), even if they have a go at playing it on an app. The assessment criteria I use is included along with individual videos to model what the work should look and sound like. I also include how I ask the students to set up their keyboards, I print this on the back of the assessment criteria which I then laminate A5 size. For the assessment: F = Foundation (2-1 band) D = Developing (4-3 band) S = Securing (6-5 band) E = Emerging/Excellence (9-7 band) The Youtube playlist for the videos is [ https://www.youtube.com/playlist?list=PLC5e5KnGpHKo5j6iEHzZpNEfCz_p3Z9ID]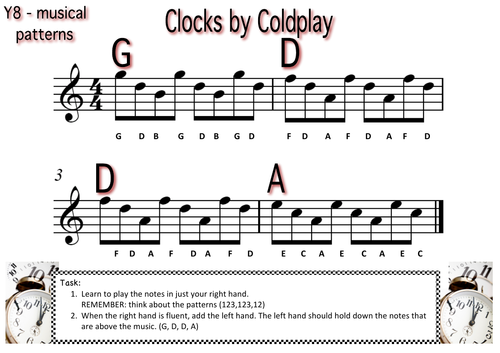 Y8 resource for learning about riffs. The students use the notes above as individual bass notes or in octaves, not as chord symbols. Hence the D and not Dm.
Silent Night - ukuleles, 4 differentiated parts I teach all year 7 students Silent Night in four parts on ukulele in preparation for the Year 7 Christmas Concert. Parts are differentiated by band/target level. A YouTube video linked below clearly demonstrates how to play the most difficult part. This was so successful that last year we had about 50 students perform it in the concert - obviously we do not have 50 departmental ukuleles - the students enjoyed this so much that many bought their own ukuleles. The music corridor was full of students practising their parts every break and lunchtime for weeks! [https://www.youtube.com/watch?v=jdvwk94sbbU]
Für Elise - differentiated resources for Y8 - keyboard. Complete with worksheets, synthesias and videos of the sheet music playing.