<Just Teach!>
Welcome to my page. I hope you find my resources useful. Thank you for taking a look at them!
11Uploads
129k+Views
79k+Downloads
Welcome to my page. I hope you find my resources useful. Thank you for taking a look at them!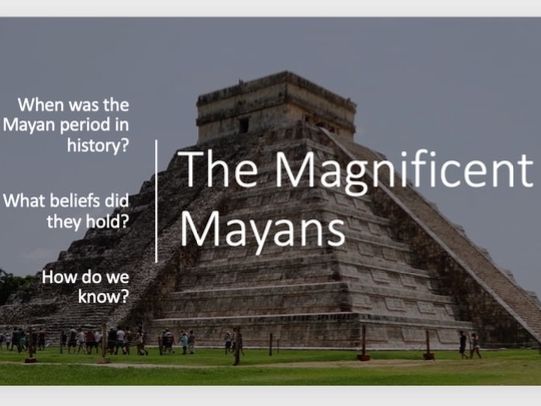 This PowerPoint challenges pupils to think like historians with an introduction to the fascinating topic of the Maya or Mayans. These are the key areas covered over two (possibly more) lessons: Lesson 1 where the Mayans originated the Mayans today how we know about the Mayans - exploring sources and reliability a detailed timeline, and sorting activity which can be displayed or done as an outdoor measured timeline to give a sense of time and distance from present day Lesson 2 using sources to research the main gods of the Mayans and presenting research to others comparing sources to look at reliability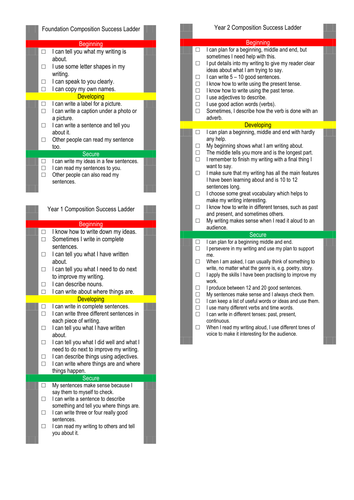 This resource helps with writing assessment across the primary phases from Foundation to Year 6. This is a set of writing assessment ladders for Foundation to Year 6 pupils. The content is based on Age Related Expectations in Writing for National Curriculum 2014. There are also statements based on the current Foundation Stage requirements and statements taken from previous L6 descriptions to cover pupils who exceed Year 6 A.R.E. Statements can be used to set targets and monitor progress of pupils in writing. They could be stuck into books and used as success criteria for writing. The ladders cover Spelling, Handwriting, Composition, Vocabulary, Grammar and Punctuation for all year groups. These are then broken down into Beginning, Developing and Secure to enable progress tracking.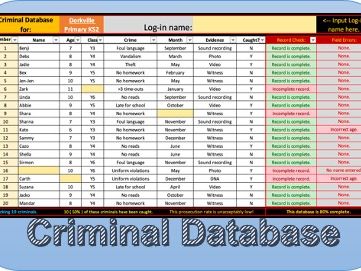 This self-guided series of lessons is based around a database of school criminality - missing homework, incorrect uniform, lateness and foul language. A shocking collection of crimes against school rules awaits investigation. Pupils manage their own learning with step-by-step tasks where they learn the language of databases, how to edit data, validate information and run queries. The lessons become increasingly sophisticated, culminating in the pupils using filters to sift through information and finally to them creating their own database of criminality, learning how to control lists, parameters and devise their own queries for their friends to try out. This fun, irreverent sequence of lessons is a contained in a fully locked-down Excel document - so you can't break it by accident! At the end of the course, pupils are awarded a certificate as proof of their new detective status.

These 9 games can bring a bit of fun to meetings, assemblies and class to class links within school and beyond. This free compendium of games contains: *- noughts and crosses (3 versions) hand man (2 versions) 20 questions co-ordinates treasure hunt connect four maths bingo* AND IT'S FREE!

Introduce the fascinating world of arrays across school with this resource. This set of PowerPoints helps pupils to move from concrete materials, pictorial depictions to more abstract and varied calculations. As pupils become more adept, they will begin to see patterns, various calculations and connections. You can ask them to prove, explain and convince you about their interpretations of each array. Great for: developing discussion, explaining ideas, linking concrete to pictorial and bridging on to a more abstract interpretation. Each PowerPoint presents ten challenges for pupils in Years 1 to Year 6 with increasing depth. Variation is built in with arrays presented as objects, counters and in various orientations. Each set of arrays has tips, examples and sample answers to exemplify reasoning that might be developed. Great for staff training and development, mastering the four number operations, fractions and arithmetic. Requires PowerPoint. Works best with PowerPoint 2016 onwards (uses the Morph transition - but works fine without it).

Explore the patterns that arise when two dice are thrown - ONE MILLION TIMES! Pupils can explore the probability of scoring different totals on the two dice and also record their own dice throws on this macro-enabled spreadsheet. They are encouraged to explain what they are finding as they throw the two virtual dice. Inspire your pupils with this fun probability experiment and witness the awesome power of the computer as it throws, totals and plots the graph for two million dice throws.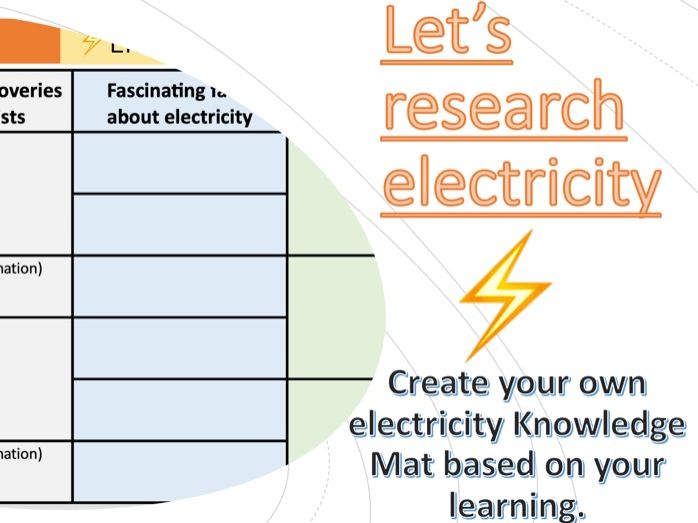 This is a quick freebie of a template for a knowledge mat / knowledge organiser for KS2 Science, learning about Electricity. You can fill it in yourself or ask pupils to complete it over the course of several lessons.

Get your pupils ready for the Multiplication Tables Check with this handy resource. 100 random times tables (with an answer sheet). 100 random division facts (with an answer sheet). A times tables and division facts certificate from x2 to x12 to encourage pupils to collect the set. You can set different time limits for each calculation and it will work out how long the pupil has in total. Set the highest x table that is tested e.g. test up x6, instead of up to x12. Also, you can test any x table - beyond 12. A great homework activity. Requires Microsoft Excel.

This free resource is a sequence of lessons to introduce Cuisenaire Rods as a means to gain fluency with fractions, equivalence and extend fractions learning into money and measures. Pupils are set a range of challenges to create fractions with their Cuisenaire Rods. There are plenty of opportunities for reasoning, explaining and being creative in finding solutions.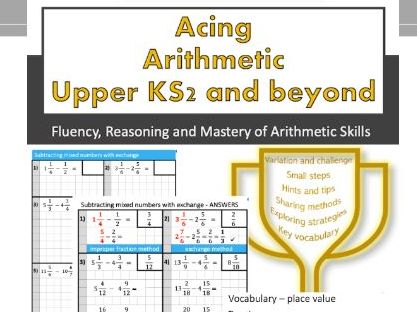 Acing Arithmetic is a complete book of daily arithmetic lessons aimed at pupils in Year 5 and Year 6 (and beyond!) spanning 30 sessions (27 skills sessions, plus 3 tests). Each lesson is based around a key skill from the end of KS2 arithmetic test, with modelled answers, explanations and detailed ideas on how to take the learning futher. Templates for creating your own tests or homework are supplied in PDF and PowerPoint (editable) formats. There is a section on lesson planning and an exploration of vocabulary used in the lessons, including ideas for using models and images to support the small steps in learning. The PDF document has hyperlinks to each section for ease of navigation around the contents. Acing Arithmetic will help your students (and you!) to hone your skills with the trickier aspects of number, facing the increasingly difficult challenges with increased confidence! (The lessons are fully photocopiable, too.)

A comprehensive set of precise models and images to support mathematical thinking and reasoning activities. Develop pupils in using materials to explore mathematical concepts with this range of models and images - all linked to White Rose Maths models and images commonly found in their schemes of learning, from Years 1 to 6. Build your maths working wall by manipulating and then printing the slides you need to create puzzles, examples, prompts and explanations. Introduce a topic and ask pupils to use manipulatives to show you the focus value, or to represent the model on the screen with their materials. Start the week with a focus value and create variations of it using the models in this presentation. This set of precise, editable, printable PowerPoint screens includes manipulatable models for: Introducing a number / focus value of the week Whole part models as a bar model and circle (sum) model Place value charts and counters for: HTO TH H T O . t h TM M HTH TTH TH H T O . t h th Tens frames and counters in two colours for 10, plus more frames for brindging 10, plus variation in orientation (vertical and horizontal) Fraction walls: With and without labels Facilities for finding equivalents More exotic fractions, such as sevenths, ninths, twentieths Two fraction walls side-by-side to explore improper fractions and equivalence Percentage wall Decimal wall 0 - 10 number line - you can edit the labels to make a negative number line 0 - 20 number line - editable Venn diagram with labels Carroll diagram with labels Notes and ideas are included for each slide. Please note: you may need to zoom out of the slide to see all of the parts which are included. TOP TIP: keep a master copy of the slides to ensure you have a pristine set to start each new topic with!