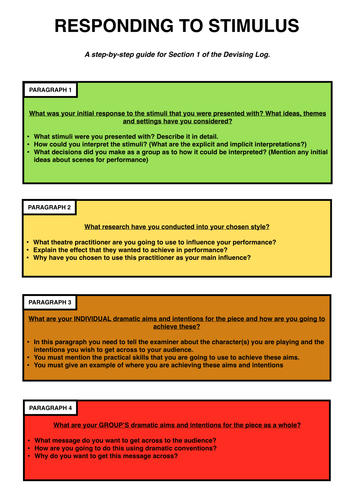 This is a resource pack based around the Devising Log in Component 2 (Devising Drama). I have gone through and broken the exemplar answers provided by AQA into sections and given ideas as to how a student may wish to structure their work. I found this very useful, personally, in understanding what needed to be within each section and have used it to inform my planning for the year ahead. I hope you find it of use.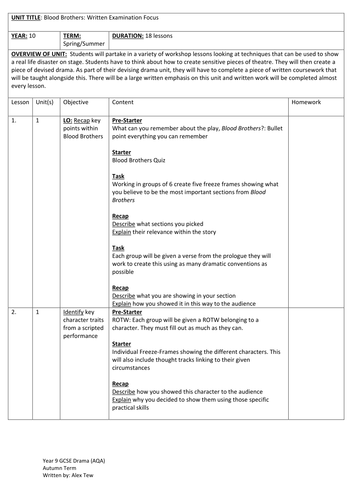 This is a series of lesson plans for teaching Blood Brothers for the new AQA GCSE Drama. It includes exploring the play practically as well as writing alongside the specimen exam paper. You will receive a lesson by lesson guide to how it can be taught at GCSE. I hope you find this useful!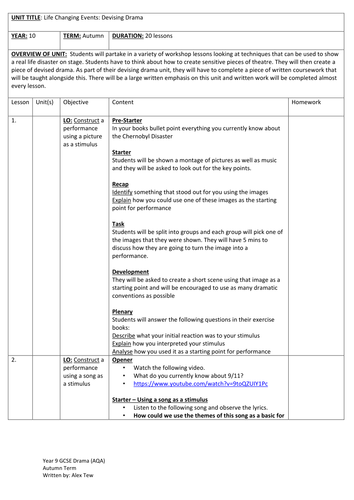 This is a lesson by lesson guide to completing the Devising Drama Unit. It includes a selection of workshop lessons and then structured coursework lessons with written plenaries linking to the written coursework. There are no PowerPoints or resources included just a series of lesson plans. I hope you find them useful!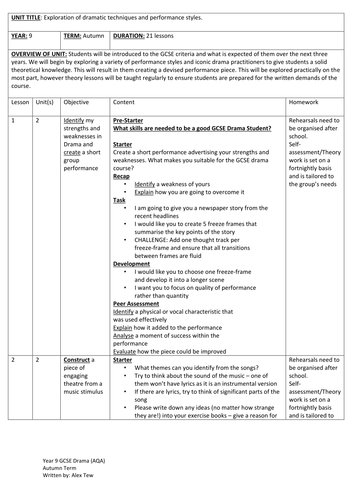 This is a unit of work that I used to introduce GCSE Drama. This includes a selection of lessons that give students the skills needed to be successful later on in the GCSE course. I have taught this for two years now and it has been very successful. I hope you find it useful!
Bundle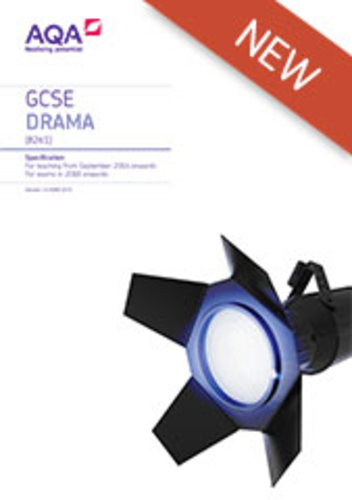 This bundle includes the following items that I will be using to teach the new Grade 1-9 AQA GCSE Drama course : Introduction to GCSE Drama Scheme of Work Blood Brothers Scheme of Work Devising Drama Scheme of Work The 39 Steps Scheme of Work AQA GCSE Drama Devising Log Resource Pack AQA GCSE Drama Practical Assessment Display I hope you find these resources useful!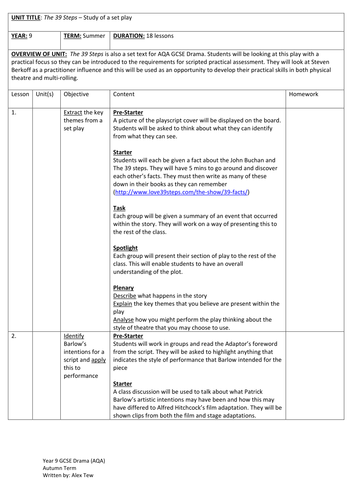 This is a unit of work designed to introduce students to the text, The 39 Steps. The 39 Steps is now listed as a set text for AQA GCSE Drama and this will guide students through the requirements of the exam. It is a mostly practical based unit but with strong written links. I hope you find this useful!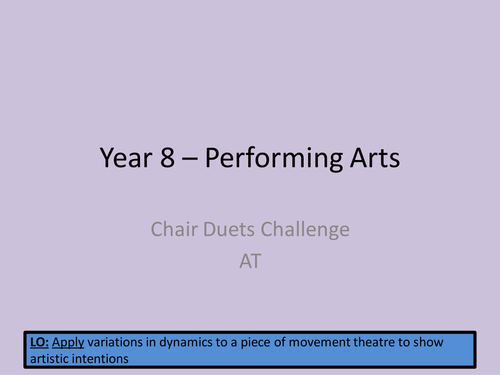 This resource includes a one lesson PowerPoint where students will create a chair duet for Frantic Assembly's Chair Duet Challenge. A link to more information about the project is below: https://chairduets.franticassembly.co.uk/ This lesson enables students to make a basic sequence and add variations in dynamics to improve their performances and make them more engaging for their audience. I'd recommend teaching this to KS4 and KS5 Drama students.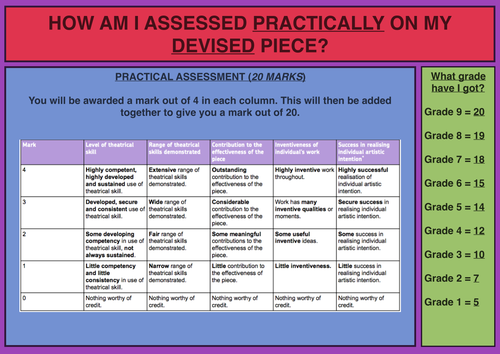 Two display posters showing how the new GCSE Drama 1-9 specification is assessed in practical performance. This also includes an estimate for new grade boundaries (using the ones that are currently used). I currently use these as displays in my classroom, however, I will also be sticking them into students' exercise books. It is a handy guide for a Drama teacher looking to get ahead and gain an understanding of the new specification.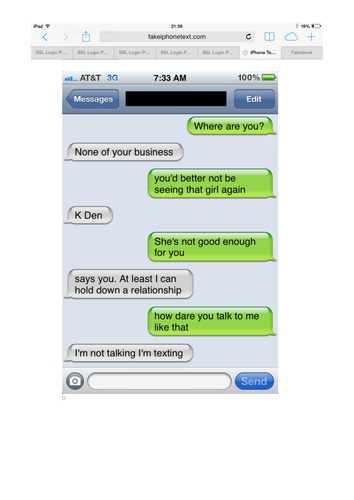 This lesson is designed for students to begin to think about the given circumstances of characters in certain situations. As they enter they are placed in a crime scene where somebody has been murdered. They have three separate "investigation stations" to visit where they must record their findings and assumptions on to their character profile sheet: 1. A text message found on the victim's phone 2. The victim's Facebook Profile 3. Objects found at the crime scene I normally split them into three groups and they rotate. Once they have gathered their information they need to create a reconstruction of events for the BBC. This lesson enables students to think about different scenarios and make decisions that could impact on devised performance. There are strong links to identifying given circumstances but also to devising from a stimulus. Students love this lesson and it is one of my favourites to teach, as it also has strong links to what they need to use to create performance work.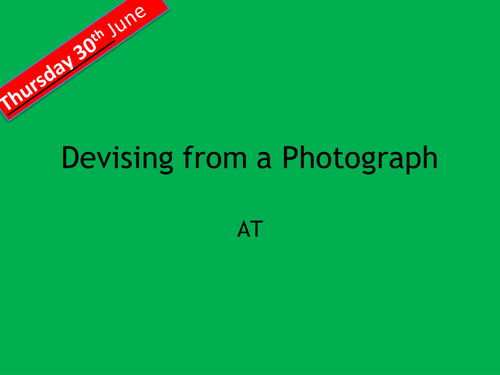 This lesson is designed to give students a variety of skills for devising from initial ideas and then looking in depth at a photograph. It shows them how to focus in on small sections of photograph and think about what their characters' given circumstances could be. I currently teach this lesson to Year 9 and Year 10 GCSE Drama, although it could be adapted to be used at lower school or A Level if needed.
This is an abridged version of William Shakespeare's A Midsummer Night's Dream. I used this version for my school production and the running time was approximately 60 mins. It still includes all of the key moments and phrases that an audience want to see in performance. The performance of this script was a great success.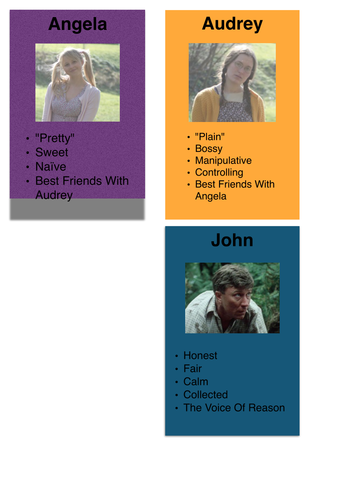 This is a selection of character profile cards that can be used for Blue Remembered Hills. The characters included are: Peter Willie Raymond Donald Angela Audrey John These can be used as revision resources or as part of a charades based game testing students on their application of physical characterisation skills. My students have found them good fun and they have helped to make revision engaging for their scripted unit.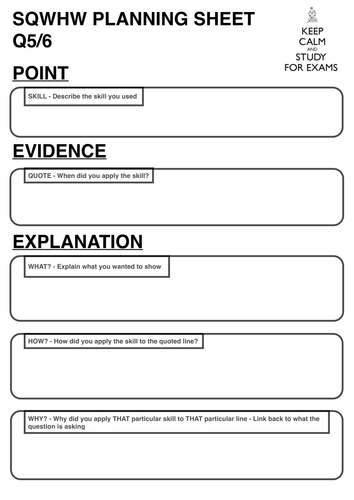 A planning sheet used, mostly for Section B, for students to ensure their examples are documented in enough detail. It forces them to think in detail about what they have done, how they have done it and why they have done it. I use this in lessons leading up to the written exam so students have a range of revision resources to use and memorise before their exam.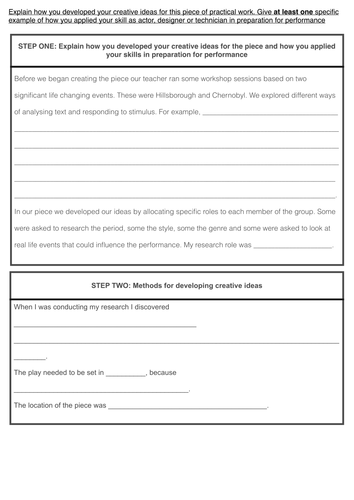 A variety of scaffold sheets to assist in the teaching of the GCSE Drama Written Exam. They have been based on questions from the 2011, 2012, 2013 and 2014 exams. Each sheet works for students that struggle to break the question down. These have been created alongside the mark scheme to ensure all key points are included in their answers. I have found them to be a very good starting point when students are completely blank.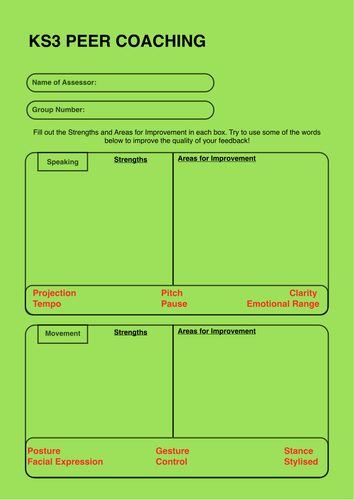 This sheet is given to students when they are peer reviewing performance work. It splits it their feedback into vocal and physical characterisation and has a selection of key words that they can be encouraged to use in their feedback. I currently use this when teaching Year 7 and 8 Drama at KS3 but could be used for older students.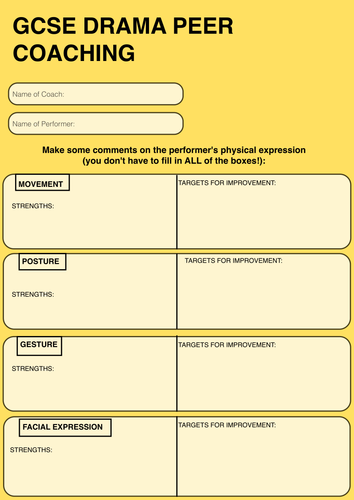 This is a double sided worksheet that I used with my GCSE Drama students. A sheet will be given to a student who is watching somebody else's performance. They will use it to inform the feedback they provide. The key words all link to physical and vocal characterisation and it has been made with the intention of getting students using key words verbally so they are easily transferred over to their written work. I currently use this when teaching the AQA GCSE Drama course.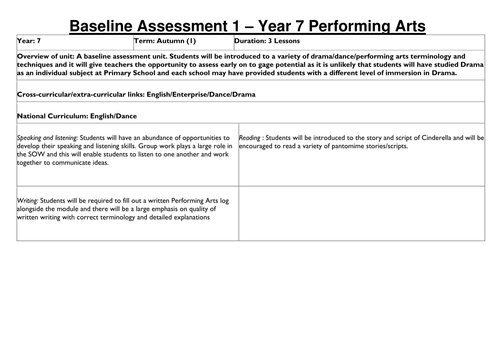 This is a very episodic scheme that I am currently using with Year 7 to introduce them to Drama and some of the basic skills needed to progress. \n\nIt is still a work in progress but hopefully it comes as some use to some of you!