67Uploads
24k+Views
11k+Downloads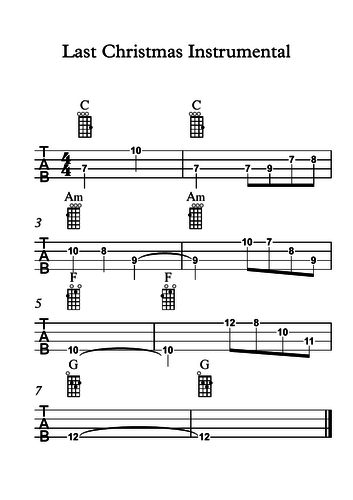 This arrangement of Last Christmas by Wham includes chords, lyrics and instrumental in tablature for Low G ukulele, and a copy for re-entrant tuned ukulele. pdf's are the same as sibelius files
A collection of progressive melodies from learning ukulele tablature step by step. Some have second part for teacher to accompany students. melodies range from Bach to Ed Sheeran, Folk to Reggae, Theme tunes and riffs.
Complete suite arranged beautifully for ukulele by court musician of Louis XIV and XV. Some of the movements, such as prelude and minuet 1 are suitable for relative beginners, none of the pieces are harder than grade three. The renaissance lute and early guitar music transposed well to ukulele and the overall sound is surprisingly authentic. A little gem of a suite.
A good way to teach Rondo form through a fairly simple practical activity. Provided in Sibelius 3 format
A collection of christmas tunes, traditional carols, classical music and popular music arranged for Ukulele Ensemble Includes: Good King Wenceslas Jingle Bells In Dulci Jubilo Stop The Cavalry Troike Lara's Theme We Wish You A Merry Christmas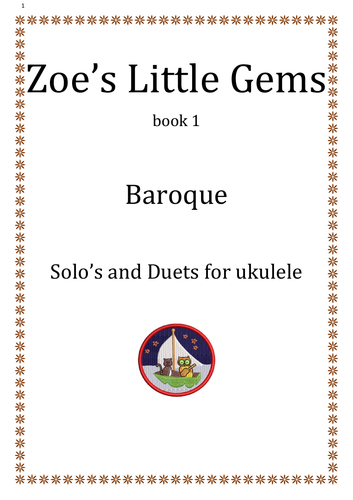 Collection of five PDF's covering music from Baroque, Classical, Romantic and Twenty Century musical period, + a fifth collection of operatic aria, again arranged as ukulele duets. The music is in tablature and is colour coded, melody in blue (for the student) and accompaniment in re (for teacher). The booklets also contain pictures and a brief bigraphy of each of the compsers.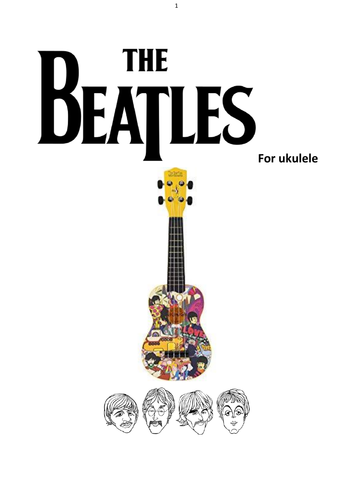 This lovely collection, with the exception of Here comes the Sun, has all songs in original keys. these include chords, lyrics, and riffs and instrumentals as tablature. ability range intermediate. Norwegian Wood 2. Eight Days a Week 3. Day Tripper 4. We can Work it Out 5. Girl 6. Maxwell's silver Hammer 7. Help 8. I Saw Her Standing There 9. With a little help from my friends 10. Something in the Way She Moves 11. And I Love Her 12. Here There and Everywhere 13. If I Fell 14. Michelle 15. Here Comes the Sun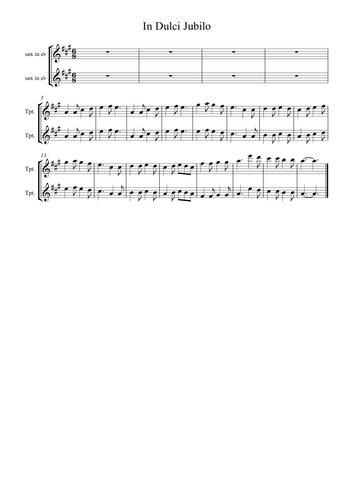 In Dulci Jubilo instrumental for School Ensemble, this fabulous, uplifting arrangement is based on Mike Oldfield's version and includes electric guitar solos.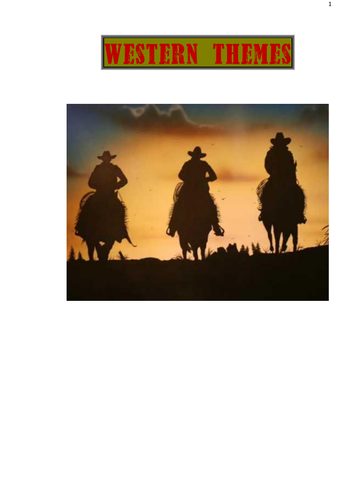 Collection of ten Western Themes, from film and TV arranged for ukulele (with tablature and chord windows) and also standard notation for use with other instruments. Sibelius files and some audio files also attached. Alias Smith and Jones Apache Big Country Bonanza Ghost Riders in the Sky Good the Bad and the Ugly High Chaperal Magnificent Seven Rawhide Virginian
Ukulele solos in both tablature and standard notation with chord symbols for intermediate players. includes: • Aint Misbehavin' • Fly Me To The Moon • I Got Rhythm • Somewhere Over The Rainbow • Stormy Weather • Sweet Georgia Brown • Take Five • The Girl From Ipanema • What A Wonderful World • Yes, My Darling Daughter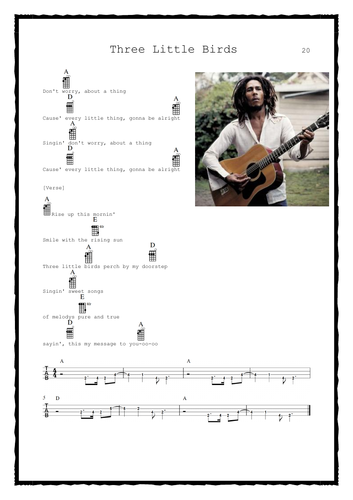 Arrangement of Bob Marley's "Three Little Birds" for ukulele's. Chords, and riff and bass-line in tablature, key of "A".
Beautiful, and simple arrangement of this jazz classic for solo ukulele with low g.
Learn to read for guitar, string by string. A selection of simple tunes and riff introducing the notes on the stave.
This slideshow illustrates playing the ukulele from complete beginner through to some classic standards, including George Formby, Tiny Tim and Duelling Banjos. There are detailed slides on how to read chord windows and tablature. The slides are amusing, colourful and use minimum text for ease of use.
Here is a bundle of all of the Christmas Ukulele resources that I have uploaded so far.
Three very different collections of guitar music