66Uploads
22k+Views
10k+Downloads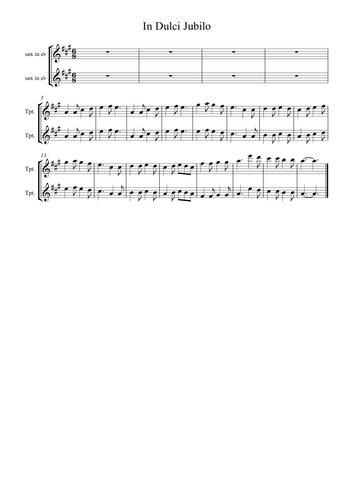 In Dulci Jubilo instrumental for School Ensemble, this fabulous, uplifting arrangement is based on Mike Oldfield's version and includes electric guitar solos.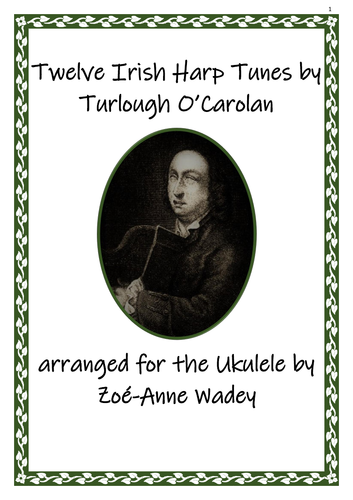 Turlough O'Carolan, (1670 – 25 March 1738) was a blind Celtic harper, composer and singer in Ireland. Carolan is considered by many to be Ireland's national composer. These arrangements are for ukulele with low g string, intermediate level. 3 Blind Mary 4 Brighid Crius 5 Carolan's Receipt for Drinking 6 George Brabazon 7 Hewlett 8 James Plunkett 9 John O'Connor 10 Lady Athenry 11 O'Carolan's Concerto 12 Planxty fanny Power 13 Planxty Irwin 14 Sí Bheag, Sí Mhór
Ten fairly easy tunes in tablature and standard notation with chord windows, includes: Brosna Slide Butterfly Foxhunter's Jig Irish Washerwoman Lark In The Morning Lilting Fisherman Mooncoin Jig Sacows Saint Patrick's Day Smash The Windows
A collection of ten well known Christmas Carols arranged for solo ukulele. These play best on a ukulele with a low g-string, but can be played in re-entrant tuning. Includes: Good King Wenceslas In The Bleak Midwinter I saw Three Ships Jingle Bells O Little Town Of Bethlehem See Amid The Winter Snow Silent Night Tomorrow Shall Be My Dancing Day We Three Kings We Wish You A Merry Christmas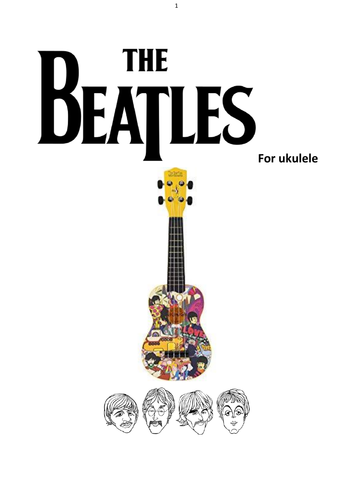 This lovely collection, with the exception of Here comes the Sun, has all songs in original keys. these include chords, lyrics, and riffs and instrumentals as tablature. ability range intermediate. Norwegian Wood 2. Eight Days a Week 3. Day Tripper 4. We can Work it Out 5. Girl 6. Maxwell's silver Hammer 7. Help 8. I Saw Her Standing There 9. With a little help from my friends 10. Something in the Way She Moves 11. And I Love Her 12. Here There and Everywhere 13. If I Fell 14. Michelle 15. Here Comes the Sun
Twenty fairly easy solos for ukulele in notation and tablature, with some chord diagrams. Includes classics such as Somewhere over the Rainbow, Ode to Joy and La Cucaracha
Including Basin Street and stormy Weather, these ten classics are ideal for intermediate player
A good way to teach Rondo form through a fairly simple practical activity. Provided in Sibelius 3 format
An amusing collection of short solo ukulele arrangements in notation and tablature by classical composers; Beethoven, Bizet, Grieg, Delibes, Dvorak, Mozart, Ponchielli, Rossini, Strauss and Tchaikovsky. Ability, grade one and two.
Beautiful, and simple arrangement of this jazz classic for solo ukulele with low g.
A selection of traditional tunes used by the winter dance side Oxblood Molly. This also includes dance cards and some instructions if music to be used for dance. All of these dances can be found on Youtube.
This slideshow illustrates playing the ukulele from complete beginner through to some classic standards, including George Formby, Tiny Tim and Duelling Banjos. There are detailed slides on how to read chord windows and tablature. The slides are amusing, colourful and use minimum text for ease of use.
Collection of solos, accompaniments, classical, pop, reggae and jazz with notation and tablature chord windows. • Study by Küffner • Dancing Pawns by Colin R Tribe • Split Strum • The Bear Dance • The Floral Dance • Sweet Thames Flow Softly by Ewan McColl • In My Little Snapshot Album • When I'm Cleaning Windows - Split Strum • When I'm Cleaning Windows • Somewhere Over The Rainbow • Fly Me To The moon • Give a Little Whistle • Reggae Chords • Three Little Birds by Bob Marley • Uptown Top Ranking • Starman • Tiptoe Through The Tulips • Twinkle Twinkle Little Uke
Fifteen simple pieces for strumming, fingerpicking, accompanying or soloing for first year guitarists Blues: • Twelve Bar Blues • Smokestack Lightning • Bad Luck Blues Chords: • Hallelujah • Mull of Kintyre • The Wild Rover • Looking for my Own Loan Ranger • Bar Chord Sequences for reggae Flamenco: • Gypsy Dance • Malagueña arr Wadey • Malagueña arr. Papas Solos: • Study • Stairway to Heaven • Theme from James Bond
Ukulele solos in both tablature and standard notation with chord symbols for intermediate players. includes: • Aint Misbehavin' • Fly Me To The Moon • I Got Rhythm • Somewhere Over The Rainbow • Stormy Weather • Sweet Georgia Brown • Take Five • The Girl From Ipanema • What A Wonderful World • Yes, My Darling Daughter