57Uploads
19k+Views
9k+Downloads
Here is a bundle of all of the Christmas Ukulele resources that I have uploaded so far.
Ten fairly easy tunes in tablature and standard notation with chord windows, includes: Brosna Slide Butterfly Foxhunter's Jig Irish Washerwoman Lark In The Morning Lilting Fisherman Mooncoin Jig Sacows Saint Patrick's Day Smash The Windows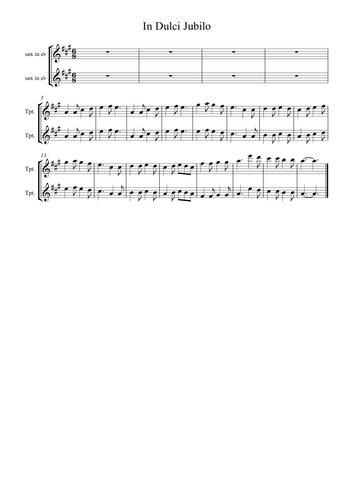 In Dulci Jubilo instrumental for School Ensemble, this fabulous, uplifting arrangement is based on Mike Oldfield's version and includes electric guitar solos.
10 well known Bach tunes arranged for two ukuleles in tablature. Includes classics such as Wachet Auf and Jesu Joy of Man's Desiring.
Complete suite arranged beautifully for ukulele by court musician of Louis XIV and XV. Some of the movements, such as prelude and minuet 1 are suitable for relative beginners, none of the pieces are harder than grade three. The renaissance lute and early guitar music transposed well to ukulele and the overall sound is surprisingly authentic. A little gem of a suite.
A selection of traditional tunes used by the winter dance side Oxblood Molly. This also includes dance cards and some instructions if music to be used for dance. All of these dances can be found on Youtube.
Ukulele solos in both tablature and standard notation with chord symbols for intermediate players. includes: • Aint Misbehavin' • Fly Me To The Moon • I Got Rhythm • Somewhere Over The Rainbow • Stormy Weather • Sweet Georgia Brown • Take Five • The Girl From Ipanema • What A Wonderful World • Yes, My Darling Daughter
An amusing collection of short solo ukulele arrangements in notation and tablature by classical composers; Beethoven, Bizet, Grieg, Delibes, Dvorak, Mozart, Ponchielli, Rossini, Strauss and Tchaikovsky. Ability, grade one and two.
Beautiful, and simple arrangement of this jazz classic for solo ukulele with low g.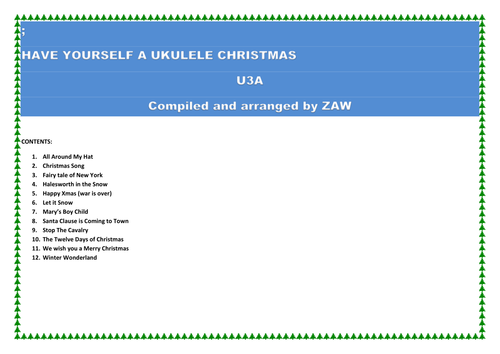 A collection of popular songs arranged for ukulele - including All Around My Hat and Fairy Tale of New York
This slideshow illustrates playing the ukulele from complete beginner through to some classic standards, including George Formby, Tiny Tim and Duelling Banjos. There are detailed slides on how to read chord windows and tablature. The slides are amusing, colourful and use minimum text for ease of use.
Twenty fairly easy solos for ukulele in notation and tablature, with some chord diagrams. Includes classics such as Somewhere over the Rainbow, Ode to Joy and La Cucaracha
Including Basin Street and stormy Weather, these ten classics are ideal for intermediate player