Business and Economics Resources
Mostly A-level and GCSE Business Studies resources for Edexcel.
35Uploads
18k+Views
1k+Downloads
Mostly A-level and GCSE Business Studies resources for Edexcel.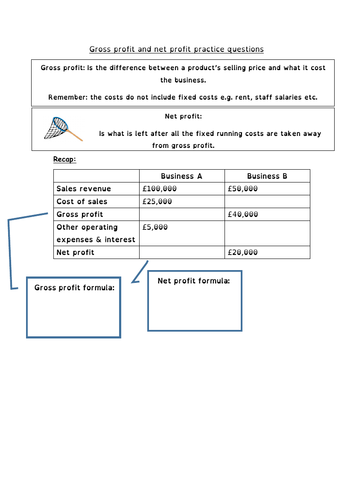 Three worksheets of practice questions: Focusing on Gross and net profit calculation (PLUS teacher copy with answers) Focusing on Gross and net profit margin calculations (PLUS teacher copy with answers) Exam style questions (3 mark, 6 mark, 9 mark, 12 mark) on a fictional business case study.
Written with Edexcel A-level Business Studies topic 1.2.4 in mind. 15 questions practising Price elasticity of demand with a couple of general formula questions at the top as addition.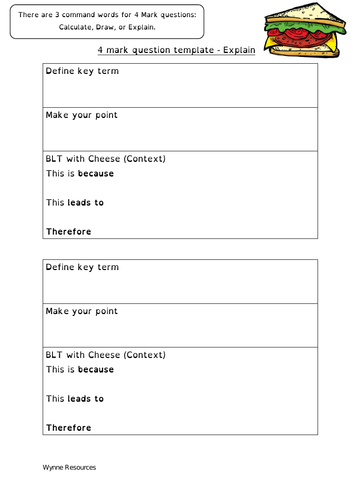 A 4 mark structure guided writing sheet for A-level Business Edexcel Students can use this template to write directly their answer into the worksheet to learn how to best answer the 4 mark questions.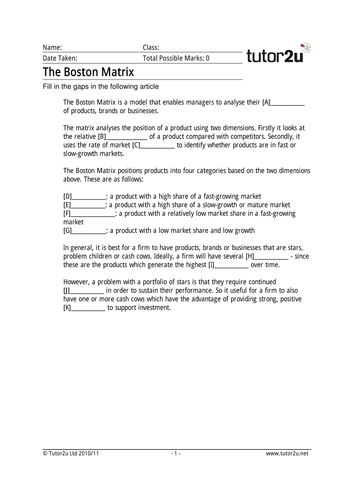 1.3.5 Boston Matrix and product life cycle two whole lessons with activity and work sheet. Alevel business edexcel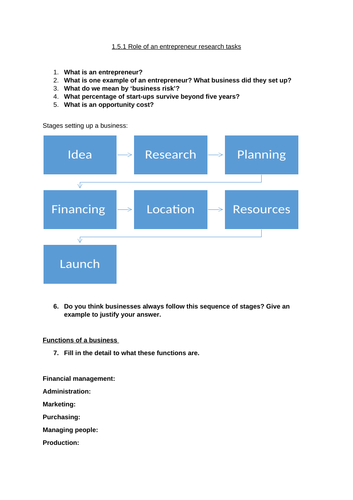 1.5.1 Role of the entrepeneur whole lesson Powerpoint and research lesson (ICT room based lesson). Created for A-level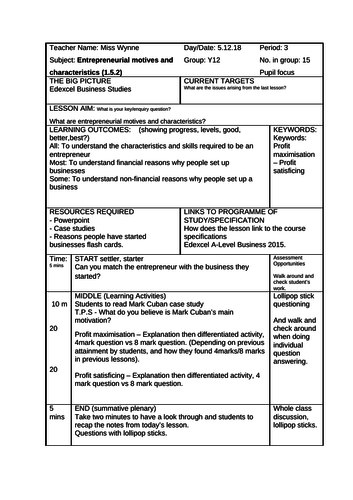 1.5.2 Entrepreneurial motives and characteristics whole lesson powerpoint , lesson plan, activities Planned for Edexcel Business A-level topic 1.5.2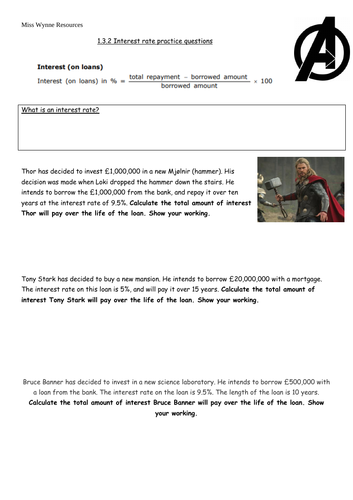 GCSE Business 1.3.2 Interest rate calculation worksheet and answersheet (EDEXCEL) - Avengers themed 1.3.2 The Economy and Business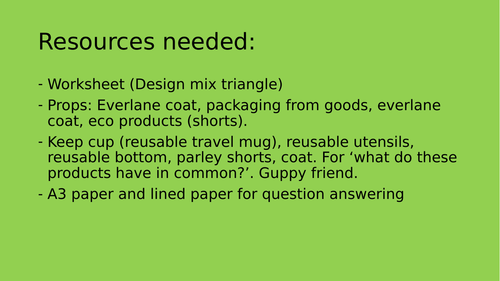 1.3.1. Product Service design for social trends whole lesson A-level Business Education Microsoft powerpoint Worksheet for students to take notes Lesson plan Homework - Branding challenges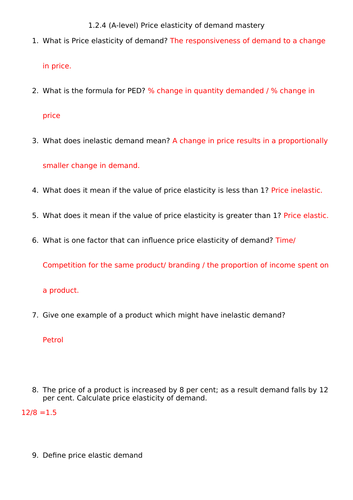 1.2.4 Price elasticity of demand mastery alevel edexcel - 10 question quiz with teacher answers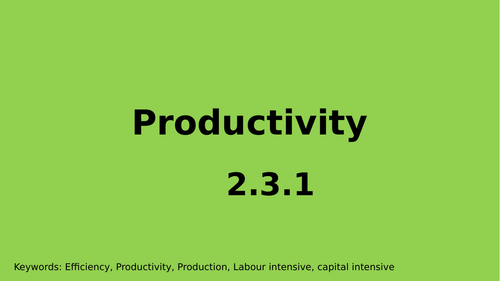 2.3.1 Productivity - Edexcel Economics A-level whole lesson Worksheet, PPT and Lesson Plan Reviews and feedback are welcomed!
1.2.5 Income elasticity of demand Business A-level lesson: Presentation, Lesson plan & worksheet for students to fill in as the lesson progresses, and also YED practice questions. Made with Edexcel topic 1.2.5 in mind for A-level syllabus in the UK. For all my resources I used the font 'OpenDyslexic' which is a free font to download from https://www.opendyslexic.org/ and can be installed on school computers/personal computers. It is designed to be more accessible for those with dyslexia.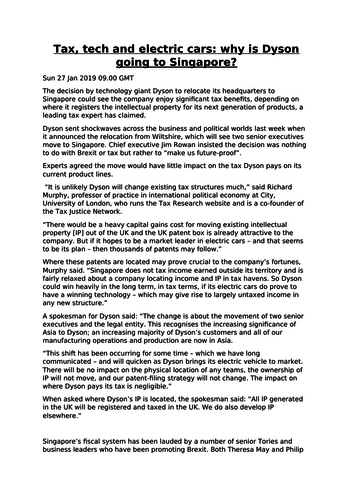 1.4.2 Business Location case study and exam questions Edexcel GCSE 3,6,9,12 mark Edexcel GCSE style questions.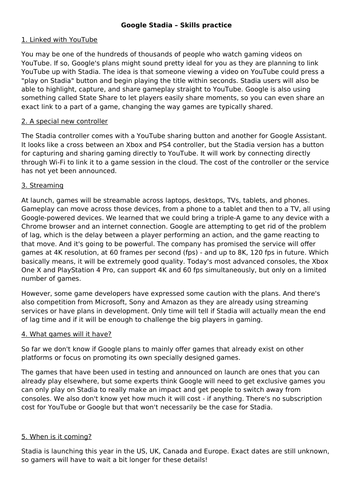 Edexcel GCSE Business Education skills practice worksheet (Google Stadia themed) Comprehension questions based on an article on the new games console Google Stadia. Activities such as summarising large texts and finding context words.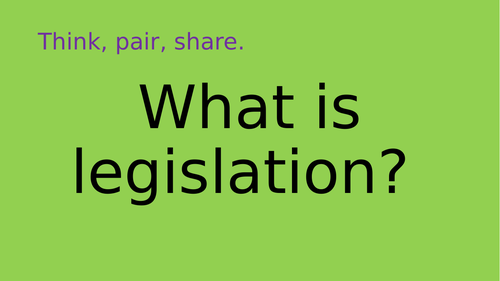 Legislation and business lesson GCSE Business Edexcel (computer room lesson) 1.5.3 Research questions focused around legislation and business.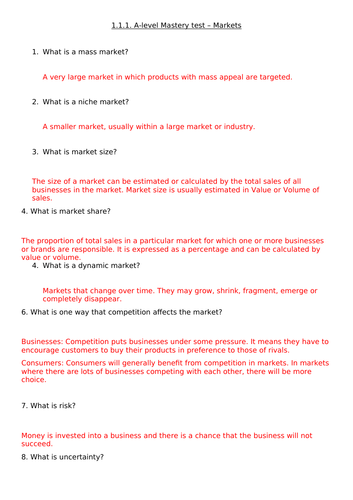 1.1.1 The Market Alevel Business 10 question quiz with teacher copy Edexcel specification
6 lessons based on the theme of Charlie and the chocolate factory . Designed for a varied focus on software for KS3 students. Introduction and chocolate mood board - Publisher software focus Chocolate bar design - Adobe Photoshop software focus Ingredients spreadsheet and recipe - Microsoft Excel focus Sustainability report - Microsoft Word focus Marketing of your chocolate bar - Publisher, Microsoft Word, Movie Maker or Photoshop Launch party planning - Excel & Online research focus
A-level business practice question worksheet for Income elasticity of demand (15 questions) Formulated with Edexcel Business A-level in mind. Edexcel 1.2.5 topic.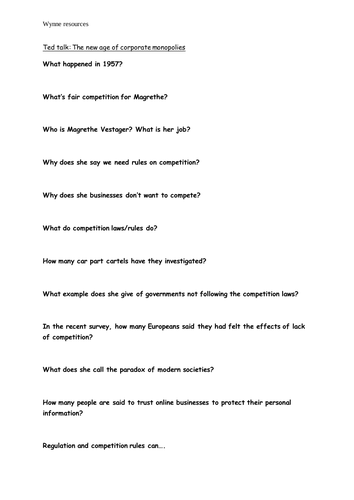 2.5.3 Alevel Business The competitive environment Ted Talk and question sheet activity (EDEXCEL)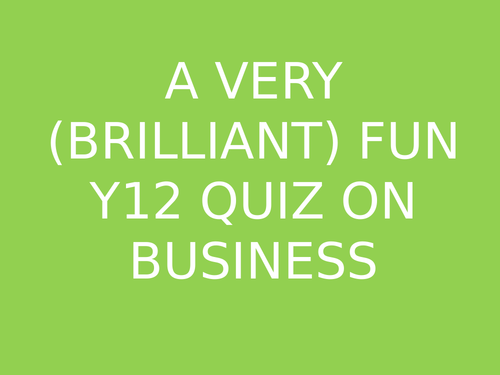 Alevel Business quiz - Business news and subject knowledge (2019) - (EDEXCEL)
Simple worksheet to print and cut up for plenary activity. Simply pose a question to your class, and they must write an answer on their small piece of paper to leave the classroom. You can then see where the areas of development.