thejennii
Engaging, easy-to use, differentiated art resources for happy, busy teachers and highly productive students.
103Uploads
57k+Views
12k+Downloads
Engaging, easy-to use, differentiated art resources for happy, busy teachers and highly productive students.

Use this resource to help simplify the new curriculum levels. We have this stuck in the back of every KS3 students book to serve as an assessment structure, preparing KS3 students for KS4.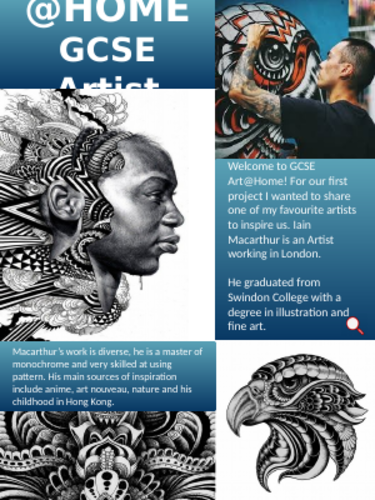 I assigned this to my new GCSE groups so that students could continue improving their drawing and knowledge while at home. A challenging mini unit of work based on Iain Macarthur's animal illustrations (line, pattern, detail etc) that offers choice and includes opportunities to develop a range of technical skills and demonstrate creativity. Organised into the following tasks: -Knowledge -Interpretation -Practice -Inspiration -Final piece My students enjoyed it and the outcomes were decent. I hope your students enjoy it too!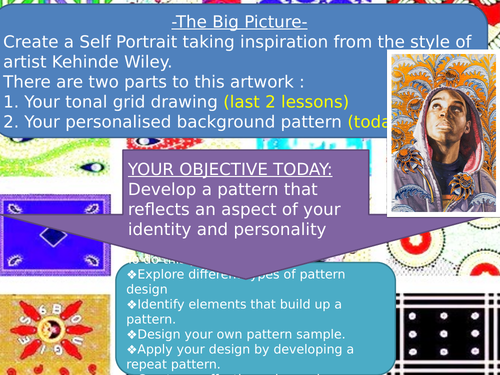 The perfect activity to follow up on a unit on portrait drawing. Use this to have your students developing their own pattern taking inspiration from a variety of sources. Complete lesson with lesson plan & differentiation. Create a Self Portrait taking inspiration from the style of artist Kehinde Wiley. There are two parts to this artwork : Your tonal grid drawing (last 2 lessons) Your personalised background pattern (today) Key words for this project: Pattern, Portrait, Design, Shape, Identity, Personalisation, Repeat, Symmetry, Flip, Reverse, Colour Scheme, Harmonious, Monochromatic, Complimentary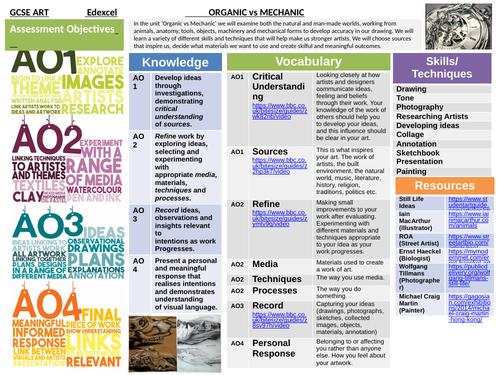 A knowledge organiser for GCSE Art highlighting the key Assessment Objectives, including a breakdown of knowledge, vocabulary, links , art etc. Adapt or use as it is, I'll be uploading more resources very soon to go along with the theme I'm using with my year 10s come September- Organic vs. Mechanic.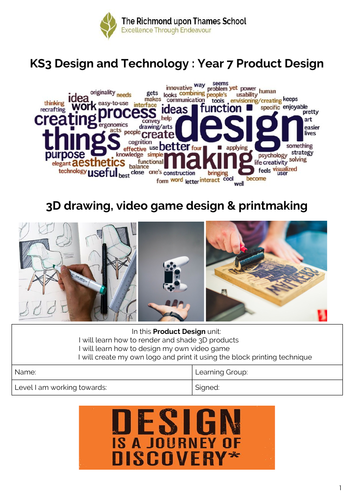 An entire Design Technology term in one file… print off this booklet and your KS3 students can enjoy learning about Product Design, how to draw & render using 3D geometric forms, video game design, logo design & printmaking. Includes: -30 pages of engaging, challenging activities -Assessment Criteria -Extended writing task -Self & peer assessment checkpoints -Teacher feedback checkpoints -Assessments -Do Now tasks -Key vocabulary In a hurry? Need something now? Edit this to suit your school and you will be ready to go in a flash.

Use this resource to get your GCSE students interested in and researching Artists to earn marks for Assessment Objective 1. Featuring: -Wide range of artists to choose from (with an intro blurb to each) -Breakdown of Assessment Objective 1 -Criteria for Success

Use this resource to get your students drawing portraits using tone & the observational method. This resource includes instructions for 2 different skills and could cover 3-4 lessons: 1- Self-portrait drawing from observation 2- Half-portrait of a celebrity. Differentiated targets for Stretch & Challenge, More able and less able students.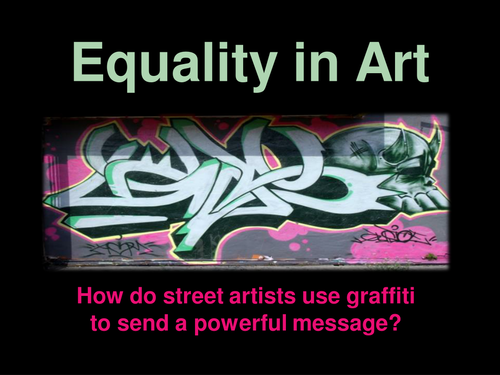 Banksy, street, Art, graffiti, lettering. Best for use as a double lesson. 0. Go through the slides with the class. 1. As a class choose one of the quotes. 2. Have each student (or pair of students) draw out one of the words in their own graffiti style. 3. Have the students put all their words together to complete the quote. 4. Hooray! Enjoy.

-Use this resource to add purpose and build skills in any lesson where students will be drawing an object. -Can be used as a Baseline test for year 9 and GCSE Art students. -Includes a lesson plan outline and differentiation. The Activity: 1. Gather a variety of objects (we use shoes, wooden mannequins, bottles, spray cans etc) and have them out on the table ready for each student. 2. Have students section an A3 paper into 4 and complete 4 separate studies of the same object progressively working from least difficulty to most challenging using: pencil, pen, ink wash technique (black fineliner with a wet paintbrush overtop) and colouring pencil.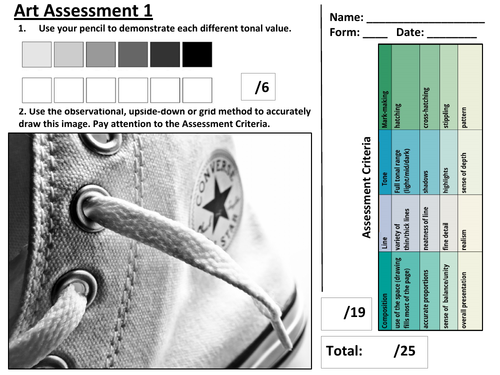 Need a drawing Assessment quick? Print this out and you're ready to go! Observational drawing task, ideal for KS3. Includes: -Instructions -Assessment Criteria -Easy to mark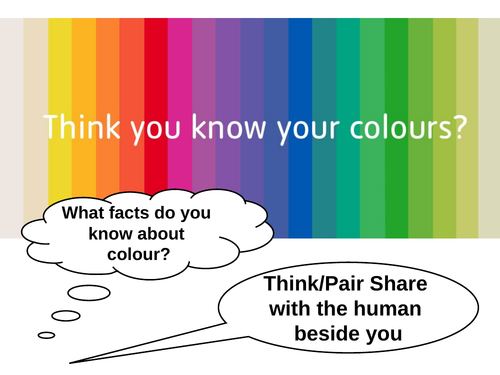 Explore the colour wheel Explore colour value, how colours are created by mixing other colours Explore complementary colours Create our own colour wheel blending/layering markers, colouring pencils and watercolour paints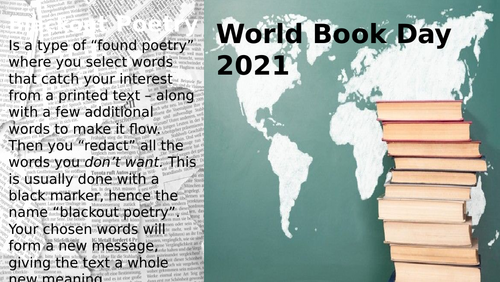 A fun, expressive, Blackout Poetry project for students of any age Includes: -Assessment Criteria -Step by Step Instructions -Examples of Outcomes -Poetry samples to work from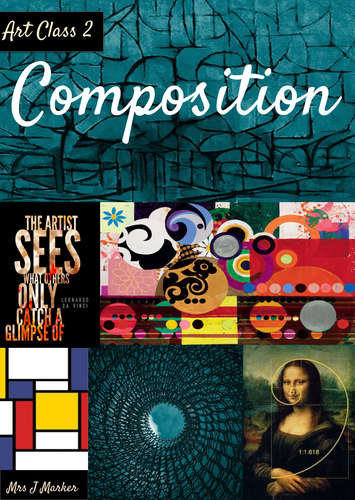 The next episode- this time we're focusing on COMPOSITION. A 25 page booklet of art activities for artists of all abilities. Designed to challenge and inspire… while developing skill, knowledge and creativity. Staying home and don't know what to do? Now's a great time to learn something new. Refining skills, or just for fun- Drawing is for everyone! Creativity, technique, knowledge aplenty For humans aged 4 to 120 Parents, teachers, sisters, brothers- Let me know if this is useful and I will make others.

Use this KS2/KS3 Art & History lesson to engage students with medieval art and have them design a shield that represents their identity. Includes: -Assessment Criteria -Examples of Medieval Shields -Shield templates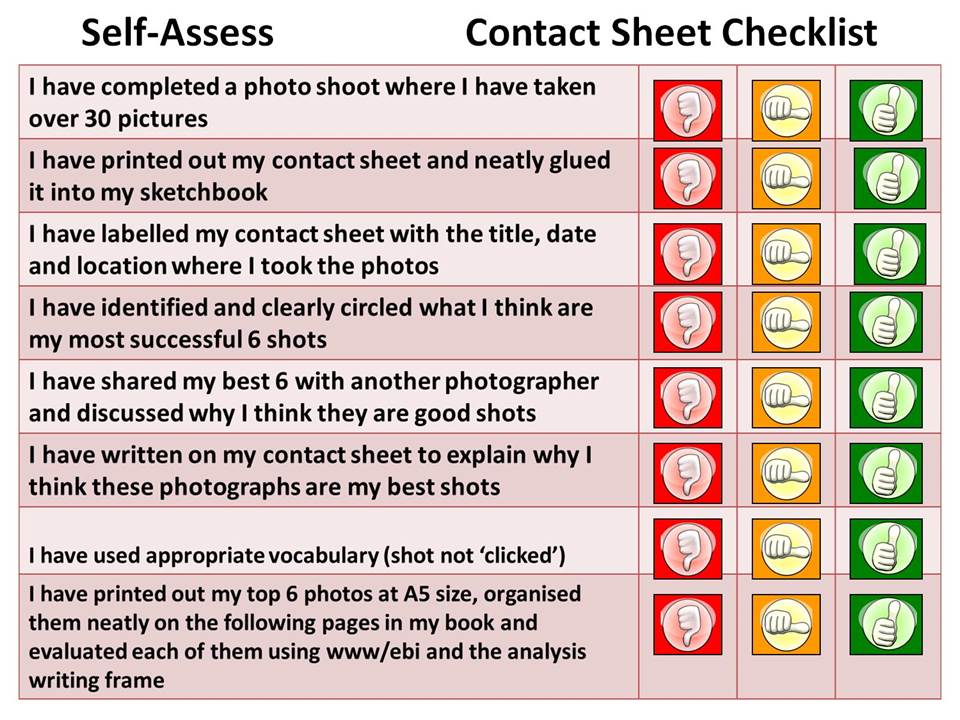 Use this lesson to get your photography students earning marks for A02: 1. Identifying what makes a successful photograph 2.Selecting and evaluating their best images on their contact sheet. Includes: -RAG self-checklist for success -Key vocabulary -Direct links to Assessment Criteria -Examples of excellent photographs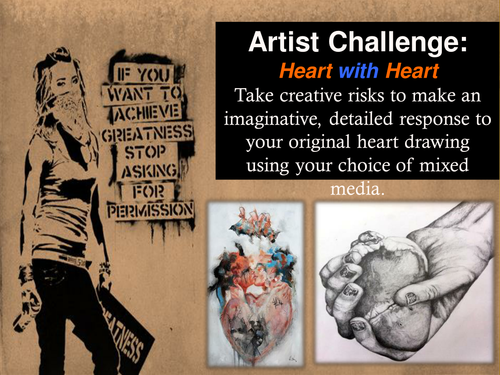 An engaging mixed-media drawing task that challenges all abilities of Art students to create Art that combines their creative and technical abilities. This lesson offers criteria to push and effectively assess LAPS, MAPS, HAPS & G&T students. Students will spend 2+ hours creating a piece of Art inspired by the heart. L.O: Take creative risks to make an imaginative, detailed response to your original heart drawing using your choice of mixed media. Teacher Prep for this lesson: -Print out some anatomical images of a heart (I've included some photos of lamb's hearts for you to use if you wish) or borrow a heart few models from the science department. -Get some interesting collage materials (photocopied pages of M.C. Escher's work, graffiti books work well). -Provide a range of wet & dry media (pastels, inks, sharpies, colouring pencils etc). -Give students a choice of sugar papers & drawing papers to work on. Enjoy!

Use these editable Art Activity Feedback Trackers to organise the learning for each of your year groups over the course of the year. These trackers can be stuck into the inside cover of the sketchbook and allow for you to communicate regularly with students about their progress as well as enabling students to take ownership and be more independent in their art-making. Includes: -Instructions for Artist Activity -Self/Peer & Teacher Main Assessment Checkpoints -Space for the teacher to write a quick target for improvement -Formative & Summative Assessment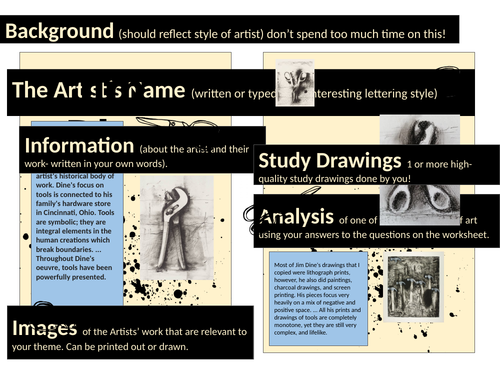 A handy step-by-step guide using artist JIM DINE to help your students create excellent Artist Research pages. Includes: -Assessment Objectives -Examples of Artist Studies -Animated diagram explaining how to create an Artist Research -Template that helps students in interpreting an artwork -Resources to support Art vocabulary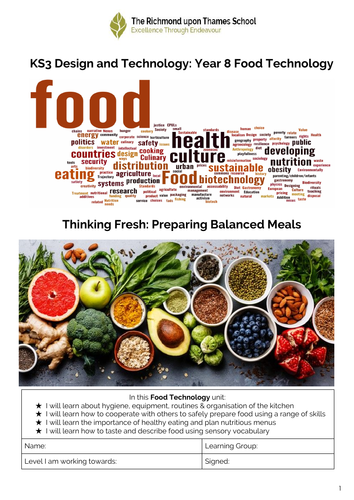 2 for 1- You are getting both the Year 7 & Year 8 booklets. Everything you need to kick-off your food tech unit! This one-of-a-kind booklet will safely take your students on a journey through 7 different practicals while engaging their senses and challenging their knowledge & skills. -A wide range of activities and practicals -Assessment Criteria -Links to GCSE themes -Do Now & reflection activities I will learn about hygiene, equipment, routines & organisation of the kitchen I will learn how to cooperate with others to safely prepare food using a range of skills I will learn the importance of healthy eating and plan nutritious menus I will learn how to taste and describe food using sensory vocabulary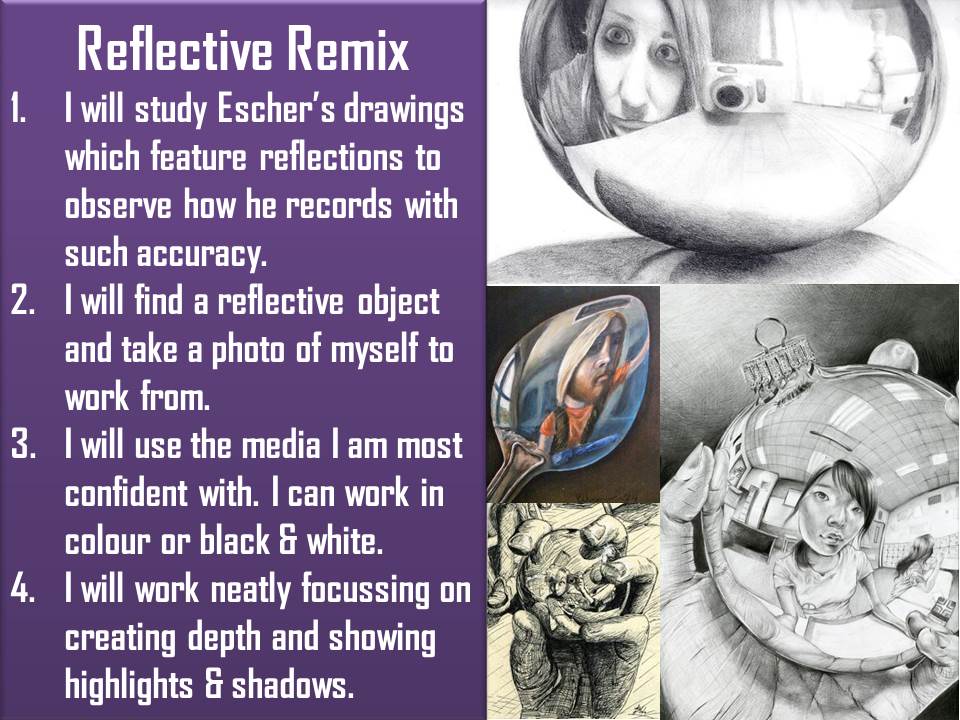 Use this engaging resource with your class to explore the art M.C. Escher and create their own 'Escheresque' piece. -3 different Escher project starting points offering 3 levels of challenge -Assessment Criteria for these projects. -Contextual introduction & information about M.C. Escher -Questions to get your students to think more deeply about his art -Fun Escher clips to enjoy