thejennii
Head of art, design technology & ICT/governor/artist/ninja Engaging, easy-to use, differentiated art resources for happy teachers and highly productive students.
79Uploads
32k+Views
7k+Downloads
Head of art, design technology & ICT/governor/artist/ninja Engaging, easy-to use, differentiated art resources for happy teachers and highly productive students.

Use this resource to help simplify the new curriculum levels. We have this stuck in the back of every KS3 students book to serve as an assessment structure, preparing KS3 students for KS4.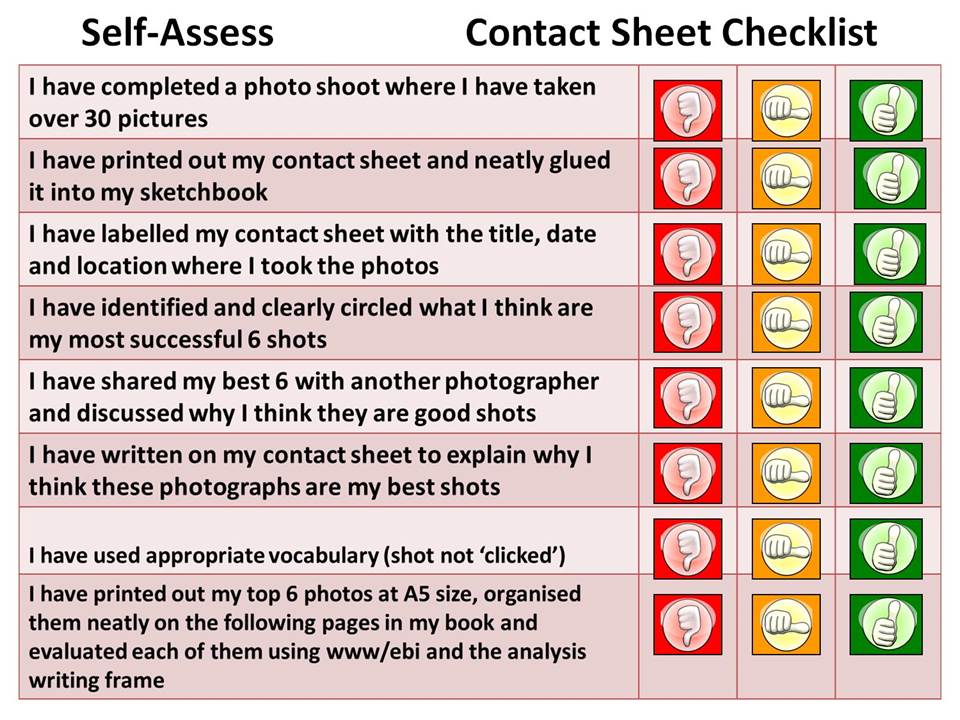 Use this lesson to get your photography students earning marks for A02: 1. Identifying what makes a successful photograph 2.Selecting and evaluating their best images on their contact sheet. Includes: -RAG self-checklist for success -Key vocabulary -Direct links to Assessment Criteria -Examples of excellent photographs

Creative Literacy Drawing Challenge Includes: -Printable worksheets for key texts used in years 7, 8 & 9. Activity: Students use different types of expressive lines and marks to interpret and draw a visual response inspired by the text. Year 7: Theseus and the Minotaur Year 8: Act 1, Scene 4, Macbeth Year 9: Act 1, Scene 1, Romeo & Juliet

Use this ppt to clearly explain the rules and promote positive behaviour for learning in your Art classroom. Includes: -Rules -Reasons why we should follow the rules -What happens when we do/don't -An introduction to Art & definition -Video links to clips that highlight the importance of studying Art.

-Need to motivate a group of GCSE Art & Design students? -Looking for a decent way to get them to focus in on preparing for their exam? -Want to show visual examples of high-quality and poor-quality GCSE exam outcomes? Use this assembly resource to inspire your cohort to start taking some initiative TODAY.

Use this engaging resource to get your Design Technology or Art students to refine their skill of shading in 3D objects using pencil. This lesson features... -Quick-print worksheets (differentiated) - Assessment Criteria -Key vocabulary words -Higher thinking questions Includes a lesson plan!

Use these editable Art Activity Feedback Trackers to organise the learning for each of your year groups over the course of the year. These trackers can be stuck into the inside cover of the sketchbook and allow for you to communicate regularly with students about their progress as well as enabling students to take ownership and be more independent in their art-making. Includes: -Instructions for Artist Activity -Self/Peer & Teacher Main Assessment Checkpoints -Space for the teacher to write a quick target for improvement -Formative & Summative Assessment

**INSTRUCTIONS FOR STUDENT USE Tip: Use this framework as a guide to organise your self-assessment writing whenever we do www & ebi. Look carefully at your work and think of what www (use the vocabulary in the green to help you). Working from left to right choose words from each section to build a sentence to evaluate your work. Repeat for ebi (use the vocabulary in the yellow to help you). -Make sure you write using complete sentences. -Make sure your sentences make sense. -Ensure you are being honest about your work.

Use this to get your students thinking about how they can explore the Edexcel theme 'FORCE&' in their Art. Enjoy!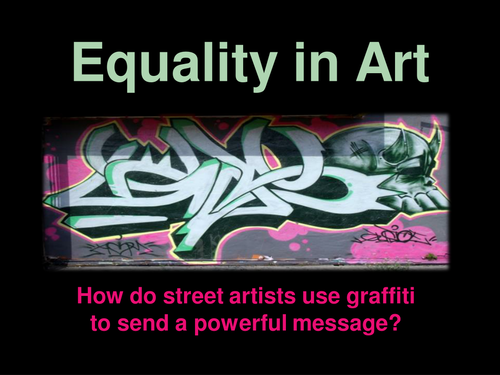 Banksy, street, Art, graffiti, lettering. Best for use as a double lesson. 0. Go through the slides with the class. 1. As a class choose one of the quotes. 2. Have each student (or pair of students) draw out one of the words in their own graffiti style. 3. Have the students put all their words together to complete the quote. 4. Hooray! Enjoy.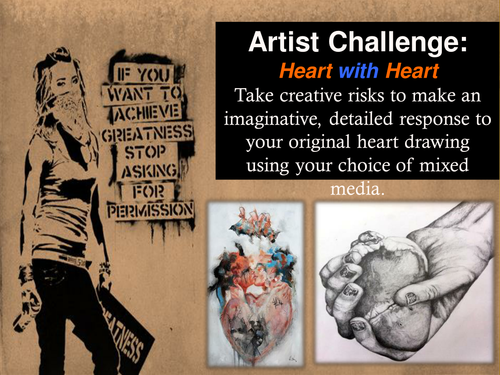 An engaging mixed-media drawing task that challenges all abilities of Art students to create Art that combines their creative and technical abilities. This lesson offers criteria to push and effectively assess LAPS, MAPS, HAPS & G&T students. Students will spend 2+ hours creating a piece of Art inspired by the heart. L.O: Take creative risks to make an imaginative, detailed response to your original heart drawing using your choice of mixed media. Teacher Prep for this lesson: -Print out some anatomical images of a heart (I've included some photos of lamb's hearts for you to use if you wish) or borrow a heart few models from the science department. -Get some interesting collage materials (photocopied pages of M.C. Escher's work, graffiti books work well). -Provide a range of wet & dry media (pastels, inks, sharpies, colouring pencils etc). -Give students a choice of sugar papers & drawing papers to work on. Enjoy!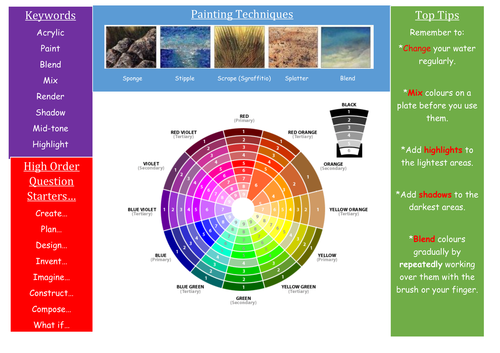 Use this resource to empower your students in using the correct vocabulary while drawing & paintings. Offers tips, techniques and questioning. Particularly helpful for SEN, EAL, LA students.

4 worksheets to use to introduce Mehndi designs. Great to use as a cover lesson.

-Use this ppt to start your KS3 students onto a baseline drawing, working from any object. (We use this at the beginning of the year to assess ability on entry and collect a sample of existing skill). -Succinctly explain what observational drawing is and get your students to practice the skill right away. Featuring: -Instructions for the activity -6 Steps to success -Tonal chart Just add: Objects, pencils, paper and students.

In this lesson there is a focus on literacy in introducing students to the element of TEXTURE in Art.

Snag this now and you'll have all the KS3 art resources you'll need to be ready to hit the ground runnin' in September. Includes: -New KS3 Curriculum Levels -Art Activity Assessment Tracker -Observational baseline tests -Creativity tests -Curriculum Mapping -Behaviour Lesson -Cover lessons + loads more Loads of goodies here & you're saving 46% by buying the bundle.

Use this KS2/KS3 Art & History lesson to engage students with medieval art and have them design a shield that represents their identity. Includes: -Assessment Criteria -Examples of Medieval Shields -Shield templates

Use this to show your students how to use the grid method to draw a realistic portrait.

Use this Peer Assessment lesson to get students to critically engage with each other's work and give & get feedback.

Baseline Creativity Test useful for all key stages Features -Instructions for Activity -Assessment Criteria -Visual Exemplars of outcome