thejennii
Engaging, easy-to use, differentiated art resources for happy, busy teachers and highly productive students.
122Uploads
72k+Views
17k+Downloads
Engaging, easy-to use, differentiated art resources for happy, busy teachers and highly productive students.

Use this resource to help simplify the new curriculum levels. We have this stuck in the back of every KS3 students book to serve as an assessment structure, preparing KS3 students for KS4.

In a rush? No need to fuss. Download these 3 double-sided cover sheets and print and you are sorted. Enough activities to keep your students engaged and learning for 3 entire lessons. Includes** -Skulls & Vanitas worksheet** -skull drawing activity -highlight the key words knowledge task ** -Colour Theory worksheet** -Colour theory revision activity -Colour theory wordsearch ** -Still Life worksheet** -highlight the key words knowledge task -Still life drawing activity -Still life wordsearch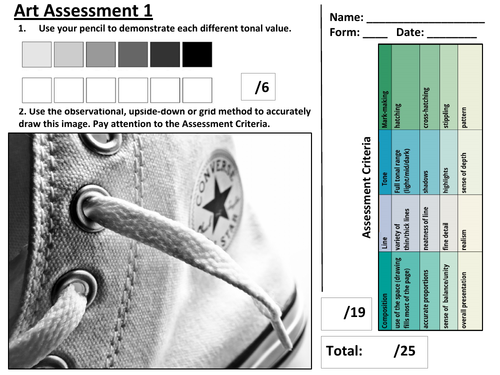 Need a drawing Assessment quick? Print this out and you're ready to go! Observational drawing task, ideal for KS3. Includes: -Instructions -Assessment Criteria -Easy to mark

Use this resource to get your students drawing portraits using tone & the observational method. This resource includes instructions for 2 different skills and could cover 3-4 lessons: 1- Self-portrait drawing from observation 2- Half-portrait of a celebrity. Differentiated targets for Stretch & Challenge, More able and less able students.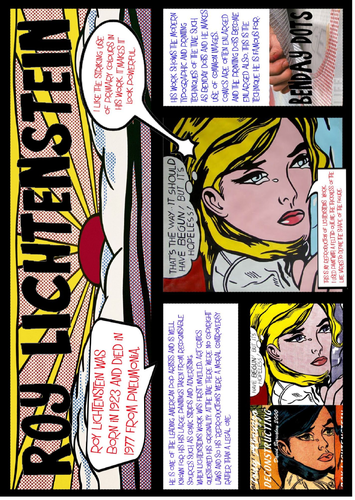 Ready to print or upload and use immediately. Perfect to use as a lesson cover Includes: -drawing activity -dot colouring task -artist information -word search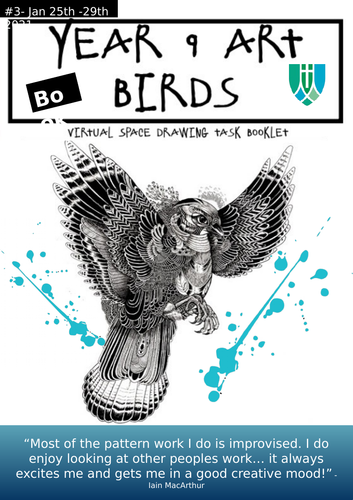 I used this with my Year 9s and got some really great results back Iain McArthur and Birds Includes: A Checklist the explains clearly exactly what to do. Example outcomes A range of activities that develop … -Knowledge -Analysis -Skills …all leading to a challenging and fun final outcome This could be 2 or 3 lesson's worth of work easily.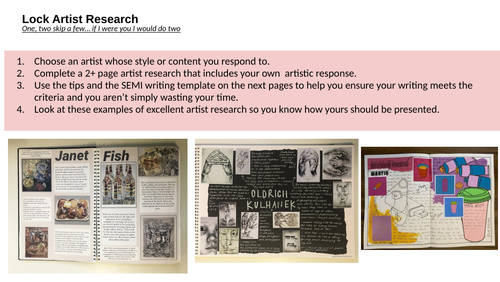 Use this resource to help your students create level 8 and 9 artist research pages for the 2023 exam theme of LOCK! Includes: Checklist for what is required in an artist research SEMI writing framework & an example of how to use it Visual & written exemplars Tips for top marks Success Criteria for each grade- 9,8,7,6,5,4,3,2,1… A choice of several relevant artists that your students will like.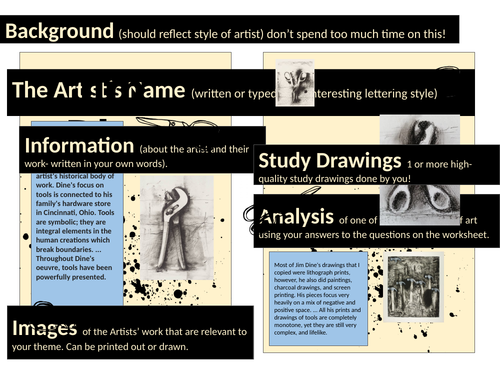 A handy step-by-step guide using artist JIM DINE to help your students create excellent Artist Research pages. Includes: -Assessment Objectives -Examples of Artist Studies -Animated diagram explaining how to create an Artist Research -Template that helps students in interpreting an artwork -Resources to support Art vocabulary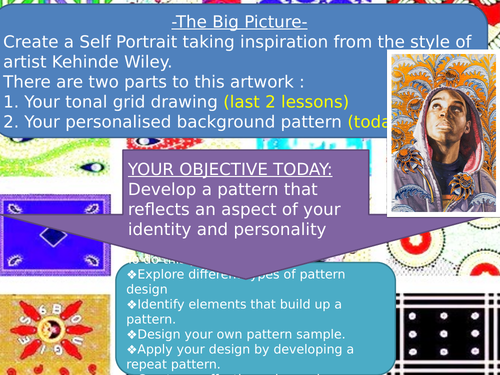 The perfect activity to follow up on a unit on portrait drawing. Use this to have your students developing their own pattern taking inspiration from a variety of sources. Complete lesson with lesson plan & differentiation. Create a Self Portrait taking inspiration from the style of artist Kehinde Wiley. There are two parts to this artwork : Your tonal grid drawing (last 2 lessons) Your personalised background pattern (today) Key words for this project: Pattern, Portrait, Design, Shape, Identity, Personalisation, Repeat, Symmetry, Flip, Reverse, Colour Scheme, Harmonious, Monochromatic, Complimentary

Everything you need in one ppt! -Use this resource to get ALL of your year 11 students effectively researching and writing high quality Artist Study pages to earn top marks for AO1. -Hopper is featured in the new Beginnings/End exam Edexcel paper, why not use this ppt to scaffold for your students how to do a proper artist study. Featuring: -A foolproof system with step by step instructions on how to analyse Hoppers' work using SEMI -Printable differentiated worksheets for students to answer questions and fill in the blanks -A comprehensive and engaging introduction to Hopper's work -Examples of high quality GCSE research pages -Success Criteria & Edexcel mark scheme -Tips and tricks for top attainers -Video clips to an analysis of Hopper's work.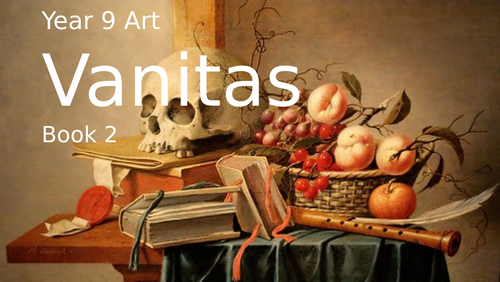 2 Art lessons exploring the topic of Vanitas, including… -Analysis of 'The Ambassadors' Vanitas artwork by Hans Holbein the younger. -Skull drawing practice worksheets using the observational/upside down/ grid drawings methods -Match of the Day using Key Terminology -Exercise where students set up their own Still life, research the symbolism of the objects and photograph it. -Much more! My year 9s loved it.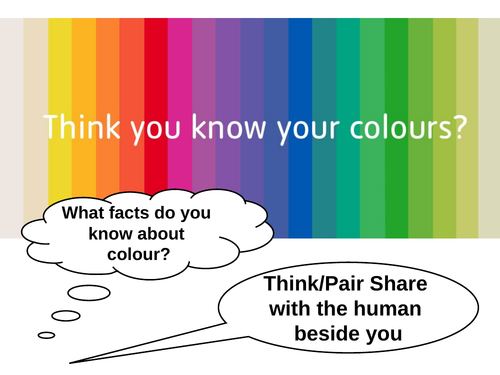 Explore the colour wheel Explore colour value, how colours are created by mixing other colours Explore complementary colours Create our own colour wheel blending/layering markers, colouring pencils and watercolour paints

I created this to use for an interview lesson with a group of Year 9 boys. I had a lot of fun teaching the lesson, all students were engaged, learning and making progress… and I got the job. Includes powerpoint & lesson plan. Just add: paper, markers, wire, masking tape, scissors/wire cutters and students Learning Objectives & Outcomes: -To understand and reflect on the purpose of a portrait, using key terms -To create an abstract, dimensional portrait, developing problem-solving skills while working with wire We look at a classic Velazques and compare it with Bacon's reinterpretation Key words: -line -continuous line drawing -sculpture -shape -abstract -portrait Enjoy!

Use this easy powerpoint template to improve questioning in the classroom. -All you have to do is input names of all students in your class -Press S to start/stop the powerpoint -engages students & keep everyone attentive

A whole month of lessons! Drawing using tone and drawing celebrity portraits. Always a favorite lesson of my students. Includes: A whole month of lessons! Printable worksheets Assessment Criteria Step by step guide Do now tasks Autumn Art Assessment Marksheet

Use this to get your students thinking about how they can explore the Edexcel theme 'FORCE&' in their Art. Enjoy!

In this lesson there is a focus on literacy in introducing students to the element of TEXTURE in Art.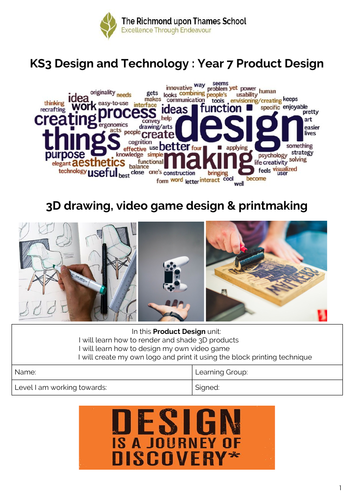 An entire Design Technology term in one file… print off this booklet and your KS3 students can enjoy learning about Product Design, how to draw & render using 3D geometric forms, video game design, logo design & printmaking. Includes: -30 pages of engaging, challenging activities -Assessment Criteria -Extended writing task -Self & peer assessment checkpoints -Teacher feedback checkpoints -Assessments -Do Now tasks -Key vocabulary In a hurry? Need something now? Edit this to suit your school and you will be ready to go in a flash.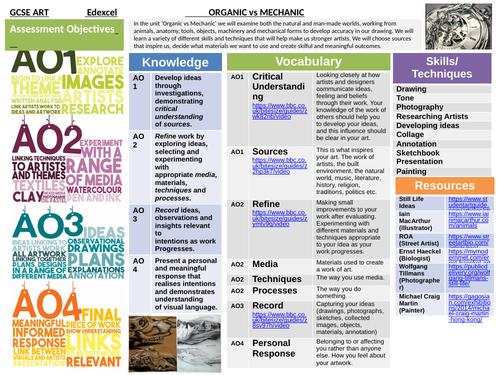 A knowledge organiser for GCSE Art highlighting the key Assessment Objectives, including a breakdown of knowledge, vocabulary, links , art etc. Adapt or use as it is, I'll be uploading more resources very soon to go along with the theme I'm using with my year 10s come September- Organic vs. Mechanic.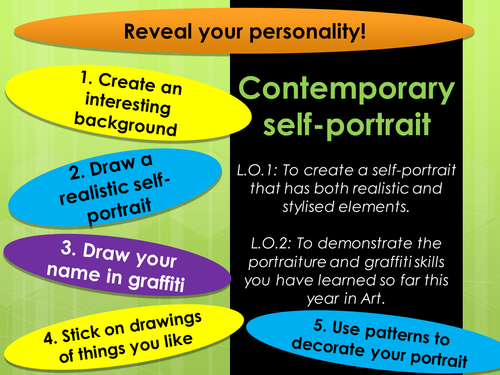 Putting personality on a page! A groovy mixed-media self-portrait project that builds on/assesses a range of skills: observational drawing, composition and graffiti. I used this scheme of work with year 9, but I'm sure you could adapt it for any age.