thejennii
Engaging, easy-to use, differentiated art resources for happy, busy teachers and highly productive students.
91Uploads
48k+Views
10k+Downloads
Engaging, easy-to use, differentiated art resources for happy, busy teachers and highly productive students.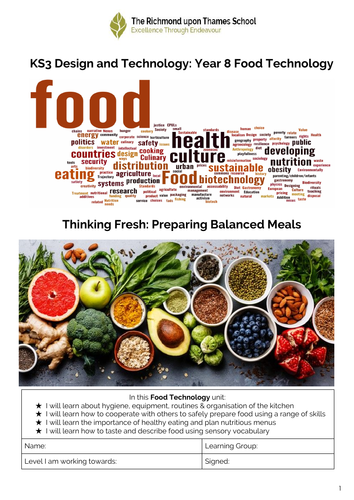 2 for 1- You are getting both the Year 7 & Year 8 booklets. Everything you need to kick-off your food tech unit! This one-of-a-kind booklet will safely take your students on a journey through 7 different practicals while engaging their senses and challenging their knowledge & skills. -A wide range of activities and practicals -Assessment Criteria -Links to GCSE themes -Do Now & reflection activities I will learn about hygiene, equipment, routines & organisation of the kitchen I will learn how to cooperate with others to safely prepare food using a range of skills I will learn the importance of healthy eating and plan nutritious menus I will learn how to taste and describe food using sensory vocabulary

Use this resource to help simplify the new curriculum levels. We have this stuck in the back of every KS3 students book to serve as an assessment structure, preparing KS3 students for KS4.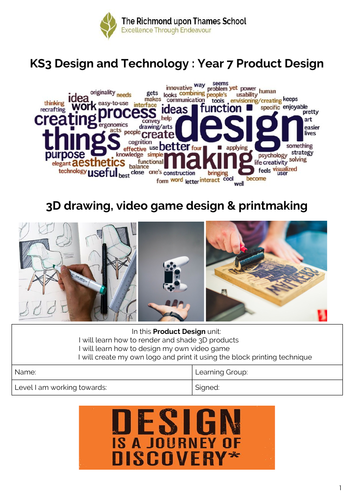 An entire Design Technology term in one file… print off this booklet and your KS3 students can enjoy learning about Product Design, how to draw & render using 3D geometric forms, video game design, logo design & printmaking. Includes: -30 pages of engaging, challenging activities -Assessment Criteria -Extended writing task -Self & peer assessment checkpoints -Teacher feedback checkpoints -Assessments -Do Now tasks -Key vocabulary In a hurry? Need something now? Edit this to suit your school and you will be ready to go in a flash.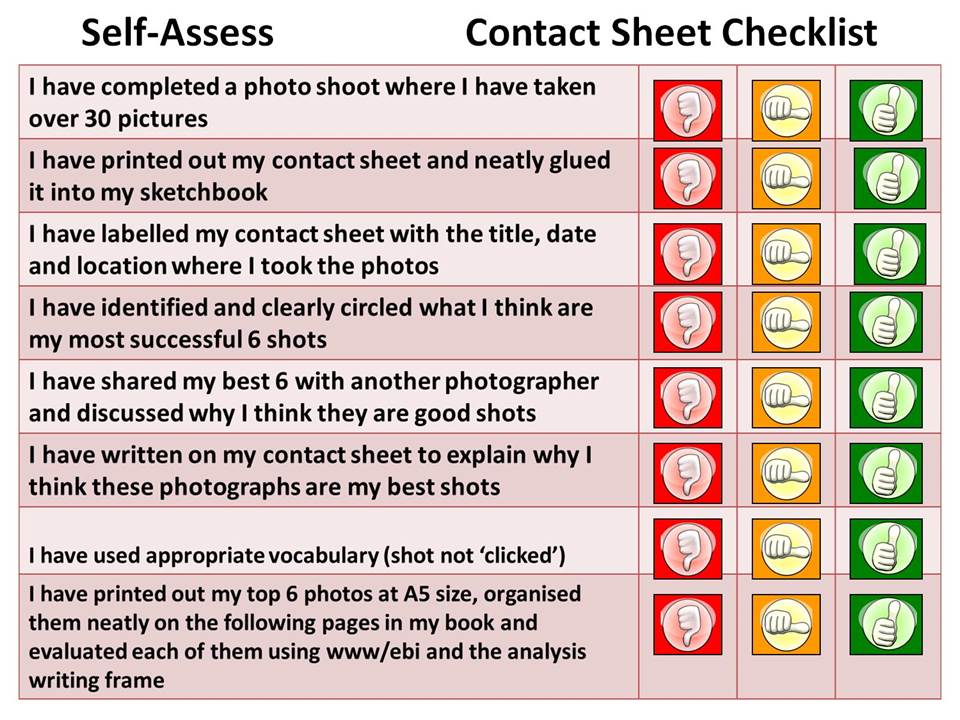 Use this lesson to get your photography students earning marks for A02: 1. Identifying what makes a successful photograph 2.Selecting and evaluating their best images on their contact sheet. Includes: -RAG self-checklist for success -Key vocabulary -Direct links to Assessment Criteria -Examples of excellent photographs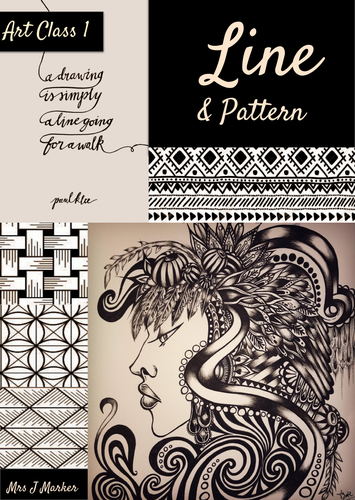 A 26 page booklet of art activities for artists of all abilities. Designed to challenge and inspire… while developing skill, knowledge and creativity. Staying home and don't know what to do? Now's a great time to learn something new. Refining skills, or just for fun- Drawing is for everyone! Creativity, technique, knowledge aplenty For humans aged 4 to 120 Parents, teachers, sisters, brothers- Let me know if this is useful and I will make others.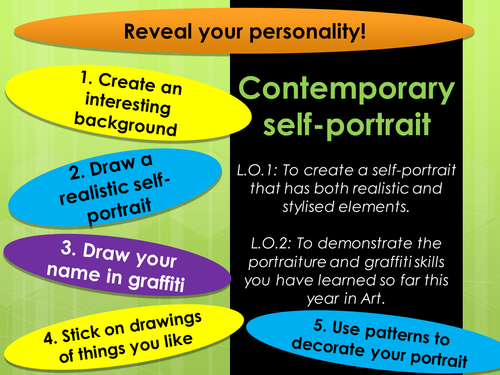 Putting personality on a page! A groovy mixed-media self-portrait project that builds on/assesses a range of skills: observational drawing, composition and graffiti. I used this scheme of work with year 9, but I'm sure you could adapt it for any age.

-Use this ppt to start your KS3 students onto a baseline drawing, working from any object. (We use this at the beginning of the year to assess ability on entry and collect a sample of existing skill). -Succinctly explain what observational drawing is and get your students to practice the skill right away. Featuring: -Instructions for the activity -6 Steps to success -Tonal chart Just add: Objects, pencils, paper and students.

The exam is just around the corner- are your students ready? Use this resource to help make sure they are… In a hurry and need some useful exam planning pages to print off to use immediately? 24, 35 & 41 With a focus on idea development for a final exam piece, this resource includes… -a printable/shareable student self-checklist handout to exam success (developing metacognition and to help prepare for the exam) -a printable/shareable 'EVENT' planning tutorial handout (where students or teacher records suggestions for success) -a guide to compositional/thumbnail sketches -a guide for successful artist research -introduction to a range of pertinent EVENT artists to inspire students & more…

Use this to show your students how to use the grid method to draw a realistic portrait.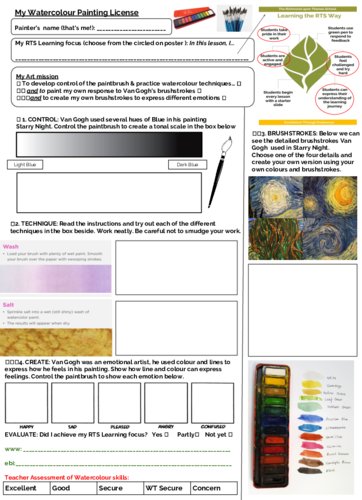 I used this to begin a unit on Van Gogh's Starry night to teach brush control to my year 7's.

Use this engaging resource to get your Design Technology or Art students to refine their skill of shading in 3D objects using pencil. This lesson features... -Quick-print worksheets (differentiated) - Assessment Criteria -Key vocabulary words -Higher thinking questions Includes a lesson plan!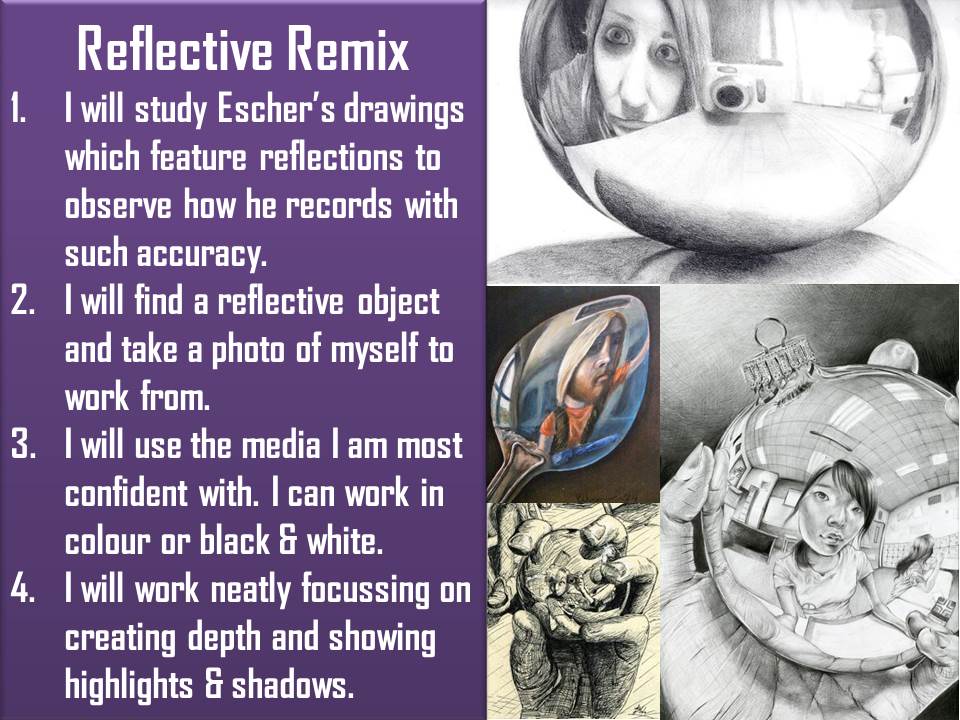 Use this engaging resource with your class to explore the art M.C. Escher and create their own 'Escheresque' piece. -3 different Escher project starting points offering 3 levels of challenge -Assessment Criteria for these projects. -Contextual introduction & information about M.C. Escher -Questions to get your students to think more deeply about his art -Fun Escher clips to enjoy

Use this KS2/KS3 Art & History lesson to engage students with medieval art and have them design a shield that represents their identity. Includes: -Assessment Criteria -Examples of Medieval Shields -Shield templates

A favourite lesson to engage students with painting techniques while giving them a chance to be innovative I've used this project with years 7 up to year 9 and the results are always interesting. Includes everything you need for a watercolour painting project (just add paints, brushes & students) -worksheets -examples of outcome -success criteria -videos -cross-curricular links L.O.1: To learn about Van Gogh and reinvent one of his Masterpieces using our own original ideas. L.O.2: To develop our painting and composition skills. L.O.3: To use our knowledge to create a work of art that explores the following elements of Art: line, texture & movement. Enjoy!

Surrealist Collage -To write your own definition of "surrealism" -To work in groups to recreate a famous surrealist work of art using collage. Engage students in surrealism and have them experiment with collage to fulfil National Curriculum Key Concepts: A01 Develop & A02 Refine.

Use this resource to kick-off The Edexcel A2 exam preparation period from February 1st onwards. Enough resources here to keep your students interested and productive for several lessons... Featuring: -Instructions & Examples for 3 tasks to ensure your students are engaging with the theme and to support them in completing work to a high standard: -Mindmap Challenge task -Mood Board Collage -A range of suitable ENVIRONMENT artists -Artist Research page -Artist Creative Response task -Collaborative Photo project

Get your students drawing animals realistically and imaginatively as well as researching relevant artists, earning marks for Assessment Objective 1, 2 & 3. A powerpoint featuring... -introduction to a range of different traditional and contemporary animal artists for students to choose from -Instructions and success criteria for an observational animal drawing task -Instructions and success criteria for an imaginative animal drawing task

-Use this resource to get your students exploring the theme of BEGINNING/END and creating extraordinary collages while earning marks for Assessment Objective 1. -Instructions for how to use collage as an artistic process -Explanation of what COLLAGE is and tricks on how to use it effectively. -Examples of artists who use collage as a medium -Examples of GCSE student collages

-Use this resource to add purpose and build skills in any lesson where students will be drawing an object. -Can be used as a Baseline test for year 9 and GCSE Art students. -Includes a lesson plan outline and differentiation. The Activity: 1. Gather a variety of objects (we use shoes, wooden mannequins, bottles, spray cans etc) and have them out on the table ready for each student. 2. Have students section an A3 paper into 4 and complete 4 separate studies of the same object progressively working from least difficulty to most challenging using: pencil, pen, ink wash technique (black fineliner with a wet paintbrush overtop) and colouring pencil.