thejennii
Engaging, easy-to use, differentiated art resources for happy, busy teachers and highly productive students.
80Uploads
33k+Views
7k+Downloads
Engaging, easy-to use, differentiated art resources for happy, busy teachers and highly productive students.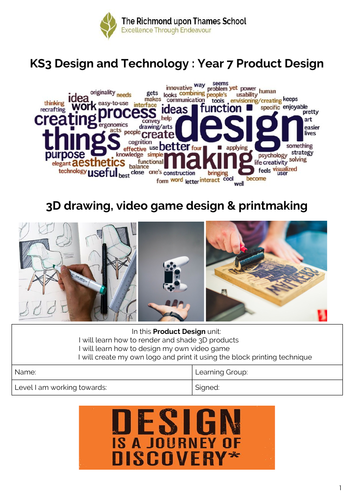 An entire Design Technology term in one file… print off this booklet and your KS3 students can enjoy learning about Product Design, how to draw & render using 3D geometric forms, video game design, logo design & printmaking. Includes: -30 pages of engaging, challenging activities -Assessment Criteria -Extended writing task -Self & peer assessment checkpoints -Teacher feedback checkpoints -Assessments -Do Now tasks -Key vocabulary In a hurry? Need something now? Edit this to suit your school and you will be ready to go in a flash.

Use this resource to help simplify the new curriculum levels. We have this stuck in the back of every KS3 students book to serve as an assessment structure, preparing KS3 students for KS4.

4 worksheets to use to introduce Mehndi designs. Great to use as a cover lesson.

Use these editable Art Activity Feedback Trackers to organise the learning for each of your year groups over the course of the year. These trackers can be stuck into the inside cover of the sketchbook and allow for you to communicate regularly with students about their progress as well as enabling students to take ownership and be more independent in their art-making. Includes: -Instructions for Artist Activity -Self/Peer & Teacher Main Assessment Checkpoints -Space for the teacher to write a quick target for improvement -Formative & Summative Assessment

Use this KS2/KS3 Art & History lesson to engage students with medieval art and have them design a shield that represents their identity. Includes: -Assessment Criteria -Examples of Medieval Shields -Shield templates

-Use this resource to enable your students to analyse and evaluate their own & their peers final art outcomes for the Edexcel 2017 Beginning/End exam -Improve the quality of writing to earn marks for Assessment Objective 3:Record & 4: Present -S.E.M.I. Writing frame with question prompts and model answers -Red/Amber/Green sketchbook to-do checklist -Clear breakdown of Assessment Objective 4.

Use this resource to empower your students and help them develop their painting skills. Artist mission: To learn how to control a combination of wet media to create a realistic chocolate bar painting. Includes: -Success criteria -Media strengths & weaknesses -Key vocabulary -Links to relevant artists -Homework tasks I used this for a 2-month A2-sized year 10 candy painting project, but it could be adapted for any length of time and any year group. My students combined acrylic, watercolour, ink and aquapencils to achieve their outcome.

Use this engaging resource to get your Design Technology or Art students to refine their skill of shading in 3D objects using pencil. This lesson features... -Quick-print worksheets (differentiated) - Assessment Criteria -Key vocabulary words -Higher thinking questions Includes a lesson plan!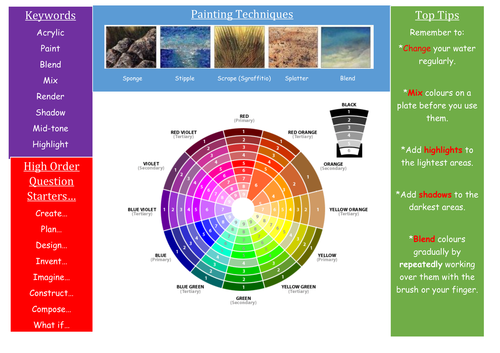 Use this resource to empower your students in using the correct vocabulary while drawing & paintings. Offers tips, techniques and questioning. Particularly helpful for SEN, EAL, LA students.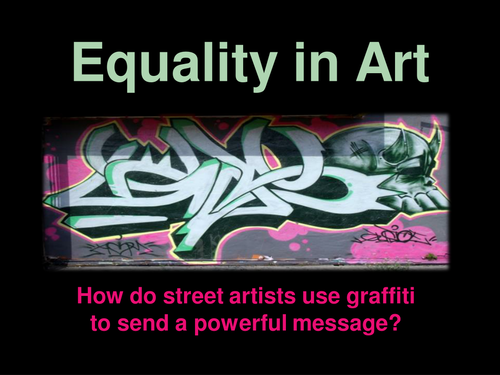 Banksy, street, Art, graffiti, lettering. Best for use as a double lesson. 0. Go through the slides with the class. 1. As a class choose one of the quotes. 2. Have each student (or pair of students) draw out one of the words in their own graffiti style. 3. Have the students put all their words together to complete the quote. 4. Hooray! Enjoy.

Snag this now and you'll have all the KS3 art resources you'll need to be ready to hit the ground runnin' in September. Includes: -New KS3 Curriculum Levels -Art Activity Assessment Tracker -Observational baseline tests -Creativity tests -Curriculum Mapping -Behaviour Lesson -Cover lessons + loads more Loads of goodies here & you're saving 46% by buying the bundle.

Use this to get your students thinking about how they can explore the Edexcel theme 'FORCE&' in their Art. Enjoy!

**INSTRUCTIONS FOR STUDENT USE Tip: Use this framework as a guide to organise your self-assessment writing whenever we do www & ebi. Look carefully at your work and think of what www (use the vocabulary in the green to help you). Working from left to right choose words from each section to build a sentence to evaluate your work. Repeat for ebi (use the vocabulary in the yellow to help you). -Make sure you write using complete sentences. -Make sure your sentences make sense. -Ensure you are being honest about your work.

-Use this ppt to start your KS3 students onto a baseline drawing, working from any object. (We use this at the beginning of the year to assess ability on entry and collect a sample of existing skill). -Succinctly explain what observational drawing is and get your students to practice the skill right away. Featuring: -Instructions for the activity -6 Steps to success -Tonal chart Just add: Objects, pencils, paper and students.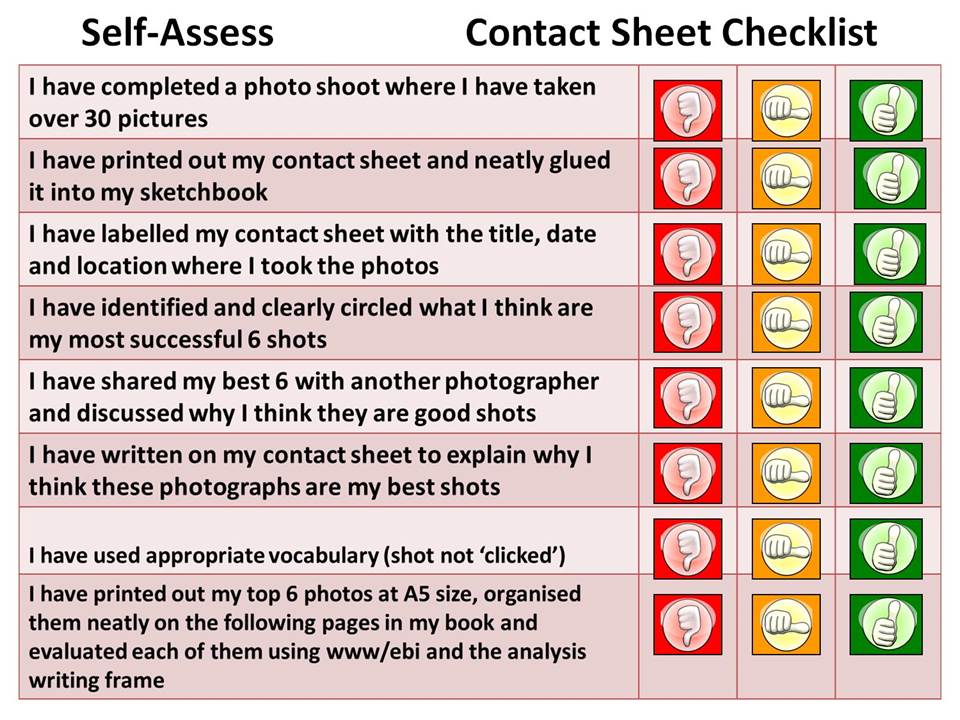 Use this lesson to get your photography students earning marks for A02: 1. Identifying what makes a successful photograph 2.Selecting and evaluating their best images on their contact sheet. Includes: -RAG self-checklist for success -Key vocabulary -Direct links to Assessment Criteria -Examples of excellent photographs

Use this Peer Assessment lesson to get students to critically engage with each other's work and give & get feedback.

Still have students who aren't ready for their GCSE ART exam? I know I did... until I used this resource to get their ideas into shape. Includes: -Worksheet to plan out exam ideas -Examples of exam planning sketches -Questions to get students thinking about their exam -Self-Assessment Checklist

Creative Literacy Drawing Challenge Includes: -Printable worksheets for key texts used in years 7, 8 & 9. Activity: Students use different types of expressive lines and marks to interpret and draw a visual response inspired by the text. Year 7: Theseus and the Minotaur Year 8: Act 1, Scene 4, Macbeth Year 9: Act 1, Scene 1, Romeo & Juliet

Use this ppt to get your KS3 Art students engaging with collage & b&w illustration. Students really enjoy this project where they get to combine their skills with their imagination. -You will need A3 paper, black pens, some cut-up slices of printed-out black & white images that have lots of mark-making & pattern and glue sticks. L.O.1: To create a collage using selected ink drawings. L.O.2: To understand the importance of composition. Featuring: Examples of work and assessment criteria.

Use this unique resource to inspire students to see the world as artists and use the visual world around them to influence their work.