Thereadingroundup's Shop
Rounding up reading resources for you!
34Uploads
17k+Views
3k+Downloads
Rounding up reading resources for you!
This is a fun literacy center for students to practice identifying initial sounds and spelling sight words. Students will identify the initial sound for each picture on the word card in order to bust the code of the mystery sight word. This set includes: - an alphabet chart - 40 pre-primer sight word mystery cards - 2 blank mystery cards - student recording sheet - answer key
Graphic organizers are a crucial part of the prewriting step of the writing process. Students have the opportunity to plan out and organize their thoughts before writing a rough draft. This set includes 11 different graphic organizers for a range of students. The primary graphic organizers allow students the space to write or draw in the boxes depending on their ability levels. Planning sheets for personal narratives, persuasive/opinion, and informational writing are all included within the set.
These fluency tasks cards help students practice reading fluently with expression. Each task card has a scenario to allow the students to think about how the character is feeling. Students then read the quote with the appropriate emotion to practice fluent reading. Level 1 gives students 3 emotion words from which to choose. Level 2 requires students to think of the correct emotion word on their own. This set includes: * 20 task cards (two different levels & B/W copies of each) * Student recording sheets * Answer Keys
Let's make repeated reading and fluency practice fun by allowing students to read with a variety of emotions! This set includes color and low ink versions of 35 different voices for students to use while reading. There is also a blank template included for students to come up with additional voices! You can print these cards to be put in a box, cup, or on a ring. Students can use these cards during independent reading, buddy reading, or even during your small group reading instruction.
This is a fun literacy center for students to practice identifying initial sounds and spelling sight words. Students will identify the initial sound for each picture on the word card in order to bust the code of the mystery sight word. This set includes: - an alphabet chart - 41 first grade sight word mystery cards - 1 blank mystery card - student recording sheet - answer key
This is a fun literacy center for students to practice identifying initial sounds and spelling sight words. Students will identify the initial sound for each picture on the word card in order to bust the code of the mystery sight word. This set includes: - an alphabet chart - 46 2nd grade sight word mystery cards - 2 blank mystery cards - student recording sheet - answer key
This is a fun literacy center for students to practice identifying initial sounds and spelling sight words. Students will identify the initial sound for each picture on the word card in order to bust the code of the mystery sight word. This set includes: - an alphabet chart - 52 primer sight word mystery cards - 2 blank mystery cards - student recording sheet - answer key
Sticker stories are a fun way for students to practice writing during literacy centers. By providing scenes and stickers for students to manipulate, it is easier for them to generate ideas. It also prevents you from hearing them say, "I don't know what to write about!" While you are definitely encouraged to allow students to use any stickers you have, this set provides printable "stickers" for you. You can print these on regular copy paper to put at your writing center. Students can color and glue these paper "stickers" to their stories. School scenes included in this set are: * Classroom * Gym * Library * Cafeteria * Playground * School Exterior
This is an easy and engaging literacy center for students to practice identifying the beginning sounds of words! Students can work independently or in a small group to match the pictures to the corresponding beginning sounds. Set Includes: ~ 26 color dominoes ~ 26 black and white dominoes ~ 8 blank color dominoes ~ 8 blank black and white dominoes ~ 2 title dominoes ~ Directions for use cards (individual and small group) ~ Alphabet charts (color and B&W) ~ Student recording sheet
This is an easy and engaging literacy center for students to practice identifying the blends and digraphs! Students can work independently or in a small group to match the pictures to the corresponding beginning sounds. Set Includes: ~ 26 color dominoes ~ 26 black and white dominoes ~ 8 blank color dominoes ~ 8 blank black and white dominoes ~ 2 title dominoes ~ Directions for use cards (individual and small group) ~ Blends & Digraphs charts (color and B&W) ~ Student recording sheet
This bingo game is a fun way for students to practice identifying the L Blends at the beginning of words (bl, cl, fl, gl, pl, & sl). Set Includes: * Bingo Boards (10 color & 10 b/w) * 38 Word Cards – For caller to use to announce words * Answer Sheet (color & b/w) – For the caller to keep track of the words that were called * L Blends Counters (color & b/w) – For additional practice students can use the appropriate L Blend counter to cover a picture that was called. * Blends Chart (color & b/w) This product is part of a larger bundle that you may be interested in: Blends Bingo Bundle Or you may want to purchase the other products individually: Blends Bingo - R Blends Blends Bingo - S Blends
This bingo game is a fun way for students to practice identifying the R Blends at the beginning of words (br, cr, dr, fr, gr, pr, & tr). Set Includes: * Bingo Boards (10 color & 10 b/w) * 35 Word Cards – For caller to use to announce words * Answer Sheet (color & b/w) – For the caller to keep track of the words that were called * R Blends Counters (color & b/w) – For additional practice students can use the appropriate R Blend counter to cover a picture that was called. * Blends Chart (color & b/w) This set is part of a larger bundle you may be interested in: Blends Bingo Bundle Or you may be interested in the other individual similar sets: L Blends Bingo Blends Bingo - S Blends
This bingo game is a fun way for students to practice identifying the S Blends at the beginning of words (sc, sk, sl, sm, sn, sp, st, & sw). Set Includes: * Bingo Boards (10 color & 10 b/w) * 38 Word Cards – For caller to use to announce words * Answer Sheet (color & b/w) – For the caller to keep track of the words that were called * S Blends Counters (color & b/w) – For additional practice students can use the appropriate S Blend counter to cover a picture that was called. * Blends Chart (color & b/w) This is part of a bundle you may be interested in: Blends Bingo Bundle Or you may want the other individual sets: L Blends Bingo Blends Bingo - R Blends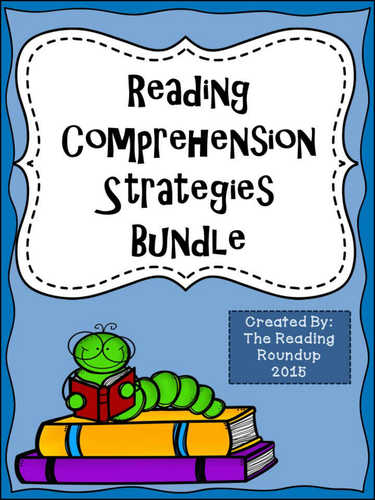 This bundle includes reading comprehension quick reference guides, study guides, and progress monitoring forms. The reference guides and study guides include graphic organizers and prompts/sentence stems for multiple reading comprehension strategies. You may choose to use these for your own reference during small group instruction. Students can use add them to their Reader's Notebooks to help them apply the strategies while reading and review the previously taught strategies. You may also choose to send these to parents to provide them with a resource to help their child with reading at home. The prompts and graphic organizers are good way to help students prepare for questions they may see on assessments and standardized tests. The progress monitoring forms are a great way for you to track students' mastery of the comprehension skills throughout the year. Bundle Includes: Metacognitive Strategies: - Asking Questions - Determining Importance - Monitoring Comprehension - Making Connections - Making Inferences - Summarizing & Synthesizing - Visualizing Comprehension Skills: - Character Analysis - Story Elements - Compare & Contrast - Fact & Opinion - Author's Purpose - Cause & Effect - Main Idea - Sequencing - Making Predictions - Plot - Making Judgments