Mrs Middleditch's Outstanding Resources
Your one stop shop for everything you need for an OUTSTANDING lesson.
17Uploads
8k+Views
3k+Downloads
Your one stop shop for everything you need for an OUTSTANDING lesson.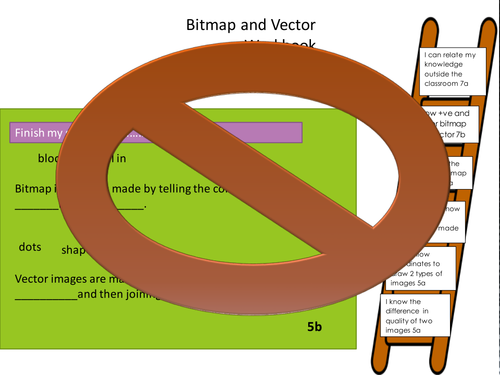 Complete lesson with differentiated tasks to teach Vector and Bitmap image representation. Includes lesson plan, worksheets, differentiated worksheets with clear scaffolding and lesson presentation. Range of activity types in worksheets. Lesson plan includes differentiation strategies and Assessment to Support Learning strategies. All tasks are leveled to ensure students can work are their level and make outstanding progress. Presentation has objectives on each slide so they are easily accessible at any stage in the lesson.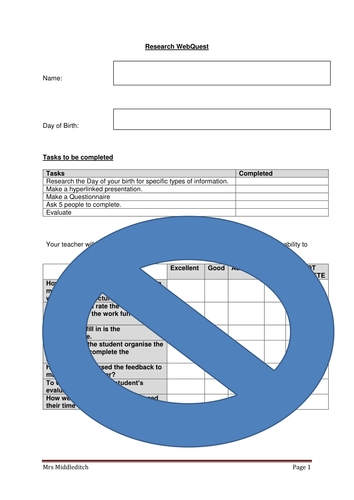 Independent Web Quest. Inc Research, Implementation, Peer Assessment and Evaluation WORKBOOK, Excellent workbook with check list, success criteria and extension activity to aid independent learning. I have used this for cover lessons as it encourages students to keep focus and I can accurately assess the work completed in the lesson. Students have to create a Hyperlinked Presentation about the Day of their birth following guidelines about what they must include. Examples are given to start the student off. Once complete the next step in the booklet is to create a questionnaire for peers to complete about their presentation. Students also have to act upon feedback and improve where necessary. The next task would be to evaluate the whole process before completing the extension activity. Fabulous resource that can last 3-4 lessons. Can be used as cover for absent staff or as an assessment activity.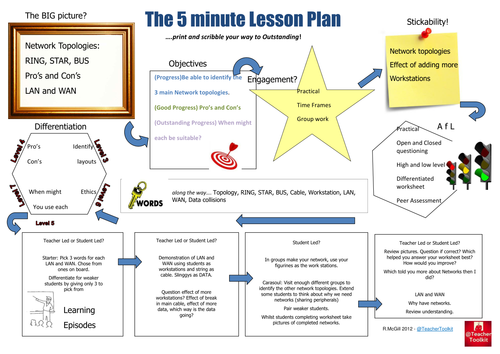 This is a lesson I did for an observation where achieved an outstanding. The download includes lesson power point, lesson plan and worksheet. Students are taught the 3 main networks and then have to recreate the topology in groups using objects such as string ect. Then students carousal round the other networks asking questions to the creators about the networks so that they can complete their worksheets. Lots of independence, lots of peer assessment, lots of fun. Really enjoyed it.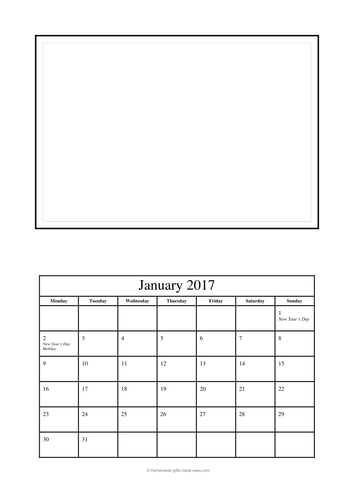 Outstanding Project to for students to independently work through and manage their time . Excellent bridging unit before starting a GCSE ICT controlled assessment. Includes 22 downloads or create lesson material such as worksheets or task supports. A Management Agency asks the students to plan a tour for a Band/Artist. The project leads the students to > Research artist > Use sources Tables > Set up folder structures > Create Publication material (Programs, Billboards, Calendars ect) > Compile questionnaires > Complete Surveys > Analyse Survey results > Evaluate Processes > Create E-Portfolio. All these skills help student in their GCSE ICT project, so this is a fantastic bridging unit. A chance for students to practice skills without spoiling their Controlled Assessment. Can be expanded by adding Database task.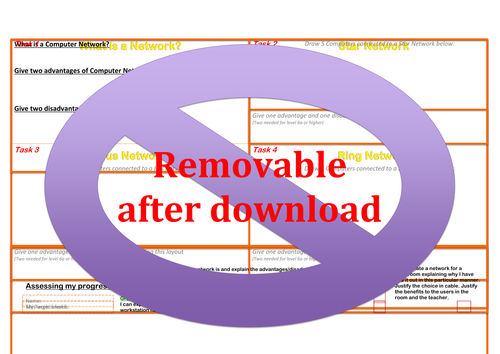 A perfect lesson to assess learning of networks. Tasks are graded so that students can determine what Grade they are achieving. Allows for independent learning and extension tasks for the more able. All resources included in the download make for a perfect lesson. Worksheet is an A3 worksheet that can become part of a display or a revision guide.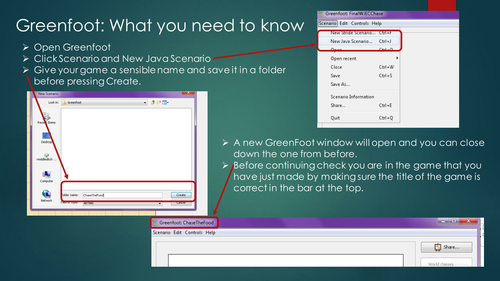 Perfect tutorial for students to walk through and practice Greenfoot codes. This presentation has been designed to hit ALL the areas of the Greenfoot part of the WJEC Unit 3 exam. Handy "All you need to know" code section at the end to print out and give to students to revise from. This slide has a breakdown of the codes the students need to remember for the exam including: > Random Movement > Movement with arrow keys > Deletion on collision > Sound on collision > Counter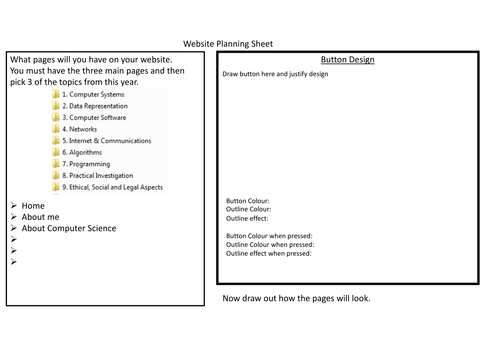 Resource to help with the planning of a website. Students must plan the buttons and are prompted to plan the style of them when they are hovered on as well as static. Students then have to plan the layout of each webpage. An example is included to model against. I have included a sources log so students can log the resources they need as they plan their layout. They will then have a complete list of the images and text they need to find for each page. Good resource for a non ICT room and to make sure that all elements have been planned and organised before website creation. Original included so can be tweaked for your lesson.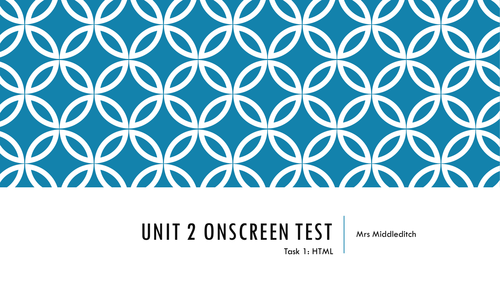 Great lesson to aid the teaching of the HTML element of GCSE Computer Science for all courses, but specifically for the WJEC On Screen Test. It's a full lesson with timing where the plan takes the following format. Perfect for GCSE COMPUTER SCIENCE • Spot the difference starter • Make the difference lesson task • Assess your difference and mark • Create Revision card task • Round Robin Plenary. Excellent lesson to prepare students for the test.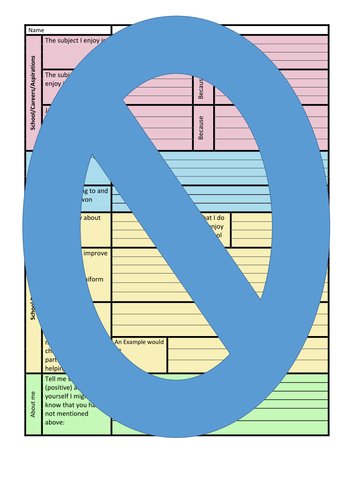 Tutor Report Knowledge Harvest Excellent worksheet to help collect important key information you might want to include on a end of term report. Also a good method of getting to know your students either in form or in a lesson. Can be done as homework. Colorful and easy to follow with clear sections to complete such as Hobbies, School/Career Aspirations, School Performance ETC.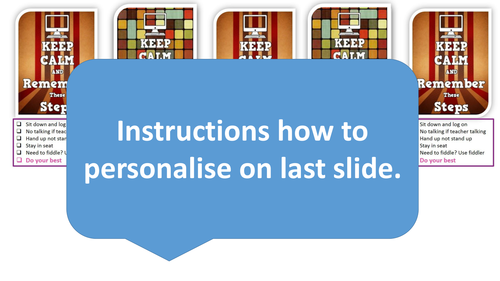 Outstanding Behaviour management tool for those students that need a gentle reminder of the steps that they should take to get it right. The resource comes ready made with instruction how to personalise for your name and image. I have used as a discreet reminder to students who just need pointers about what is expected rather then escalating the issue further. The reverse has the rewards that can be rewarded once a student gets it right. The presentation comes with access to all areas of the cards to personalise to your requirements. Therefore if my "steps to success" font match yours then you can change them prior to printing. Printing double sided along the small side will result in accurate back to back printing which can be laminated to make the cards reusable. Enjoy.
Save time writing "Well Done, Excellent Effort" or any number of positive comments to students by using these pre-written templates with a selection of positive praises already written for you. Such as Excellent Effort, Creative Contributions, Marvellous Manner and Hardworking Homework. This resource is fully editable so you can add your own positive phrases or even some SMART ones. The style of the passes are to mimic an email, with a place to write who the email is to (the student you are praising) and a subject (the reason why your are giving them the praise). A few ticks to chose the reason for the praise and the job is done. You can praise a class in minutes, the students love taking these home to show their parents and stick on the fridge! You could embed the use of these Praise Passes further by rewarding students who collect 3 over a given time. Your purchase includes a tracker that can be stuck in students books. Every time a positive pass is awarded they would stick on the correct space on the tracker and upgrade to a phone call home. This upgrade can be changed to suit your schools positive behavior policy.
FULL LESSON: Includes Starter, Video Tutorials, Lesson Presentation, Print Screen Instructions and Printable Plenary. Not to mention differentiation with the Scaffolding presentation. Fantastic resource for a new Year 7 or Year 8 class to test their skills in problem solving and using drawing tools in PowerPoint. Students will use a range of tools such as the Intersect option when you merge group shapes and editing points on shapes to change basic shapes to match their need. Not to mention building on Audience and Purpose skills! The plenary can be either self or peer assessment but the printable worksheet is available for you to print. I used this lesson with a Year 7 class and was graded as Outstanding. So I know this lesson can get you outstanding. The weaker students use the Scaffolding presentation as it has some of the basic shapes and outlines to help them on their way.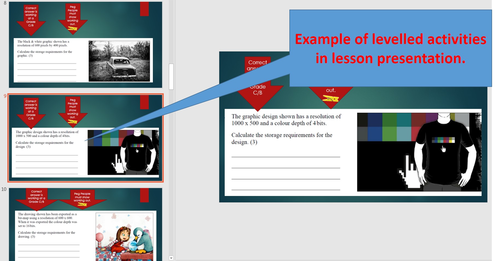 An outstanding resource to teach about Image Representation. Covers a lot of areas and has clear explanations of important areas such as resolution, colour depth, meta data, lossy and lossless compression techniques. Each task is graded for differentiation to help students achieve their target grades. There is extension tasks aimed at the More Able students who I refer to as "Peg People". Every More Able student has a small peg clipped to their folder so that they know when ever they see a small peg image on work that they must complete this task. Also includes exam style questions.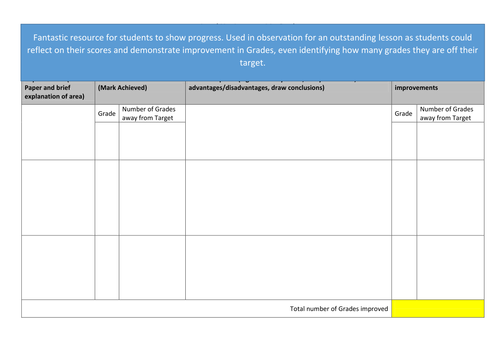 Fantastic worksheet to show progress in a lesson. Used mainly in my Computer Science lessons but can be used in any topic where students complete end of unit tests. Students identify areas they need to improve and also identify the impact of their improvement, for example the number of grades they would be from their target if they make the improvement. My students know this as levelling up.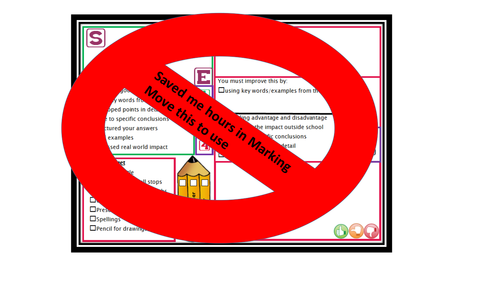 This is a template that I have developed for my classes to save some valuable time. It has some generic tick boxes for some of the things I found I was constantly writing when I marked and it also has a place I can write a strength (S) and a target (T). The "E" refers to the effort that the student has put into the work. The blank box at the bottom right is so that the student can write a response to my feedback. You could use these as labels and print them on a label if you wish. Saved me lots of time and helped me keep my marking consistent.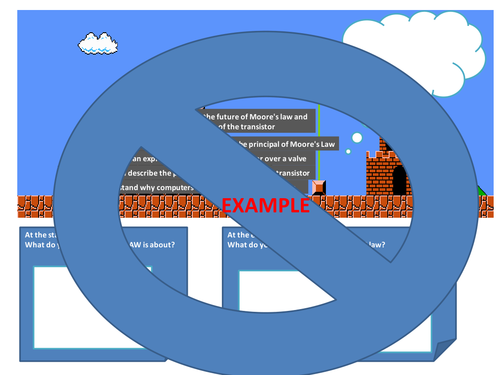 Fun method of assessing and demonstrating progress in a lesson. Can be used in any topic and students enjoy the graphical look of the Mario Brothers theme. Use the steps and castle slide to show the objectives to be working towards. Have this replicated into hand out worksheets like the Progress Checker document attached. Students then complete this as a starter and can have it to hand to check their progress in the lesson. When re-capping the starter have the ladder slide on the whiteboard and ask students to add their initials next to the level that they feel they are currently. Teach the lesson and then ask students to put their initials next to the level they are at now and to complete the sheet from the starter to justify why they are at that level. This is then a perfect discussion point to check why they are at that level and to peer assess by questioning others in the class. Outstanding way to demonstrate progress in the lesson or over a short period of time.
These personalised revision cards are an ideal alternative to plain index cards. Students can use the front cover to reflect about what they want to learn. They then use the revision cards to write their notes and can even use the Content Page to index the cards so they can locate topics quickly. At the back there is a Keyword glossary page for students to write definitions of keywords relating to the topic. As you can see from the picture I have had mine spiral bound so students can quickly flick between revision notes. The generic cards can be used for most subjects and allow the student to write their name, target and topic the cards are about. Really useful to focus revision .