Most of us dislike marking because of the time it takes. Let me help you cut your marking time with these handy marking templates. There are 3 templates available focusing on each Assessment Objective (A01, A02 & A03) . Marking Tip: Get students to identify their weakest A0 and use the student success criteria to guide their response and make improvement in this area. This is a good way to get students to take more ownership of their learning.
PEEDC (point, evidence, explanation, development and a comparison one too) posters to use as classroom displays or as flashcards for students to help write a successful PEE paragraph.
An introductory lesson into A-level English. The lesson breaks down the Assessment Objectives into language that students understand. Furthermore, an 'audit' form for students to track each AO skill is included.
An introduction lesson for the new International GCSE: English as a Second Language. Lesson includes: - Breakdown of the paper -Breakdown of each part of each paper -Quiz - Test
English Language Paper 1 exam paper and feedback lessons, using the Inspector from 'An Inspector Calls'. Lesson breaks down each question and offers example paragraphs to help students' understanding. Mark schemes are also included for students to peer/self-assess. Exam paper can be found for FREE on my TES Shop.
Writing activity getting students to use more ambitious techniques to hook their reader's attention. Perfect starter activity. More writing stimulus tasks like this can be found on my TES shop.
Most of us dislike marking because of the time it takes. Let me help you cut your marking time with this handy marking template breaking down A02. THREE templates available focusing on each Assessment Objective (A01, A02 & A03) on my TES shop.
Lesson focusing on some of the structural devices used in 'The Sign of Four'. Revision flashcard, exam question and activity included.
Detailed lesson looking at AQA English Language Paper 1 Question 3. The lesson includes: -class structure game -revision flashcard -2 Jekyll and Hyde extracts (class work and homework) with guided questions
Revision worksheets for The Sign of Four. Chapter summaries are provided and breakdown of Assessment Objectives for students to plan.
English Language Paper 2 exam, using the thought-provoking theme of valuing our time over factors such as social media and money. FOUR detailed lessons are included that tackles each question individually. Example paragraphs, peer/self-assessment and success criteria are given to help break down the skills needed into manageable chunks.
Five detailed starter activities that get students to blow up the language used in key quotations from 'Macbeth' and the 'Love and Relationship' poems. Questions are given to aid analysis and interpretation of language. Extension tasks for each starter has also been provided. This requires students to write an essay response using the quotation, however only focusing on their weakest Assessment Objective (questions are also provided for this). These activities can be completed individually, in pairs or in small groups.
Detailed and relatable assessment preparation lesson focusing on English Language Paper 1: Q5, using 911 as a stimulus for descriptive writing. The lesson includes: 1. quiz to test students' knowledge of writing skills 2. student friendly mark scheme 3. student example 4. independent writing task 5. opportunity for guided self assessment
Detailed lesson for Q3 (structure). The lesson: - looks at the differences between language and structural techniques -gives students opportunities to identify structural techniques within a text - includes a detailed flashcard with sentence stems and terminology for revision -includes mark scheme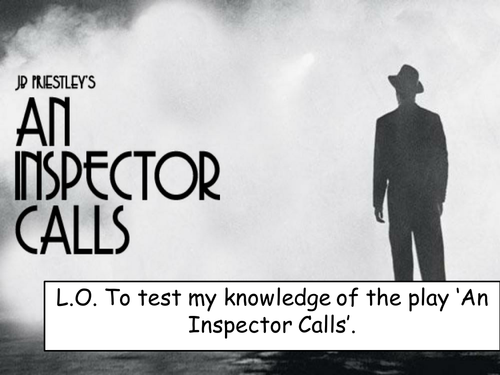 13 detailed lesson PowerPoints for revision of 'An Inspector Calls'. Each lesson focuses on a different character or theme. A variation of tasks are included: -visual and auditory task - independent written tasks - group tasks -speaking and listening task I have also tried using examples that are relatable to them, for example getting students to make comparisons between the relationship of Sheila and Gerald and Beyonce and Jay-Z. Scheme also includes: - focus on exam skills -break down on how to approach the question - lesson on assessment objectives - weekly homework timetable, which includes exam style questions for a seven week term - midweek homework tasks for revision of the 'Love and Relationships' poetry cluster.
Instead of a revision timetable, I have created a Reflection Revision Planner. Students: Unlike a timetable, it requires you to reflect on yourself and your studies regularly in order to make sense of what you are studying and why. I hope it will keep you motivated, as you can shape and adapt your revision and have more meaningful study sessions that make a difference. Teachers: Download now for your students!
Questions for each act of 'An Inspector Calls', with an exam question for act 3. To stretch pupils, most questions require them to make their own interpretations of characters and the language they use. In addition, questions focused on Priestley's use of dramatic irony and foreshadowing.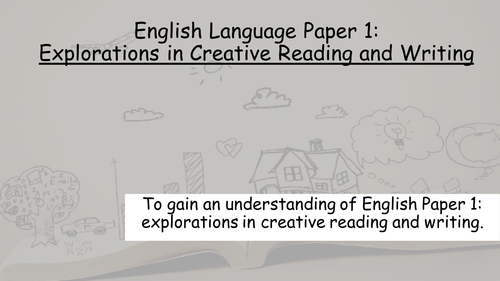 Detailed PowerPoints focusing on question 1 and 2 of the English Language Paper 1 examination. Lesson 1: Introduction into English Paper 1, using an extract from 'The Hunger Games' Lesson 2: Understanding the differences between implicit and explicit information using 'The Hunger Games' and visual aids. Lesson 3: Group based lesson/activities focusing on language techniques Lesson 4: Breakdown of Question 2 using 'The Sign of Four' Lesson 5/6: Understanding more ambitious language techniques, such as antithesis and Satire using 'Tale of Two Cities' and 'Animal Farm'. Lessons provide scaffolding for lower ability students, including sentence starters and activities to suit needs of different abilities.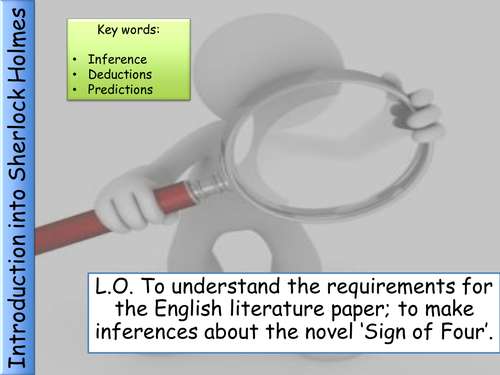 14 lessons covering Chapter 1-10 of 'The Sign of Four'. Each lesson covers a particular chapter or theme in detail. Throughout the course of the unit, students will have opportunities to practise exam style questions, peer and self assess, whilst familiarizing themselves on the Assessment Objectives and marking criteria in order to be successful in the exam. In addition, each lesson has either a spelling test, idiom or punctuation task to complete as a settler. A homework booklet with 7 weeks worth of exam questions for 'The Sign of Four' have also been included, with mid-week homework tasks revising 'Macbeth' and English Language Paper questions.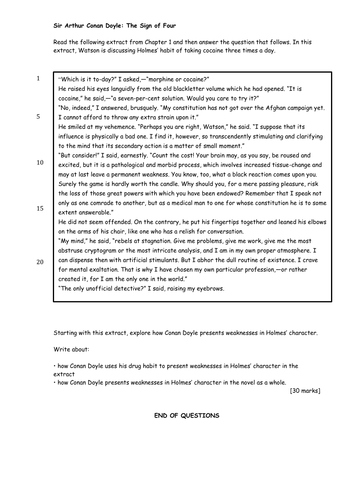 'The Sign of Four' booklet, including 7 exam style questions. The booklet also includes space for students to plan, write and self/peer assess work, as generic feedback sentences have been provided. There are also opportunities for students to rewrite their response using the feedback given.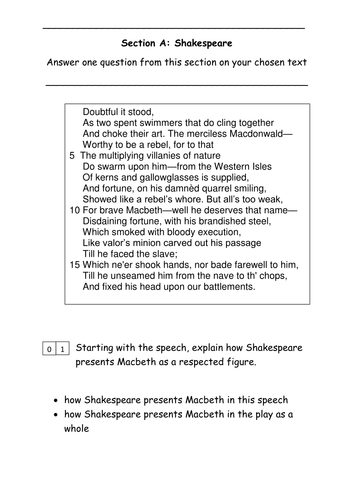 A set of homework tasks for 'Macbeth'. This includes: - literature exam style questions -other exams questions using 'Macbeth' as a stimulus, e.g. using a scene from Macbeth to look at how structure interests a reader (Question 3 of the English Language Paper 1)