4Uploads
435Views
60Downloads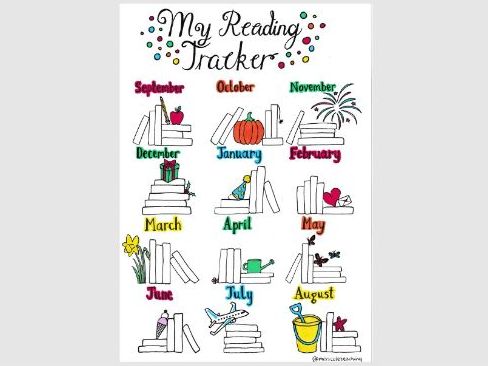 An annual reading tracker to be completed by anyone to track the books read over the year. Simply colour in a book from the stack from the current month and colour it in and label it to look like the spine of the book you've just read. A great way to remember the books you've enjoyed over time and a great reward strategy for less enthusiastic readers! Enjoy :)
Each child receives a loyalty card with their name on and their own personalised target for their weekly spelling tests e.g. 'to get at least 10 spellings correct,' 'to get full marks.' (There is an allocated section on the card where each child's target can be written.)Each time the child then meets their target they can add a sticker to their honeycomb collection on the reverse side of the card. Once they've received 6 stickers they receive a prize. (I have a box of small prizes including pencils, rubbers, stickers etc). Whilst the resource motivates children to succeed on their spelling test it also recognises the range of needs in each class and the need for differentiation regarding the words set and their targets. A great reward! My class are extremely driven by it.
My class absolutely loved making this! After learning about Henry VIII and his six wives during our Tudors topic, the children created an 'information circle' for each wive which can then be folded and stuck back to back to create an information text brilliant for wall displays! My PDF file here includes an image of my completed one and then the templates of the 7 circles needed and Henry VIII's upper body. Enjoy! :)
Simply edit the names and then print these cards off onto coloured paper of your choice and display as desired. This is a great way to monitor what your children are reading and for them to see which books each other are reading too. I will get the children to stick new post-it notes on top of old ones which will then create a reading-log in itself. Both myself and my TA's have a card too as we want to join in the fun and the kids love seeing which books we're reading!