Preschool German resources: tourist office and visitor information
Keeping your class engaged with fun and unique teaching resources is vital in helping them reach their potential. On Tes Resources we have a range of tried and tested materials created by teachers for teachers, from pre-K through to high school.

Breathe new life into your lesson plans with our elementary, middle school and high school classroom resources. Whether you're looking for fun math worksheets or brand new guided reading activities, we have thousands of free and premium resources for you to download. From kindergarten to elementary you'll find K-5 resources, including phonics worksheets and numeracy games. From middle school through to high school we have everything from Spanish lessons to algebra activities, as well as Common Core-aligned lessons and revision guides for tests.
Read more
Tourist office and visitor information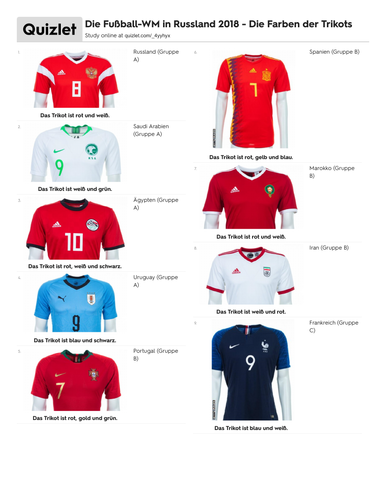 Set to practise names of countries and colours in German. Follow this link https://quizlet.com/_4yyhyx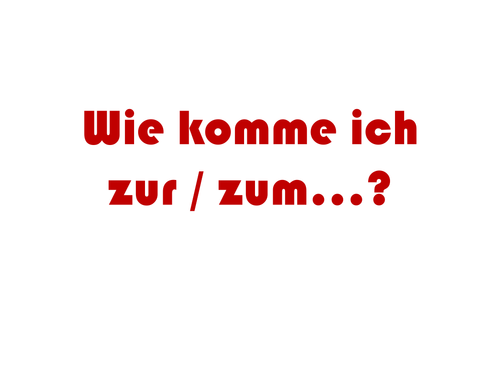 Asking for and giving directions in a town. Introduces/revises buildings and directions (geradeaus, links, rechts), followed by an activity in which pupils give directions.
Save 60% on individual purchase. Stimmt 1 New GCSE-style translation and speaking tasks Get your students used to GCSE-style questions early on with translations (Eng-Germ and vice versa), picture description and role plays based on vocab learned in Stimmt! 1 -powerpoint with three pictures with questions in English to guide students along. The first picture can be used as example/writing task, the other two for pair work. . -translation worksheet -two role play cards for student pair work -example answers for speaking and answers for translation task included in the powerpoint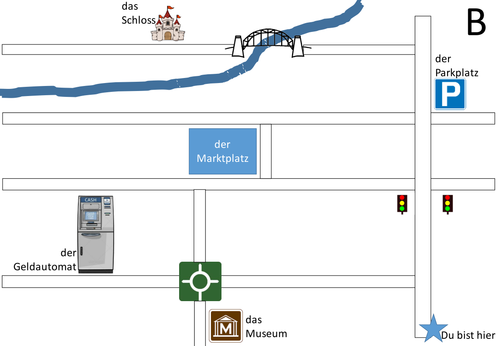 2 maps of same town layout. Partner A asks for the directions to the destinations on Partner B's map and vice versa (I put what they are looking for up on the board). In German, but can be easily adapted for other languages.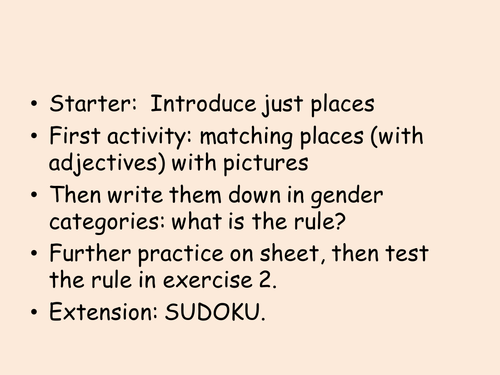 A series of three lessons for both higher and lower ability classes, in line with the Echo 3 SoW. Includes worksheet on the structure 'es gibt' with places in town and accusative adjective endings, and a roleplay set in a tourist office. Great for year 9!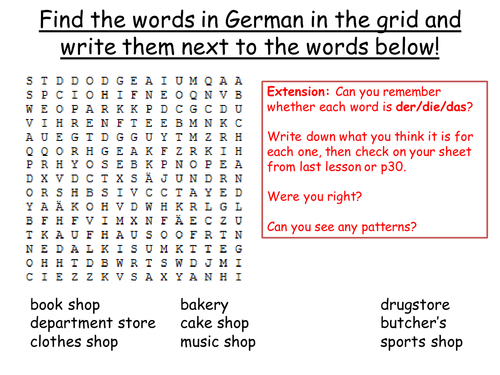 2 lessons: in lesson 1, students learn 9 different shops. This lesson is full of AfL as the students set their own targets for learning these phrases during the lesson. In lesson 2, students use these phrases in sentences to describe what you buy where. Again, lots of practice and AfL techniques with a thumbs-up/down quiz to finish. Great for year 8.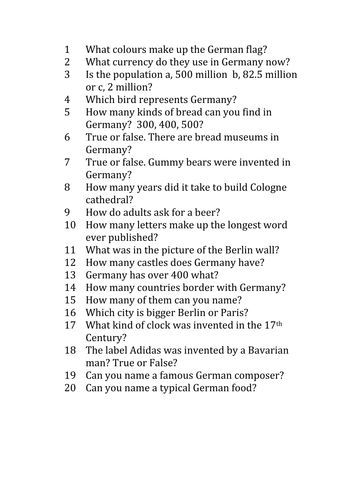 Created for a European day. KS1 AND KS2. 45 factual slides, intro has 4 or 5 links to youtube songs for the children to join in with before or after the quiz. quiz answer sheet has 20 questions/spaces for the children in teams to complete.