Social Science
A-Level AQA Psychology | A-Level AQA Sociology | BTEC Health and Social Care | KS3 RE (Buddhism) | EPQ
103Uploads
78k+Views
53k+Downloads
A-Level AQA Psychology | A-Level AQA Sociology | BTEC Health and Social Care | KS3 RE (Buddhism) | EPQ

If you're intending on sharing these on your school website or with multiple students, you should be purchasing the school license. Made for AQA Psychology and includes 1 A4 pager per topic of concise and summarised information with appropriate imagery. Optional topics include Aggression, Schizophrenia, Gender, Relationships and Forensic Psychology. NEW - clean and simple designs for most topics. Once purchased you should be able to download any updates for free.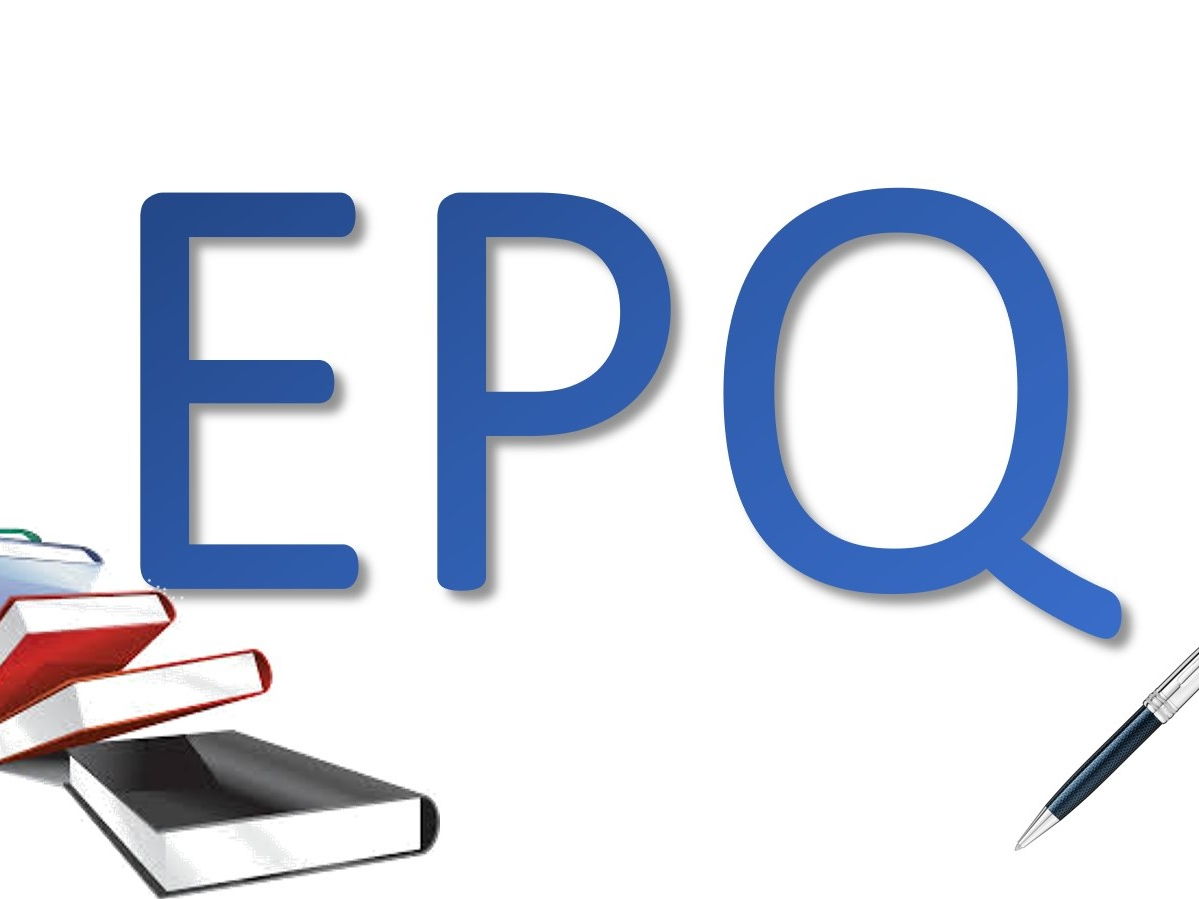 EPQ / Extended Project whole course. 19 lessons to prepare students to conduct their Project Research including exemplars, concise guidance and activities. Year calendar for students and supervisors Handbooks for students Supervisor role Taster lesson and resources Summer preparation. Structure for EPQ projects. Originally created for the Edexcel specification but applicable to AQA.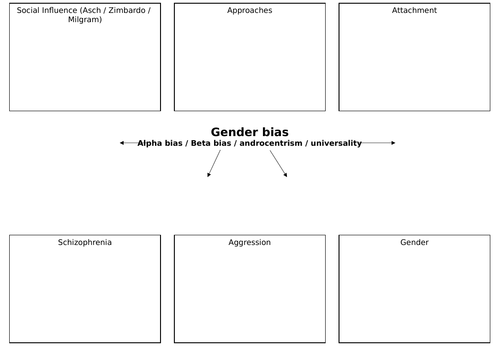 23 Revision Mats included. 1x Social Influence 1x Memory 1x Attachment 2x Approaches (Year 1 & 2) 1x Psychopathology 3x Research Methods (Year 1 & 2) . 1x biopsychology (Year 1 & 2) 2x comparison tables 6x IAD 2x Gender (optional topic) 1x Aggression (optional topic) 2x Schizophrenia (optional topic) Slide size is set to A3. easy to amend and ideal for revision. Also includes Issues and Debates synoptic activity.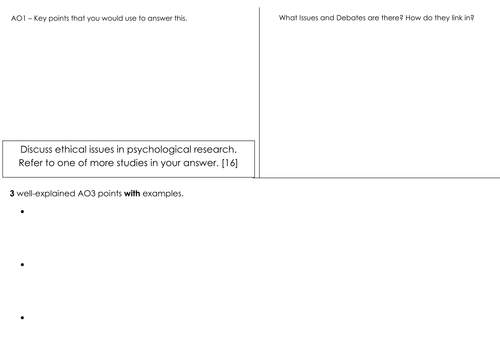 A collection of revision resources for whole lessons or individual tasks. These are very easy to amend to whatever topic you want to focus on. Rotating squares - Includes 11 essay questions. The aim is to give each student one essay question, give them a set time to complete the sections (AO1, I&D and AO3) then swap with another student for a set time, and again. Eventually, there will be several contributions for each essay. Articulate - 60 Key terms of studies. Students work in teams. One student picks a card and must explain their word without saying the word. Others must figure out the word. Revision clocks - Assign a topic. Give students 1 minute to complete each section of the clock. Ask or answer - cut out cards. Student independently completes either asking the question that fits the answer or answering the question. Someone who - You will need to add your own questions. Give students a sheet each, they need to ask their peers to tell them the answer and state who told them. A03 burgers - interactive way to great effective AO3 paragraphs. In practice, I provided students with 'points' to guide them to create burgers. 'How to Revise Psychology' evidence based guide. Issues and Debates synoptic activity exam question brain dump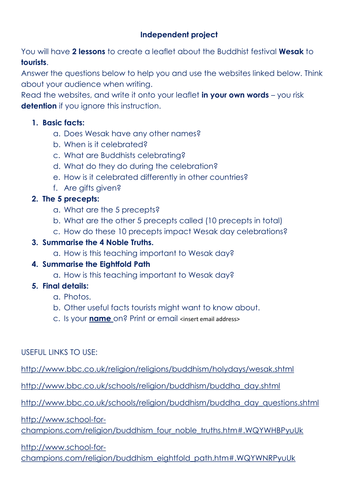 2 lessons. Wesak day is an independent PC project which allows students to research into Wesak day and create a leaflet aimed at tourists. The document asks questions to guide them to create a leaflet, which include basic teacher answers. Wheel of life lesson goes through the wheel of life elements and allows students to create their own.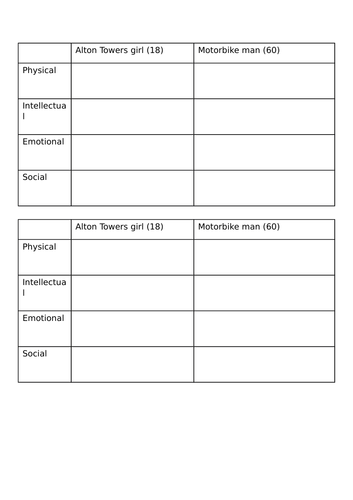 Includes 3 powerpoints for all of LA.B content. Appropriate and factual videos for most areas. Several real-life scenarios worksheets and activities to complete. 4 PC lesson research projects. Homework suggestions. LA.B case studies included and coursework preparation tasks. Component 1 bundle available LA.A and LA.B - check my shop for a reduced price when buying both learning aims.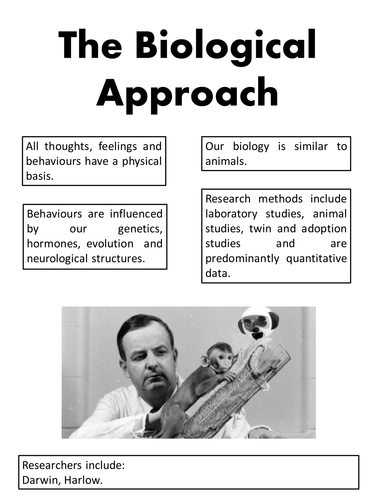 Includes: 6x approaches (Behaviourist, Biological, Humanistic, SLT, Cognitive and Psychodynamic) and includes basic assumptions, facts and one related humourous comic - I've based it around the AQA spec so it may need adjusting for others. 1x Hypothesis chart. 1x AO and Evaluation poster. 1x How to score highly on graph questions 1x measures of central tendency 1x PEEL and sentence starters 1x openers and connectives for essay writing 3x careers within psychology. 1x University entry requirement and map 1x Open Evening display 1x Sperry 1x Validity and Reliability key terms. 2x Literacy mat for desks. 1x psychology bunting 1x A3 timeline (8 pages) 1x brain diagram (4 pages) The brain and connective posts can be found for free via a Google search.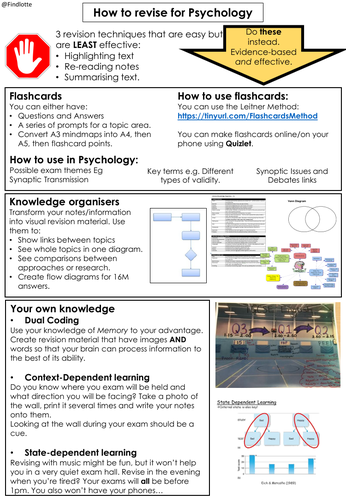 A two-page guide on how to revise. Simple an concise for students.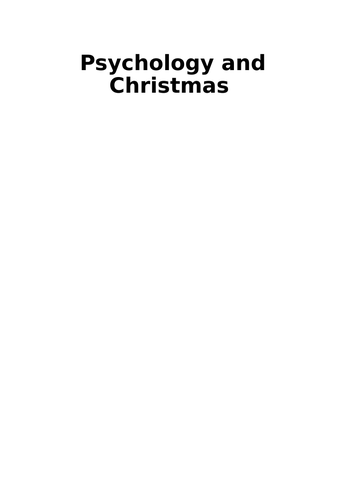 Christmas lesson activity pack which includes: 3 pages of colouring images which link to the AQA specification - student can label, link to the spec and colour in. Themed question and points activity. 'Who killed Santa' mini problem-solving game. 40 question Kahoot quiz with Psychology and Christmas questions.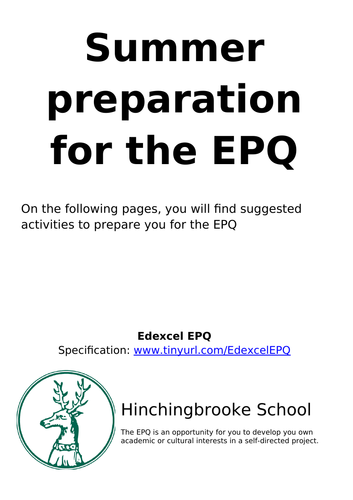 This was created for the Edexcel EPQ from scratch, however can easily be adapted for AQA. Includes; EPQ 1 year plan/calendar. Handbook for students. 'Role of the Supervisor' guidance Taster lesson for Y11 or Y12 Summer transition work. For all of this, plus the taught lessons go here --> (https://www.tes.com/teaching-resource/l3-extended-project-qualification-whole-course-11962375)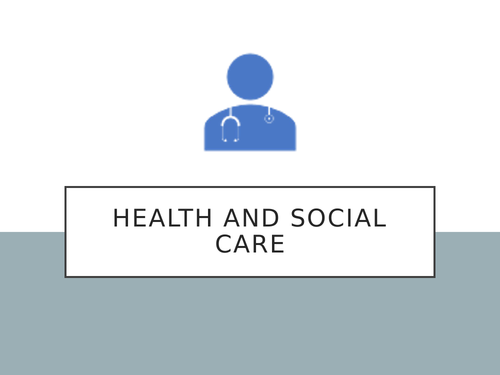 1 hour taster lesson which introduces the course - very easy to amend for your units. Includes a short task which combines different unit requirements. Includes summer homework / transition work.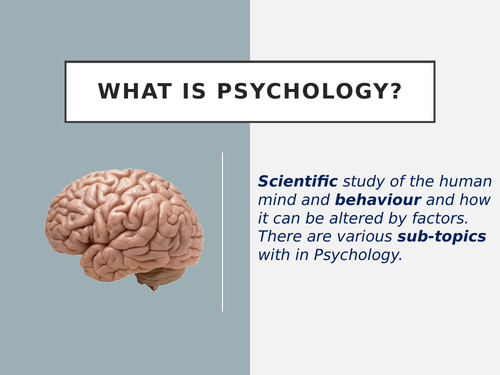 2 Psychology taster lessons. One focuses on Attachment types and encourages students to complete a quiz to find out their own. It also included the 'Marshmallow Test' by Mischel. The second focuses on Biopsycholgy and labelling the brain. There are various summer transition packs included. Roughly 45 minutes, summer preparation booklets compliment these lessons.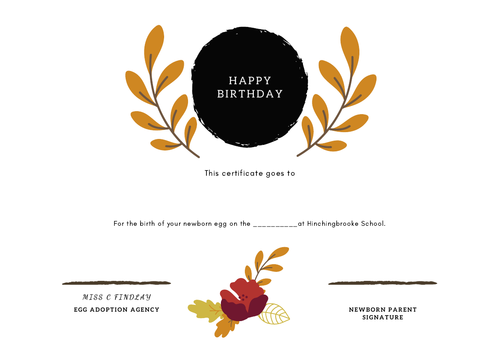 Includes 11 lessons with videos and detailed notes on the majority of slides and structured tasks to help them write 16M essays. Context added to help students. All slides follow the same format and are dyslexia friendly. Some research methods emdedded within - Features the 'egg project' and certificate. Exam link - relevant exam questions shared throughout.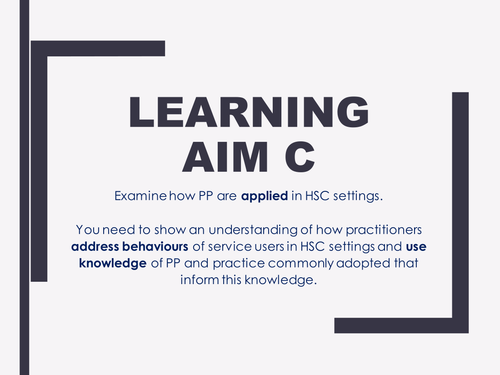 BTEC Level 3 - Health and Social Care - Unit 11 - Learning Aim C (Examine how PP are applied in HSC settings) and B (Examine how PP contribute tot he understanding of management and treatment in HSC) 1 powerpoint which contains all of the content for Learning Aim C. Video links in the notes. 6 powerpoints for learning aim B with notes, videos and worksheets included. Suitable for the old and new assignment brief (Oct, 2018)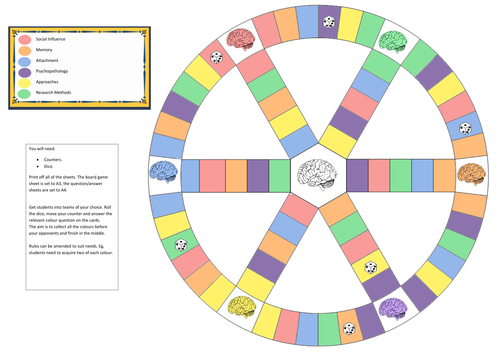 You will need: A printer, counters and dice. Included is the game board (A3) 18 Q&A cards and 6 blank Q&A cards (12 per A4) Cut out the Question cards and stick the answers to the back. This only covers the topics in Year 1 (Social Influence, Memory, Attachment, Approaches, Psychopathology and Research Methods) but the cards are easy to amend for Year 1/2. This is a good revision or end of year activity - Get students into teams of your choice. Roll the dice, move your counter and answer the relevant colour question on the cards. The aim is to collect all the colours before your opponents and finish in the middle.

Includes 5 detailed powerpoints to teach the families and Household topics which all include resources, contemporary links, activities and exam questions. The notes section includes all sources of additional information. 2 of the topics are student-led: Demography is a free resource available here: (https://www.tes.com/teaching-resource/aqa-15-sociology-f-and-h-demography-workbook-11634331) Changing Family Patterns is a 2 week group project included on slide 1 of the Childhood powerpoint.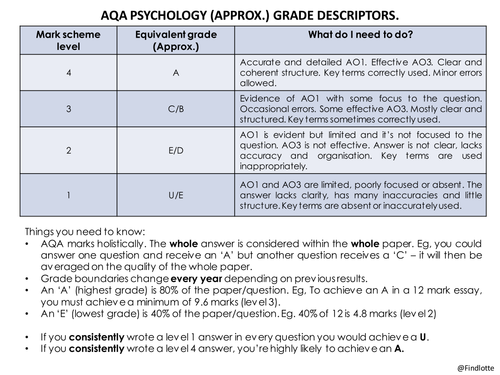 Ideal for students struggling to grasp effective evaluation and structure.

Updated version. Initially made for my own students to help with revision - it's not designed to be delivered but for students to use and go through themselves. 49 slides include: Exam and assessment information. Various revision techniques for all learning styles. Various note-taking techniques (hows and whys) Essay structure (how to understand a mark scheme, how to get an A, how to write strong AO3) Wider reading (websites, and twitter provided) How to deal with stress. How to deal with procrastination.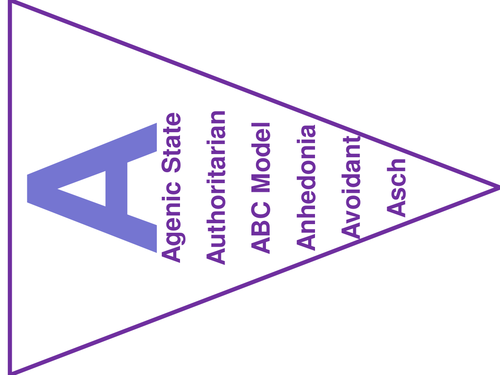 Perfect for any classroom. Print onto plain, patterned or coloured paper. Easy to edit for any spec - I've tried to choose common words but feel free to add or amend.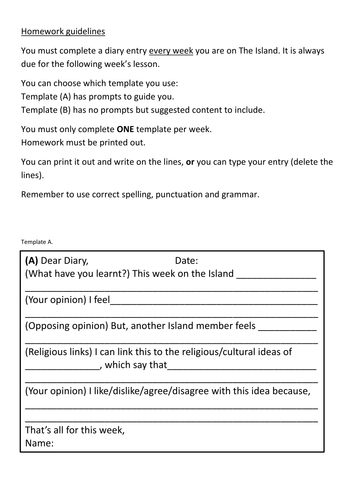 Ideal for anyone teaching 'The Island' but can easily be adapted to other topics. Includes 2 templates (lower and higher ability) and guidelines for completion.