HMBenglishresources1984's Shop
A group of teachers sharing quality resources.
1k+Uploads
1319k+Views
422k+Downloads
A group of teachers sharing quality resources.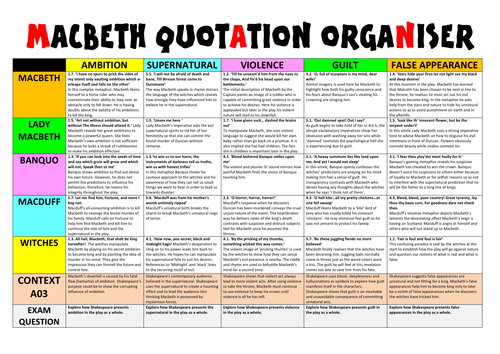 A Macbeth revision sheet that organises 25 quotations and explanations into characters and themes. Also includes some ideas about context for each theme. I give students the blank version first and compare it to the final version after they have attempted to fill each box. For more Macbeth resources try the following links: grade 9 model responses: https://www.tes.com/teaching-resource/macbeth-6-grade-7-9-model-responses-12187985 Revision Cards https://www.tes.com/teaching-resource/macbeth-revision-cards-12173097 Full bundle https://www.tes.com/teaching-resource/macbeth-revision-bundle-2019-12115685 Other popular Macbeth resources include: https://www.tes.com/teaching-resource/macbeth-revise-20-extracts-11868136 Revision cards https://www.tes.com/teaching-resource/macbeth-theme-revision-cards-ambition-supernatural-guilt-violence-deceit-courage-11868831 Grade 9 model ansers https://www.tes.com/teaching-resource/macbeth-6-grade-7-9-model-responses-12187985 Knowledge organisers https://www.tes.com/teaching-resource/macbeth-character-revision-sheet-quotations-themes-context-aqa-9-1-11868119 https://www.tes.com/teaching-resource/how-is-lady-macbeth-presented-in-act-5-scene-1-worksheets-and-a-model-response-11422450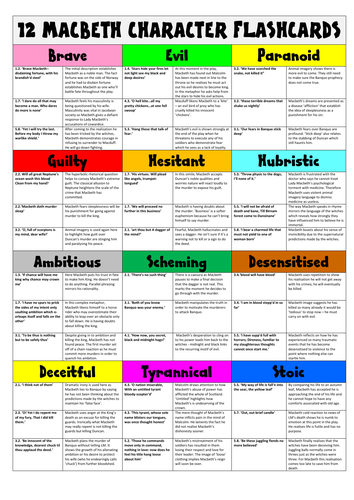 Student-friendly, double-sided revision cards to cover 6 themes in Macbeth: ambition supernatural deceit violence courage *guilt Each revision card has 3 sections: key parts of the play that link to the theme key quotations linked to each theme ideas about context/Shakespeare's purpose for each theme. The back of the card has space for students to make analytical notes on quotations. I have now added revision cards for the 6 main characters and 9 revision cards to cover the character of Macbeth.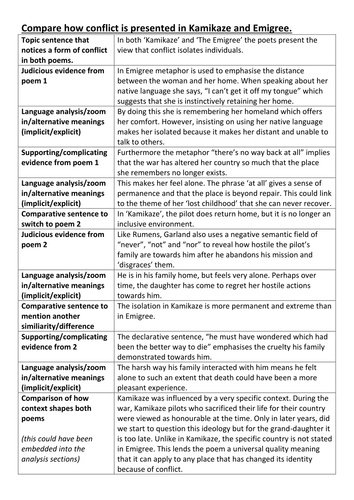 10 Resources to teach students methods for comparing poems from the AQA anthology. Includes ideas for discriminating comparisons by both theme and method. The model examples come from the Power and Conflict AQA anthology. The Emigree and Kamikaze Exposure and War Photographer. Exposure and Storm on the Island Tissue and Ozymandias There is also a blank template for students to practise using the 12 point comparative method on a question comparing Ozymandias and My Last Duchess. There is also a choice over a simple 4 paragraph methods based approach or a more advanced 2 paragraph conceptual approach. There is also a diamond ranking starter activity to get students to engage with the criteria for grade 8 and 9.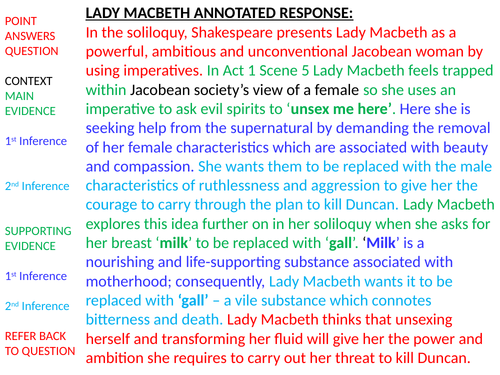 A grade 7 and a grade 8 slightly improved response to the following exam style question about Lady Macbeth: Starting with this speech (Act 1 Scene 5 'The raven himself is hoarse') explain how far you think Shakespeare presents Lady Macbeth as a powerful woman.Write about: • how Shakespeare presents Lady Macbeth in this speech • how Shakespeare presents Lady Macbeth in the play as a whole. Includes a grade 7 version and a grade 8 version for comparison. The grade 8 version has a more thoughtful introduction and conclusion and creates more of a debate. The PowerPoint contains colour coded annotations to showcase a deliberate and easy to imitate method for helping students structure a successful response. Also contains a grade 9 response analysing Macbeth and Lady Macbeth's marriage.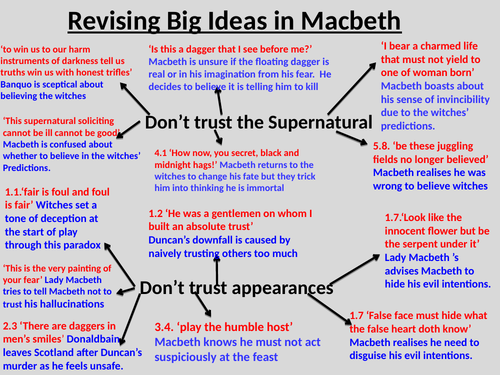 PowerPoint revising theme and character quotations. Each quotation is click activated so you can go through them one by one after first giving students a chance to select and explaining quotations themselves. Covers 4 themes: Don't trust the supernatural Don't trust appearances Ambition is toxic Guilt is inescapable and covers 3 characters Macbeth Lady Macbeth Banquo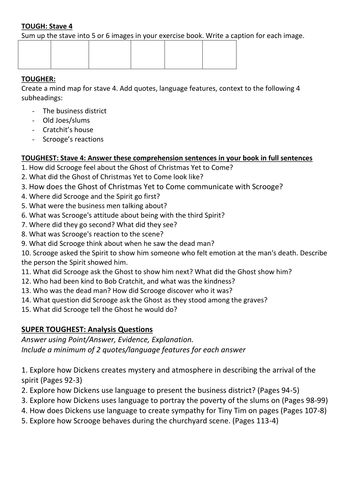 Comprehension questions on Stave 4 of A Christmas Carol.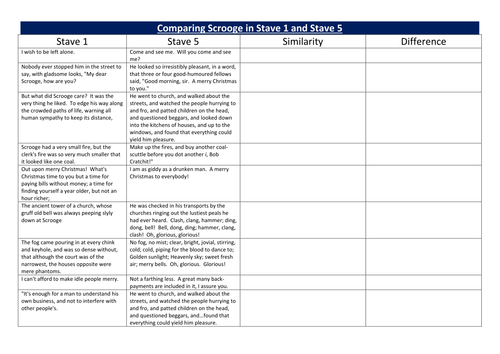 Full lesson which pairs 6 quotations from Stave 1 with 6 quotations and Stave 5 and asks students to make inferences looking for similarities and differences to highlight Scrooge's transformation and redemption. The PowerPoint then goes through 3 inferences for each of the 12 quotations. The lesson also Includes a grade 9 model paragraph and a writing frame for lower ability students. There is also a helpsheet to support an exam question which is also attached.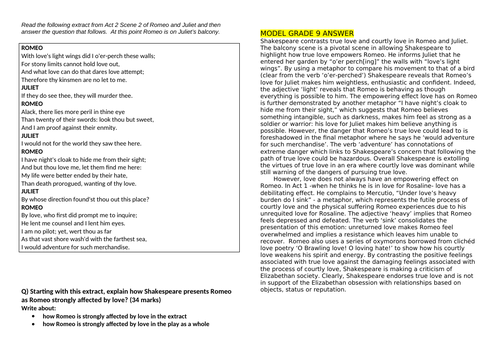 This popular resource includes 3 grade 9 Romeo and Juliet responses, 1 grade 8 response and 1 grade 7 model response to 5 AQA style GCSE examination questions on Romeo and Juliet. The exam questions and extracts are included beside the model responses. I have tried to produce responses at the level reasonably expected of a high-level GCSE-aged student within 45 minutes of examination time. Sometimes when teachers write exemplar responses, they produce such a high level of analysis that students find them overwhelming. I tried to avoid that. Includes a grade 9 model response to a question on adults and children. Includes a grade 8 model response to a question about male hostility and asks students how they could turn it into a grade 9 response through deeper language analysis (A02). This resource is ideal to use to show students how to write successful answers that meet the criteria for A01, A02 and A03. I have also included a sixth examination question so that students can have a go at an exam question themselves using my 9 step method.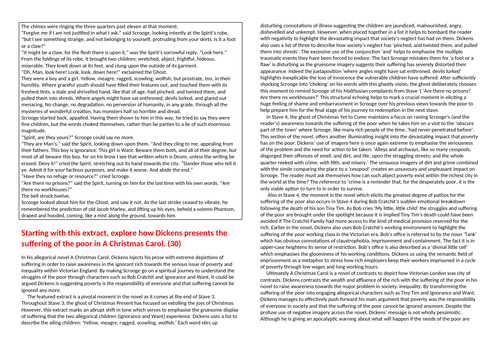 A strong grade 9-style thoughtful and at times perceptive response about poverty in A Christmas Carol. Designed to snugly fit on one page for ease of printing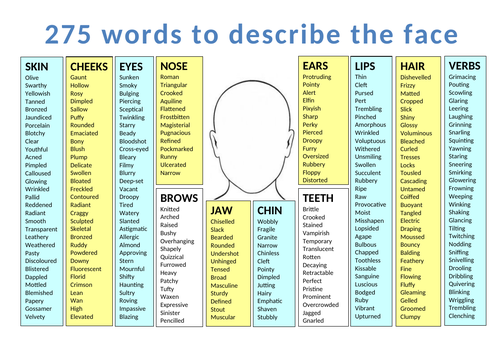 This lesson was inspired by the AQA 2018 English Language Paper 1 Question 5. Students were asked to describe the face of an old man. To help students improve their description, I have created a bank of 275 words that students can use to add precision to their descriptions. The follow up tasks gives students 8 images of Macbeth and Lady Macbeth (Polanski version). Students must select the adjectives carefully to describe one of the 8 images. Peers then have to work out which image they have described from the quality of the description. The plenary asks students to write down their favourite words to describe each aspect of the face.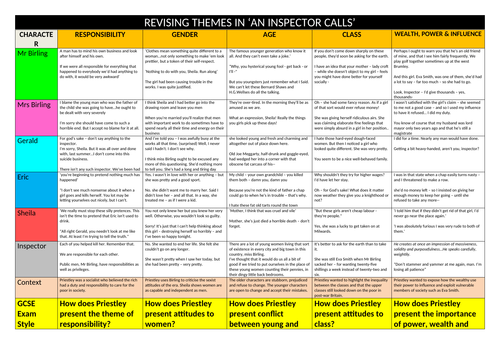 Several helpful and printable revision sheets and activity sheets covering key quotations for characters, themes and stage directions with links to examination questions and context. The themes covered include: Responsibility Class Age Gender Wealth, Power and Influence.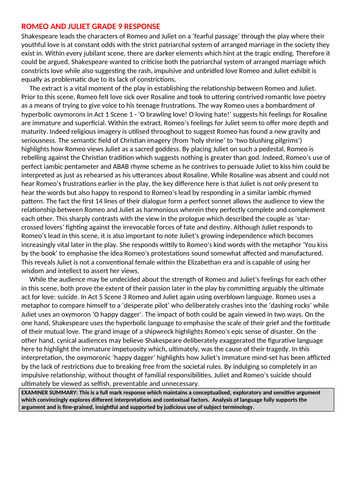 A grade 9 critical and exploratory response to an exam-style generic question about how Romeo and Juliet's relationship develops during the play. I have included the extract and a brief examiner commentary to help explain why the response would achieve grade 9. The response is 662 words along which is about the average length of a grade 9 essay in 45 minutes of exam conditions. Also available as part of a group of model responses: https://www.tes.com/teaching-resource/romeo-and-juliet-grade-9-grade-8-and-grade-7-model-responses-to-aqa-gcse-questions-11580421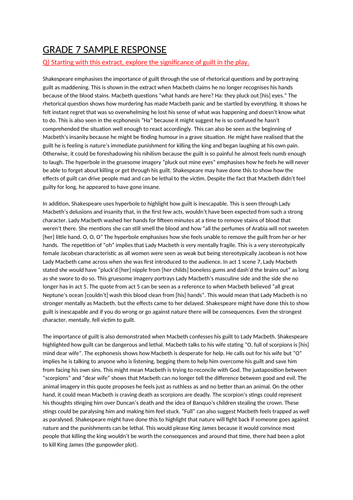 Lesson explaining how to answer a Macbeth question on the theme of guilt for AQA GCSE. Also includes a grade 7 sample response and a grade 9 sample response to allow for a comparison. Includes worksheets for exploring the extract. Also includes a grade 5 model paragraph to assist lower ability students with writing about the extract and then moving to outside the extract.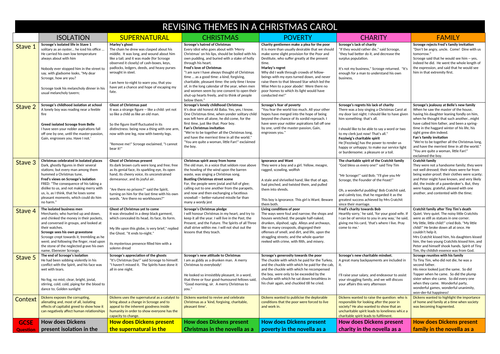 These outstanding 5 star revision sheets are aimed at preparing students for the AQA 2017 examination on 'A Christmas Carol'. With the closed book format in mind, the sheet contains the important quotations from Staves 1 to 5, a range of points to make about context (A03) and a range of AQA style exam questions to work on. Starter: Students read the 42 quotations and work out which Stave they come from. Main Activity: A3 revision sheet Bronze: Identify what we learn about the character in each quotation (A01) Silver: Identify the key words and language features in each quotation (A02) Gold: Identify which theme each quotation links to (A01) Diamond: Relate each quotation to a relevant point about context (A03) There is a second revision sheet which groups quotations by staves and themes and contains examination questions and context linked to each theme.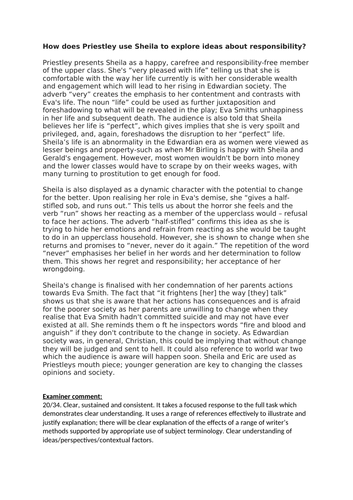 This resource contains 8 exemplar responses on character and theme questions for An Inspector Calls with marks and examiner comments. The model essays range in quality from grade 4 to a full mark grade 9 response. This is an excellent resource to use in departmental moderation or to show students the different quality expected at each grade from 4 to 9. Thanks for your feedback. I have taken on board your comments and made significant improvements to the resource. Include model answers to the following questions about Sheila, Mr Birling, Gerald, Eva Smith, Mr Birling, Mrs Birling, responsibility, egotism. Also includes as essay plan for a response on Eric.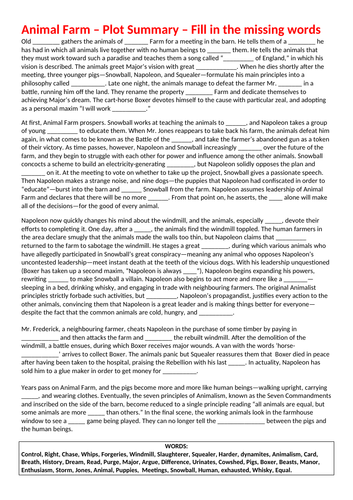 Animal Farm one page plot summary turned into a cloze passage activity. Useful for recapping the plot to help begin revision.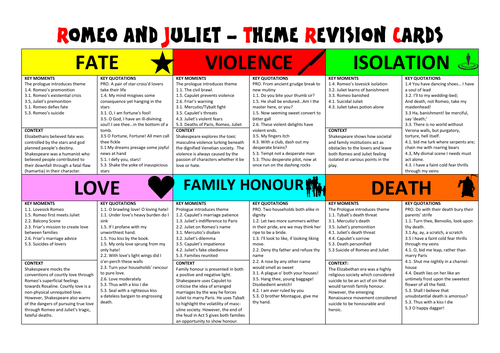 Printer-friendly Revision cards for 6 themes in Romeo and Juliet. Each card has 3 sections: parts of the play where the theme is important key quotations for each theme context notes for each theme Includes a full revision lesson with resources, starter and plenary where students make notes about all the quotations to check understanding using the accompanying worksheet. Answers are provided for all 40+ quotations on the PowerPoint.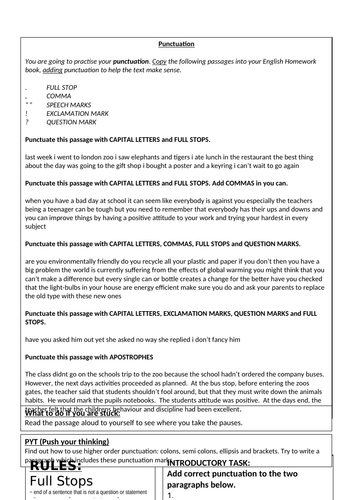 Free 2 page punctuation worksheet to reinforce basic skills in punctuation.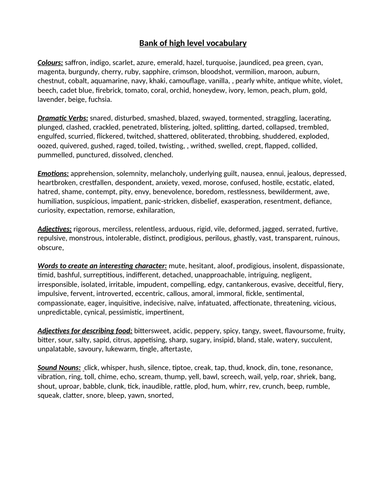 Just a bank of ambitious vocabulary for creative writing.