189Uploads
65k+Views
11k+Downloads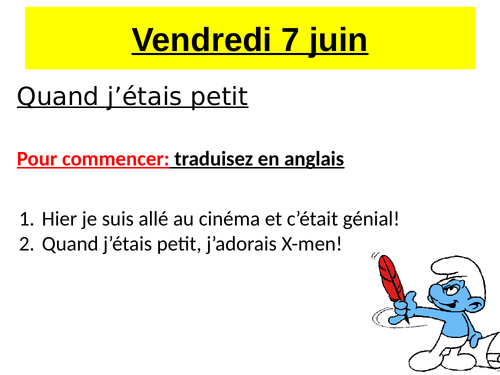 Lesson on module 3 on jobs and careers introducing the imperfect tense from a reading comprehension. It also includes mini-white board challenges and a GCSE style writing task.

Activities for tutor time or full PSHE lessons. It covers a variety of themes to spark debates and reflections across all key stages. It focuses namely on: LGBT assembly (history of the pink triangle, rainbow flag and current LGBT issues in the world) LGBT terminology Possible challenges to LGBT History Month Suicide rates and attacks (example of Spain) Section 28 and the importance of legislation on people's life Life stories: Oscar Wilde, Alan Turing and Justin Fashanu - how legislation impacts minorities Save 28% by buying in a bundle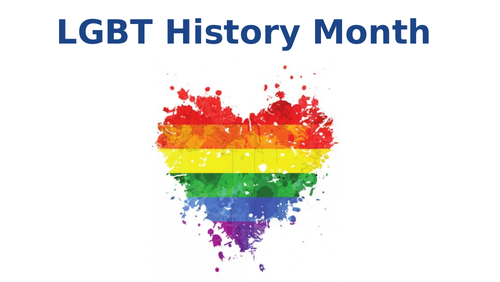 Set of 3 lessons designed for either tutor time or full lessons for KS3, 4 & 5. All lessons features short informative activities. KS3 focuses on the terminology and challenges facing LGBT History Month KS4 focuses on challenges faced by LGBT teenagers (suicide rates, attacks, etc.) KS5 focuses on Section 28 All lessons push students to debate and reflect on reasons why we celebrate LGBT History Month and the tolerance policies in schools.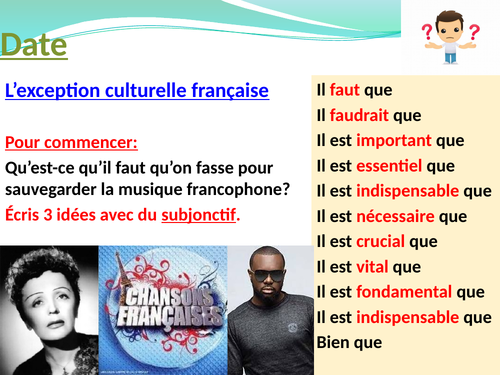 Lesson on l'exception culturelle francaise in music with video, discussion and writing task using subjunctive.

Lessons that can be done in tutor time, assembly or full lesson on the life stories of Oscar Wilde, Alan Turing and Justin Fashanu. It prompts students to reflect and debate, especially on how legislation can impact one's life.

Presentation for assembly or PSHE lesson about the Little Mermaid controversy. The presentation encourages conversations and features a couple of videos.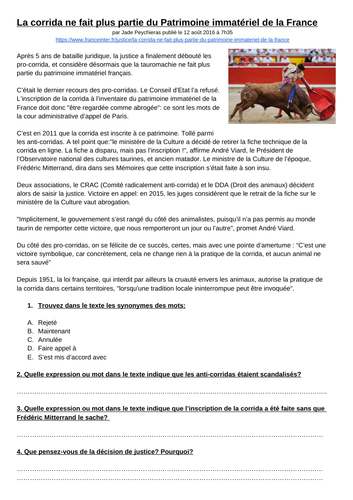 Unit of work for the IB DP with exam-style exercises exploring leisure, traveling and traditions (the Alost Carnival & corrida) with listening, reading, speaking and writing exercises (with answers)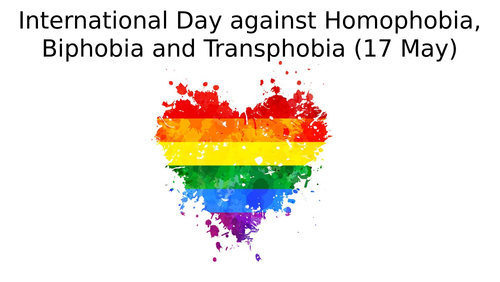 Presentation revolving around 2 main interactive debates - one about the FIFA World Cup in Qatar and the other one about the "Don't Say Gay" laws/anti-LGBT+ laws. It's all very current to engage students. It contains videos and news bites, along with questions to make it more interactive.

Powerpoint presentation to introduce students with the main facts they need to know about the French political system. Then it prompts them into presenting about the main political parties with specific guidelines.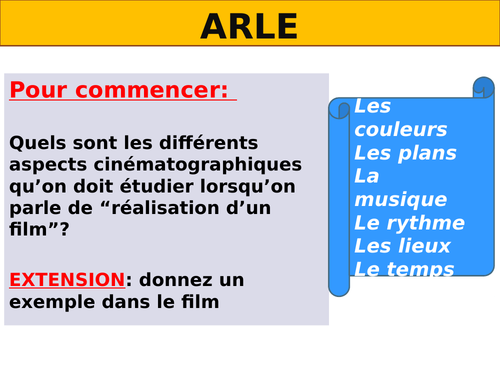 Lesson with questions and ideas for an essay on the cinematographic aspect of the film Au Revoir Les Enfants (colours, sound, shots, etc.) Prompting students to reflect and produce an essay plan at the end. Includes a mindmap to brainstorm ideas prior to or during lesson.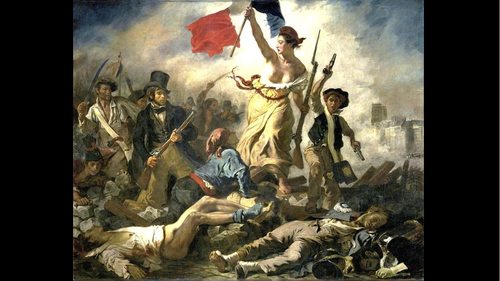 Introductory lessons to explain how the French mentality is built on the power of the people and rebellion - through history, art, institutions.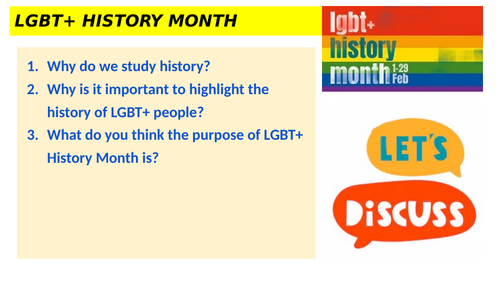 Content designed for PSHE lessons or whole-school assembly. It focuses on why we celebrate LGBT History Month, terminology, the History of LGBT in the UK, Biden's first act for the LGBT community and Spain's first LGBT retirement home (first in the world)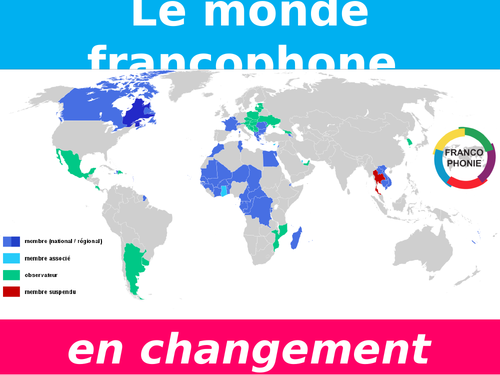 27 slides/posters that recaps the main information on each topic for A-level in French (la famille en voie de changement, le bénévolat, la cybersociété, le patrimoine, la musique et le cinéma francophones, le multiculturalisme, la criminalité, la politique d'immigration, la marginalisation, les jeunes et le vote, les manifestations) It includes key facts and vocab students must know, especially for their oral exam. Can also be used for a recap lessons and displays around the department. Can be amended and adapted.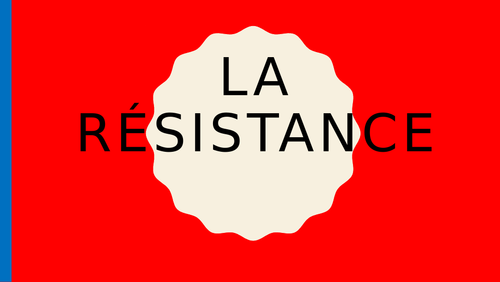 Presentation/lesson/ideas on the topic of Resistance in the film. Lots of ideas, key scenes and quotes about the topic so that students should be able to come up with an essay plan by the end.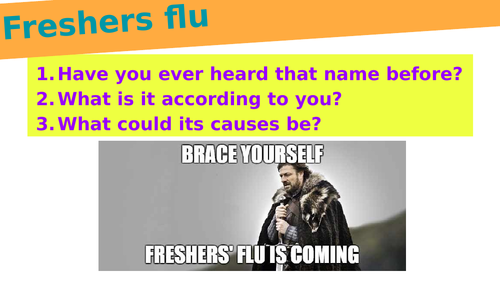 Lesson to explain what freshers' flu and meningitis are (symptoms, reasons, solutions)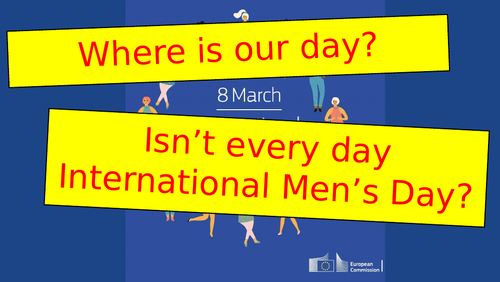 International Men's Day presentation for assembly, tutor time or PSHE lesson, raising essential questions to understand what are the challenges men face nowadays.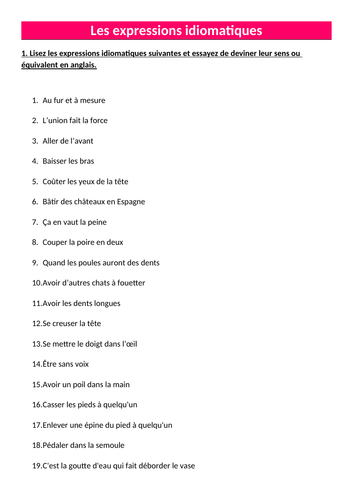 3 different activities to push Year12/13 (A-level) students to use idiom to raise their levels in their speaking or writing. Students have to work on a range of useful idioms, finding their meaning and using them in writing and speaking.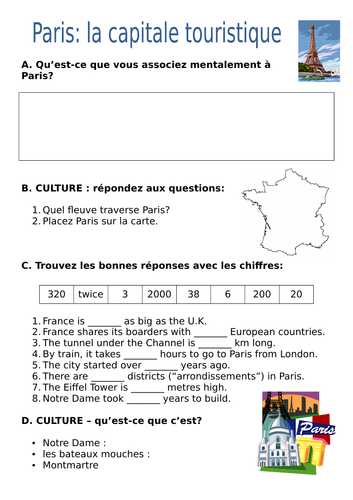 Worksheet on Paris to find information about the city and recognize its main landmarks.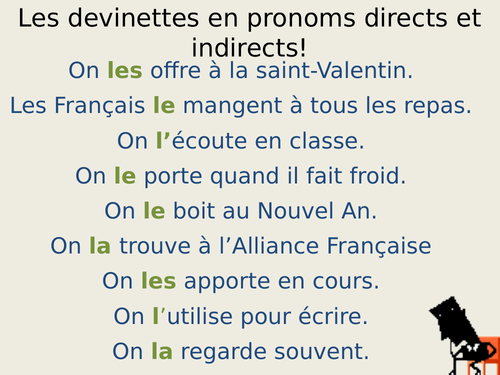 Students have to guess possible nouns that are replaced by direct and indirect pronouns. Great to make them reflect and see their use in context.