Love languages
Languages, Spanish and French resources
207Uploads
42k+Views
17k+Downloads
Languages, Spanish and French resources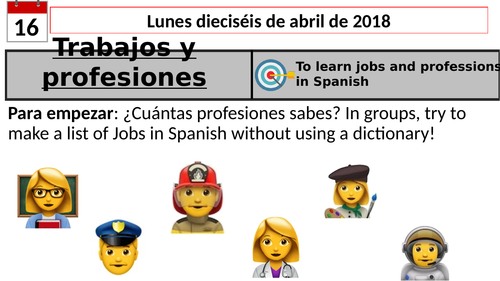 10 lessons on the topic of jobs aimed at KS3 students of Spanish. Listening tasks are based on MIRA 3.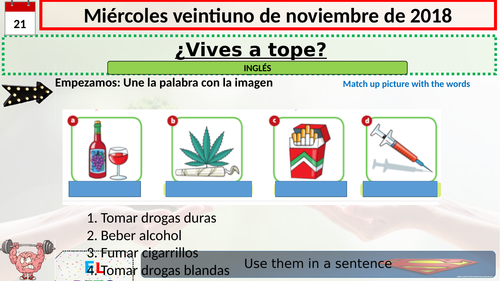 2 lessons based on Viva (higher and foundation) module 8, unit 3 -vivir a tope. All skills. Lesson 1 listening reading speaking dictation game lesson 2 tense practise reading comprehension gcse writing task (differenciated)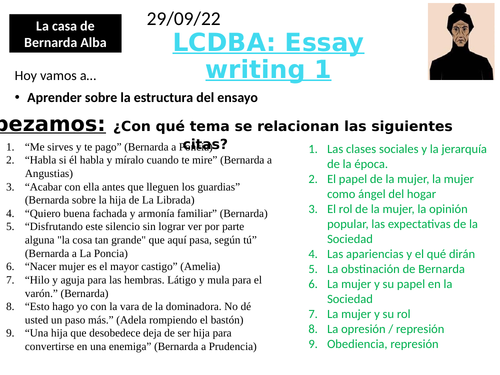 3 lessons to guide students through the essay. L1: Essay structure and planning L2: Mark scheme and essay language L3: Essay writing and peer marking It includes some quick activities on key quotes and key grammar.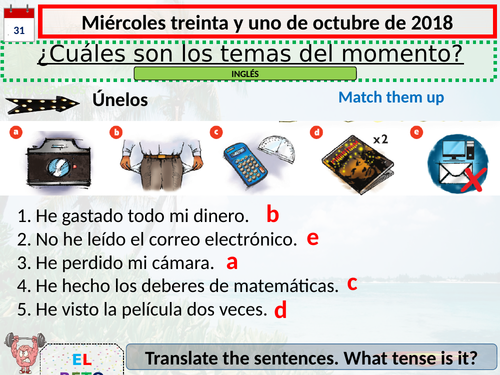 2 lessons based on module 4, temas del momento. Lesson 1 perfect tense -first contact reading grammar point -perfect tense, handout with use and formation never have I ever game + create your own Lesson 2 perfect tense consolidation/formation perfect tense practise game 1 -find the intruder game 2 -verb race

Set of lessons (at least 2 without watching the movie) to study the movie Encanto (available on Disney+). Powerpoint and student booklet. You can use the resources before / while / after watching the movie or not watch the movie at all! Contents: Exploration of Colombian culture Characters (gifts, physical descriptions and family tree) Songs (La familia Madrigal + no se habla de Bruno) A review of the movie +2 optional mini projects Easily adaptable to any year group but designed for year 7 / year 8 students of Spanish. Skills:speaking, reading, writing and listening Vocabulary: family, physical descriptions, adjectives, possesion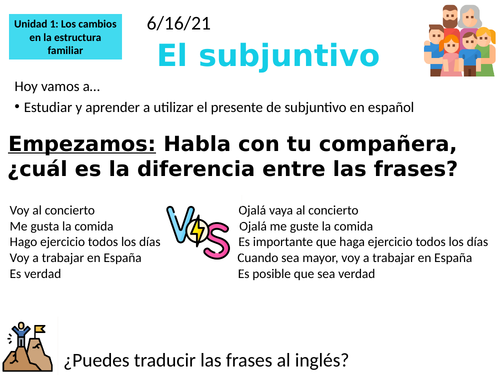 One lesson aimed at A level students of Spanish. Present subjunctive, regular and irregular formation and uses + 2 board games.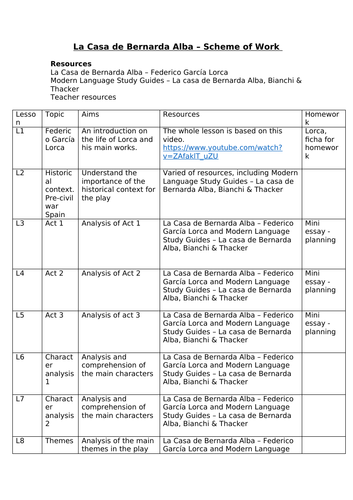 Save hours and hours and hours of preparation with this Scheme of work for La casa de Bernarda Alba. (10-16 lessons + student booklets). Very user friendly, you can use the lessons to teach yourself if you have never taught the book before. Scheme of work overview: L1 Federico García Lorca An introduction on the life of Lorca and his main works. L2 Historical context. Pre-civil war Spain Understand the importance of the historical context for the play L3 Act 1 Analysis of Act 1 L4 Act 2 Analysis of Act 2 L5 Act 3 Analysis of act 3 L6 Character analysis 1 Analysis and comprehension of the main characters L7 Character analysis 2 Analysis and comprehension of the main characters L8 Themes Analysis of the main themes in the play L9 Technique Analyse and learn about the main techniques used by the writer L10 Essay writing workshop: Explore the structure of the essay (introduction, development and conclusion) L11 Essay writing workshop: Explore the language used in the essay and the mark scheme (A level) L12 Essay workshop: Writing practice L13 Essay consolidation: Quote revision L13 Essay consolidation: Revision lesson Extra Explore sessions: Trivial pursuit Extra Explore sessions: Monopoly Extra Explore sessions: Tinder profiles for characters Extra Explore sessions: Quote game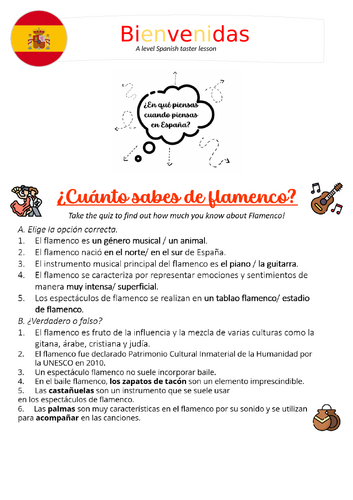 An A level taster lesson for GCSE students covering the importance of flamenco in Spanish society nowadays and how Rosalia has had an impact on the Flamenco genre in today's world. Contents: Warm up- Spanish stereotypes Quiz on flamenco - qué sabes del flamenco Speaking activity (mainly opinions) Card sorting activity (positive/ negative views on flamenco) Rosalia- a reading comprehension. The article has been adapted from different newspaper articles Malamente- study of the song and gap fill activity exploring where can the influence of flamenco be seen Speaking card mock activity (plenary)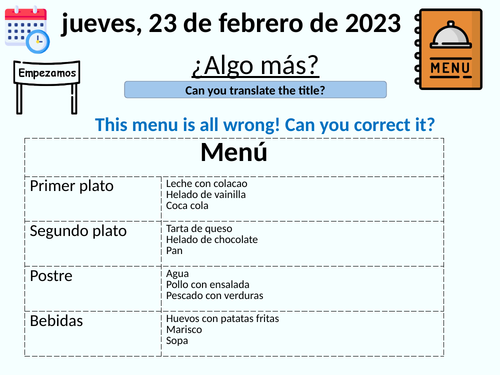 Two lessons based on Viva 2 -Year 8 module 3, en el restaurante (EPI approach)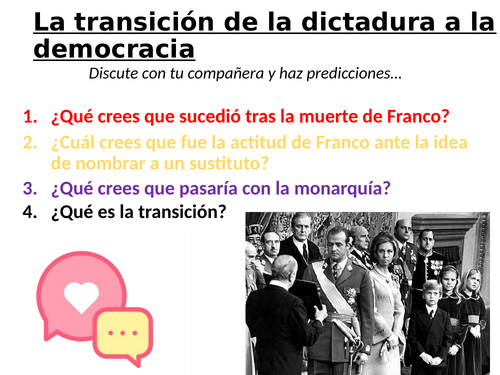 One introductory lesson to start unit 12, La transición de la dictadura a la democracia (El papel del Rey Juan Carlos en la transición; el Gobierno de Suarez; el golpe de Estado de 1981). Spanish A level. Introductory lesson to the last topic of the course explaining the main social and political changes in Spain during the 60's. The resource includes a student booklet and a power point with activities and answers to the booklet. Ideal for home learning.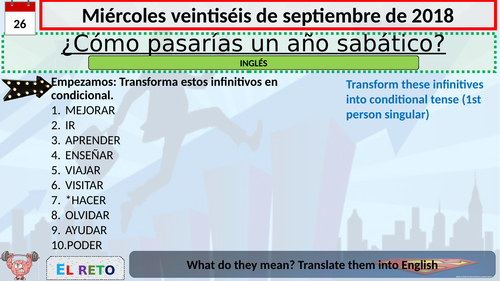 4 lessons based on Module 7 from Viva. Lesson 1: Conditional, formation and uses, conditional practise, reading/translation and listening activities. Lesson 2: Conditional practise, reading and key vocabulary related to transports + 'how to recycle language from the question in your answer' starter activity. Lesson 3: Structures to use future tense, reading and listening tasks + open plenary (writing/speaking). Lesson 4: GSCE writing question (90 words)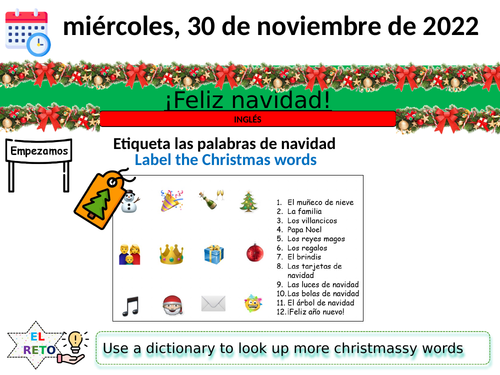 A Christmas lesson with a range of activities to be used at different levels from year 6 to year 8 students of Spanish. Great lesson for the end of term. Contents: Christmas vocabulary + Games GCSE speaking style -qué hay en la foto Morat -dulce navidad (gap filling and dictionary race Christmas activities/ crafts ideas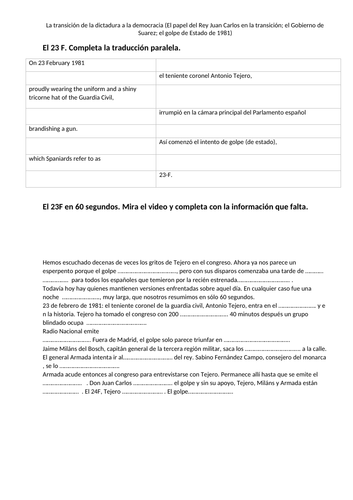 A lesson on Tejero's coup d'état attempt. Includes listening activities, grammar practice (preterite VS imperfect) and a speaking card activity. + student booklet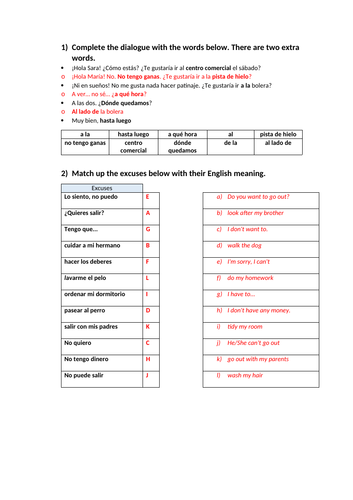 One lesson to teach 'Lo siento, no puedo', Year 8 Spanish, Viva 2, module 4. Student worksheet, answers and power point.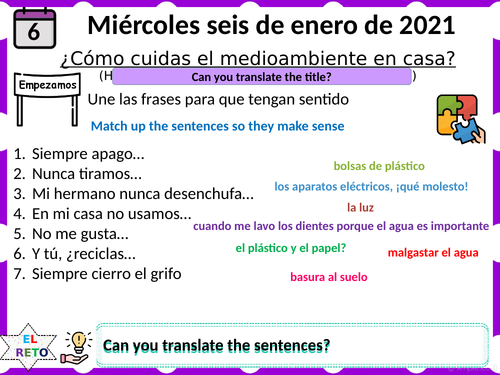 4 lessons on environment aimed at a mixed ability group based on Viva GCSE (actúa localmente, piensa globalmente) ideal for remote learning (all slides contain a to do list with instructions for each task), listening tasks included (with link and code to the book) and quizzlet and flippity games to practice vocabulary based on chapter 8 from viva, only focused on environment grammar covers revision for all tenses + conditional lesson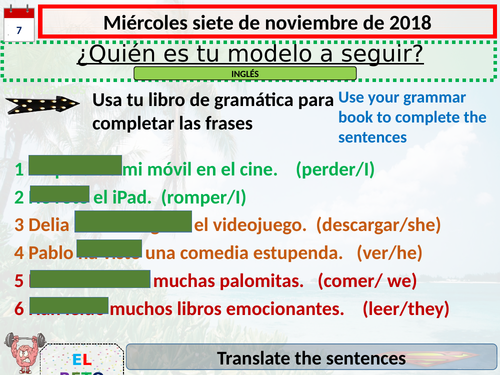 6 lessons based on Viva (higher/foundation) module 4, chapter 5: role models Lesson 1 present perfect revision reading/listening (viva foundation) writing Lesson 2 good/bad role model discussion reading/listening (viva higher) tense work/ writing (present perfect) Lesson 3 present perfect recap yet/already/ever/never dictation competition Lesson 4 sentence formation reading comprehension /game GSCE speaking task -role play Lesson 5 tense practise reading comprehension writing preparation Lesson 6 tense practice (3rd person) GCSE writing task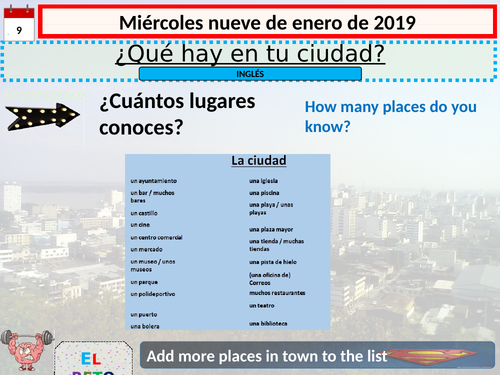 Ciudades, module 5 (Viva). Punto de partida 1, punto de partida 2 and Los pros y los contra de la ciudad. Five lessons aimed at mix ability groups. Lesson 1: Vocabulary (places in town) Reading Grammar (muchos,algunos, unos) Listening (viva higher) speaking Lesson 2: Shops Reading /vocabulary practise Listening (higher) Reading (shop adverts) Design your own shop Lesson 3: Buying souvenirs Speaking Role play listening (higher) Role play task (AQA) Lesson 4: Good and bad things about the city Listening (foundation) Reading (GCSE type) Speaking Lesson 5: Conditional tense Reading Reading comprehension Elections for mayor Writing your own speech to be mayor

2 lessons based on Cartelera de Cine, Viva 3 rojo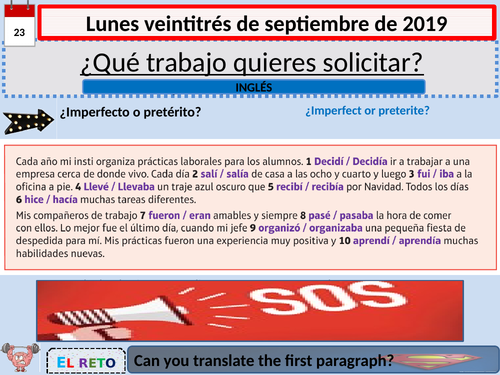 One lesson based on Viva higher Solicitando un trabajo. Designed for a mixed ability group with differenciation. 4 skills, reading, listening, writing/speaking