Love languages
Languages, Spanish and French resources
186Uploads
30k+Views
8k+Downloads
Languages, Spanish and French resources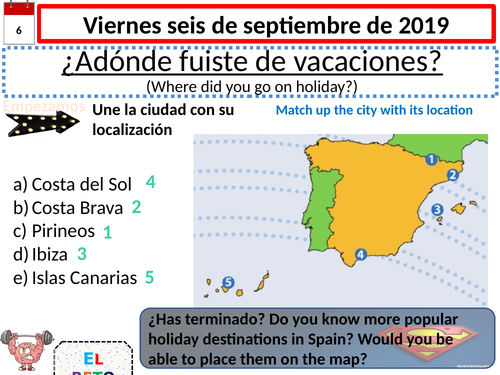 4 lessons based on Viva 2 module 1, mis vacaciones (de vacaciones, que hiciste, el último día and cómo te fue)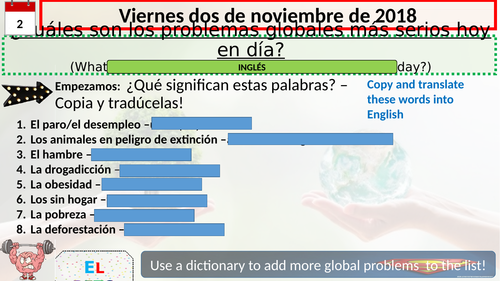 4 lessons based on Mira (module 8) 'environmental issues'. Year 11 middle/high ability Lesson 1 Global issues -vocabulary Reading comprehension Subjunctive -uses and formation Speaking grid Lesson 2 Global problems and solutions Giving advice Se debería (use and formation) Lesson 3 Problem and solutions consolidation Listening (mira, foundation) Political speech: reading/writing Lesson 4 Idioms to express concer/lack of concern Reading Pair dictation Writing task -what do world leaders think?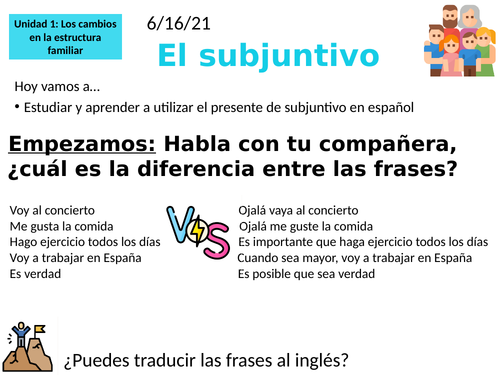 One lesson aimed at A level students of Spanish. Present subjunctive, regular and irregular formation and uses + 2 board games.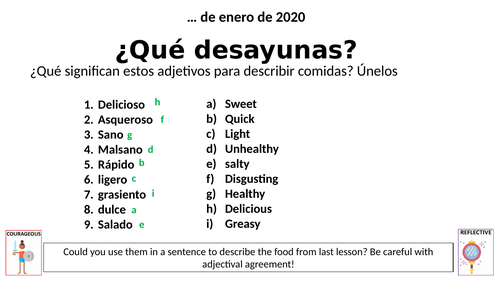 2 lessons based on 'qué desayunas' (module 3, viva 2) aimed at Year 8. Includes sentence builder.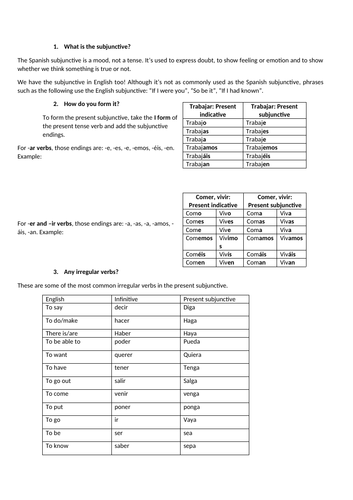 A lesson on subjunctive in Spanish designed for mixed ability groups. Student centered with AFL activities differenciated by tiers and a sentence builder for weaker students.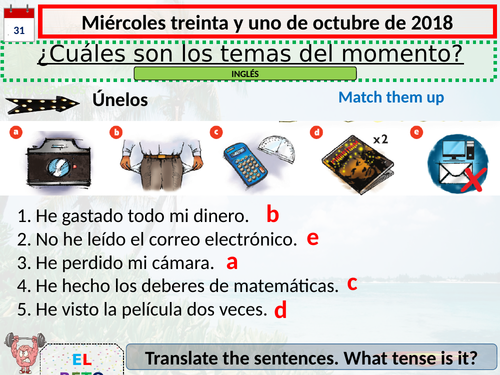 2 lessons based on module 4, temas del momento. Lesson 1 perfect tense -first contact reading grammar point -perfect tense, handout with use and formation never have I ever game + create your own Lesson 2 perfect tense consolidation/formation perfect tense practise game 1 -find the intruder game 2 -verb race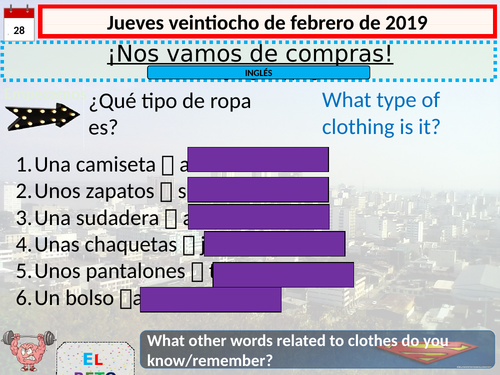 Two lessons based on topic 3, module 5 from Viva (foundation and higher). Ideal for a mixed ability GCSE class. Lesson 1 Vocabulary (clothes) Grammar -demonstratives Sentence builder -speaking/writing Listening from viva foundation Role plays with different situations Lesson 2 Vocabulary recap Sentence builder 'extreme listening' GCSE role play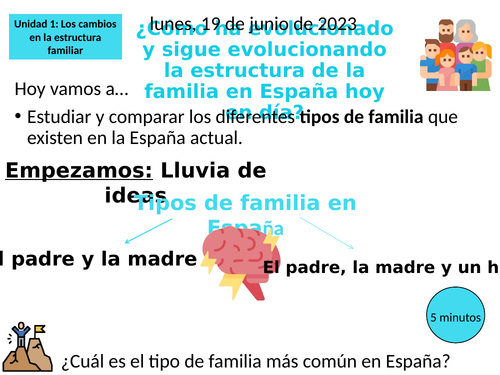 Year 12, transition lesson. Unit 1: Los cambios en la estructura familiar. Reading about types of family + how has the concept of family changed over the years.

Resources (booklet and power point) to use with Year 7 students of Spanish. Pack of 3-5 lessons to study the movie Coco. The resources cover: Before-watching discussions Trailer Mexican culture Characters Songs A review of the movie Project ideas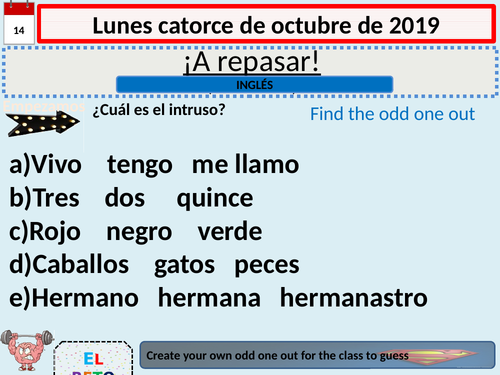 A lesson full of games to revise the content of the first unit of the book.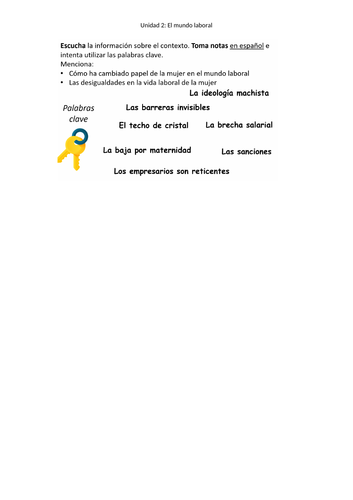 Two lessons on the role of women at work in Spain. Lesson 1 is an introduction to the topic. Lesson two is based on activities using the textbook. You will need access to exdecel A level Spanish book to access the listening files.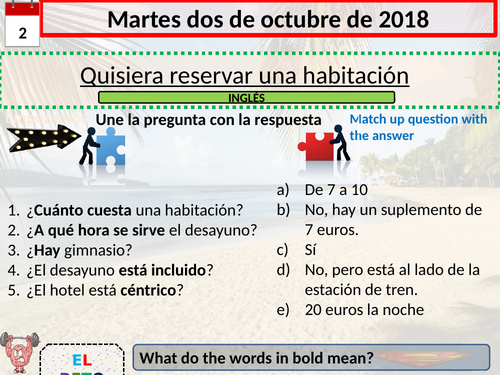 3 lessons based on chapter 5 from Viva (higher and foundation), module 4 (holidays). Lesson 1: -Question/answer starter -Treasure hunt/tripadvisor (3 hotel adds -student centered) -Reading comprehension -Memory game (plenary) Lesson 2: -Starter (order the dialogue) -Listening activity (foundation page 15) -Gap filling listening activity -Role play (GCSE task) -Memory game (plenary) Lesson 3: -Pronunciation match up -Song 'este hotel me vuelve loca' -Complains match up -Sentence builder/speaking activity (¿Cuál es el problema?) -Higher listening from Viva (page 17) -Translation activity -solutions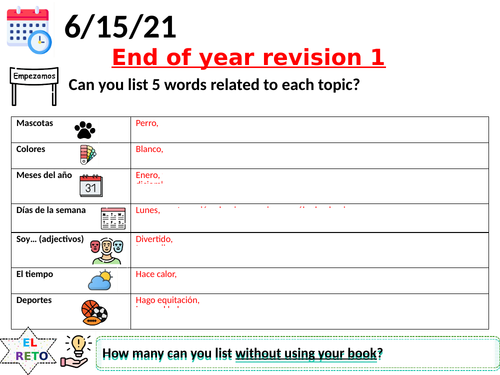 Two lessons to revise all the content from the book (viva 1 -Year 7, Spanish)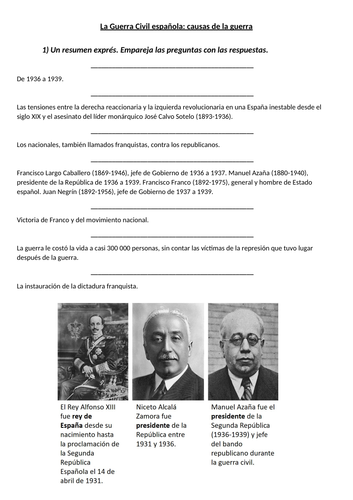 Unit of work on the Spanish Civil War. Power point + student booklet for all the lessons. L1 -introduction L2- causes of the war L3- measures taken by the republican governenment L4- constitution and reaction L5- beginning of the war L6 -two sides L7- main battles and role of the women L8- main battles and the beginning of the end L9- the end of the war L10- the end of the war L11- Grammar, tense revision, pluperfect tense and complex structures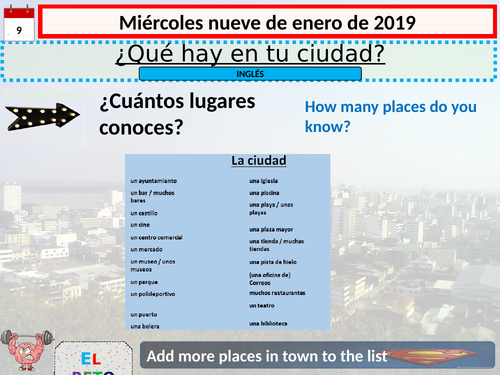 Ciudades, module 5 (Viva). Punto de partida 1, punto de partida 2 and Los pros y los contra de la ciudad. Five lessons aimed at mix ability groups. Lesson 1: Vocabulary (places in town) Reading Grammar (muchos,algunos, unos) Listening (viva higher) speaking Lesson 2: Shops Reading /vocabulary practise Listening (higher) Reading (shop adverts) Design your own shop Lesson 3: Buying souvenirs Speaking Role play listening (higher) Role play task (AQA) Lesson 4: Good and bad things about the city Listening (foundation) Reading (GCSE type) Speaking Lesson 5: Conditional tense Reading Reading comprehension Elections for mayor Writing your own speech to be mayor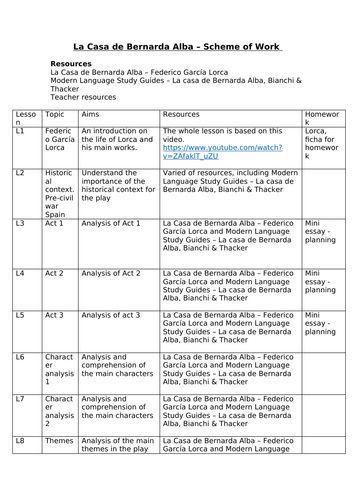 Save hours and hours and hours of preparation with these 8 to 14 lessons to teach La casa de Bernarda Alba. It includes student booklets for every lesson and tips for essay writings. Very user friendly, you can use the lessons to teach yourself if you have never taught the book before. Lesson overview: L1 - Federico Garcia Lorca, a bit of context L2- Historical and social context of the time L3-Act 1, pre reading activities, reading comprehension activities and mini essay questions (it normally takes 2 to 3 lessons if it is not set as homework) L4-Act 2, pre reading activities, reading comprehension activities and mini essay questions (it normally takes 2 to 3 lessons if it is not set as homework) L5-Act 3, pre reading activities, reading comprehension activities and mini essay questions (it normally takes 2 to 3 lessons if it is not set as homework) L6- Characters, analysis (2 to 3 lessons) L7- Themes and mini essays L8- Writing technique and mini essay L9-Trivial pursuit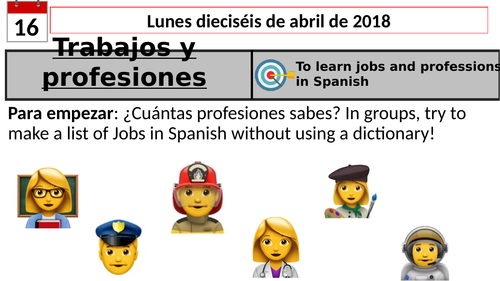 10 lessons on the topic of jobs aimed at KS3 students of Spanish. Listening tasks are based on MIRA 3.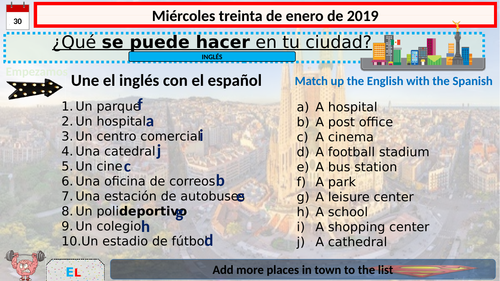 one lesson on things you can do in your city. Lesson contains: basic vocabulary (places in town) game grammar point challenging reading (trip advisor reviews on 3 cities) writing task -write your own review The lesson includes a publisher document with a brochure acting as worksheet for your lesson. Ideal for observations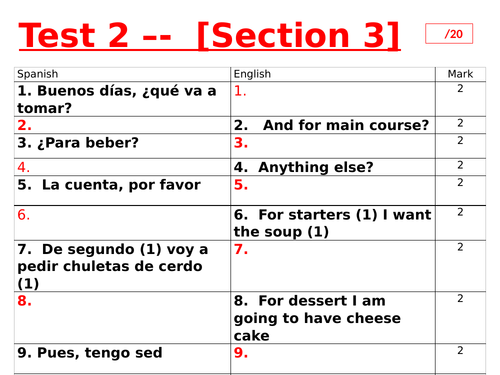 Two lessons based on chapter 4, module 3 from viva 2 book. Includes sentence builder.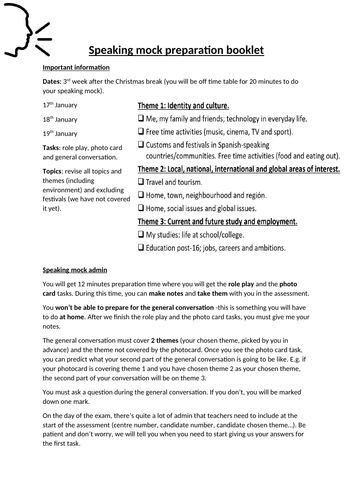 An informative booklet for Year 11/10 students about their speaking assessment. You have to adapt certain parts of the booklet, since it contains dates etc, but very useful for students to have all the info in one place. It also includes examples of each task and the mark schemes for foundation and higher candidates.