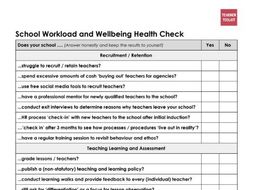 A Workload and Wellbeing Checklist by @TeacherToolkit
This simple document is designed to be used by every headteacher in every school – a self-evaluation without the hassle of reams and reams of paperwork – for schools across England; either complete this yourself as a headteacher or if you are brave enough, simply hand out the 2-page document to every member of your leadership team and ask them to self-reflect on what decisions you make as a school and its impact on teacher workload. If you are feeling confident, why not hand a copy out to all teaching staff?
Copyright: Attribution-NonCommercial-NoDerivatives 4.0 International (CC BY-NC-ND 4.0) Copyright © 2008 – 2018 by @TeacherToolkit Ltd.
Read more