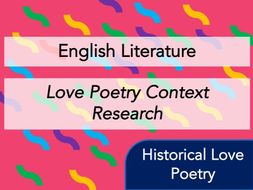 English Literature - Love Poetry Context - Full Context Revision
This resource is a 70+ slide PowerPoint exploring the contexts of love poetry, from medieval to early modern. The resource also features exam technique for essays that require the discussion of context & intertextuality.
These slides feature everything you need to teach or to revise Love Poetry Context, and is great for all levels of study!
Features:
notes on intertextuality
essay structure & technique notes
How to write a conclusion, introduction, and analyse Form / Structure / Language
Beginnings of love & medieval poetry
The Canterbury Tales, Troilus & Criseyde
Women's Voices & The Book Of Margery Kempe
Dunbar, Henryson, Skelton
The English Renaissance & Shakespeare
Marlowe
A study of Shakespeare's Sonnets & types of Sonnet (English & Italian)
Sonnet key terms - Petrarchan, Volta, Octave, Sestet, Quatrain
Sonnet examples
Pastoral poetry
Metaphysical Poetry
Cavalier Poetry
Restoration Poetry
Satire & Romantic Poetry
Robert Burns, Lord Byron, and the Byronic Hero
Victorian poetry & literature
Read more