High school Scottish gaelic resources: fundamentals
Keeping your class engaged with fun and unique teaching resources is vital in helping them reach their potential. On Tes Resources we have a range of tried and tested materials created by teachers for teachers, from pre-K through to high school.

Breathe new life into your lesson plans with our elementary, middle school and high school classroom resources. Whether you're looking for fun math worksheets or brand new guided reading activities, we have thousands of free and premium resources for you to download. From kindergarten to elementary you'll find K-5 resources, including phonics worksheets and numeracy games. From middle school through to high school we have everything from Spanish lessons to algebra activities, as well as Common Core-aligned lessons and revision guides for tests.
Read more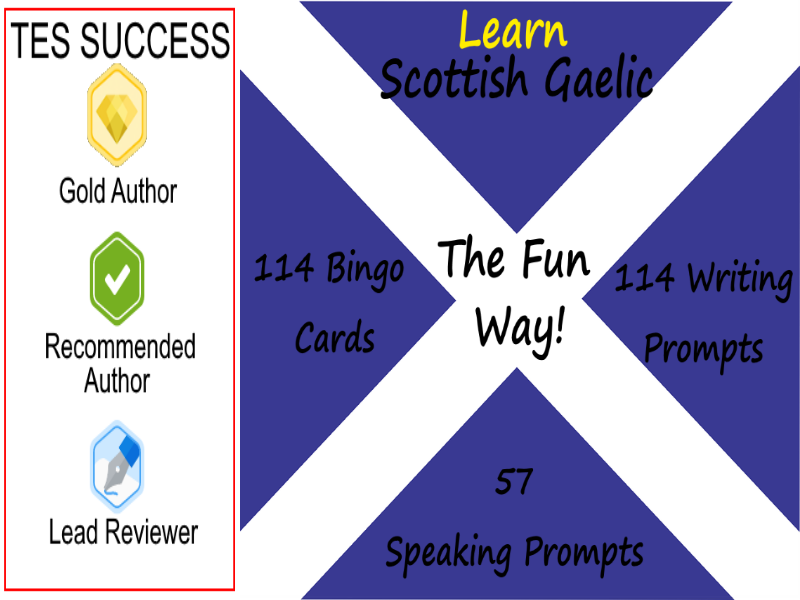 Are you learning Scottish Gaelic? Are you looking for a fun way to learn Scottish Gaelic? I have developed a way to learn different languages based on my experience as an ESL teacher. This pack has 57 different settings for students to talk about in Scottish Gaelic. The worksheets themselves are in English and the students do need to translate the places and objects they see into Scottish Gaelic. At the end of the session, the students can play a fun game of word bingo to show they have mastered that day's vocabulary. Try it, it is a lot of fun for everyone!
A resource produced in partnership with Education Scotland, Scottish Book Trust and LGBT Youth Scotland. The activities in this resource are designed to encourage educators and young people to explore Scotland through film, focusing specifically on two central themes: Language and Identity. From classic cinema through to modern day representations of Scotland on film, the resource touches on history, myth, and culture. It also uses film with accompanying Scots language texts, encouraging learners to explore the language in historical and modern contexts. The sections on identity cover many aspects of what it can mean to be Scottish from personal identity, including LGBT, to rural and city living. Not yet Into Film? Find out more about our free Into Film Clubs at www.intofilm.org/clubs Goireas air a riochdachadh ann an compàirteachas le Foghlam Alba, Urras Leabhraichean na h-Alba agus Òigridh LGDT na h-Alba. Tha na gnìomhan sa ghoireas seo air an dealbhadh gus luchd-teagasig agus òigridh a bhrosnachadh Alba a rannsachadh tro fhilm, ag amharc gu sònraichte air dà phrìomh theama: Cànan agus Fèin-aithne. O hfilmichean clasaigeach gu riochdan na h-Alba là an-diugh air an sgàilean, tha an goireas a' buntainn ri eachdraidh, ùrsgeul agus cultar. Tha e cuideachd a' cleachdadh film an cois theacsaichean sa Bheurla Ghallta, a' brosnachadh luchd-ionnsachaidh a bhith a' rannsachadh a' chànain ann an coitheacsan sean is ùra. Tha na h-earrannan mu fhèin-aithne a' deiligeadh ri iomadh feartan a tha e a' ciallachadh a bhith nad Albannach, a' toirt a-steach dòighean beatha LGDT, dùthchail agus anns a' bhaile mhòr. Tha Shorts 2016 - an cruinneachadh de dh'fhilmichean goirid le Comhairle Bhreatainn, le Take Your Partners ann, ri fhaotainn air iasad o stòras Into Film. Ma dh'fheumas tu e, cuir fios gu Jo Spence Co-ordanaiche na h-Alba aig jo.spence@intofilm.org Did you find this resource useful? If so, please leave a star rating to help other teachers to find it.
CREATE AN INSTANT INTRODUCTION TO NUMBERS 0-31 IN SCOTTISH GAELIC IN YOUR CLASSROOM! Brighten up your classroom with SCOTTISH GAELIC NUMBERS 0-31! Even if your students are way beyond learning to count in SCOTTISH, the bunting creates a great SCOTTISH feel to your learning environment. If you're not learning SCOTTISH, let the bunting lend your room that special SCOTTISH look! You can also use the banners/bunting as flashcards for younger learners of SCOTTISH GAELIC. I'm learning SCOTTISH GAELIC myself, so certainly don't profess to be any kind of expert - these websites are proving invaluable - there are many others too. http://www.gaelic4parents.com/community/language-bits-and-bobs/156-counting-in-gaelic-numbers-1-100 http://www.rampantscotland.com/gaelic/gaelic_sound_numbers.htm http://www.omniglot.com/language/numbers/celtic.htm Please read the Terms of Use carefully - this resource is copyright. It's entirely free to download, but is subject to a range of font/clipart licensing conditions. TAPADH LEIBH!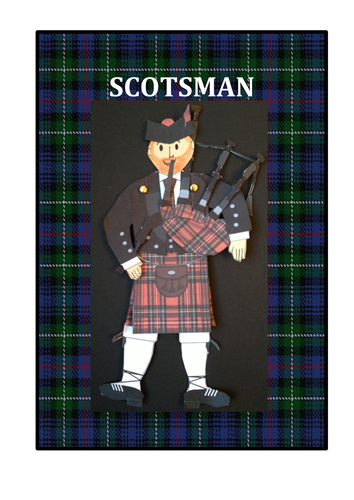 Fun craft - make your own Scotsman with full instructions. Includes both coloured and black and white version templates for a more versatile resource.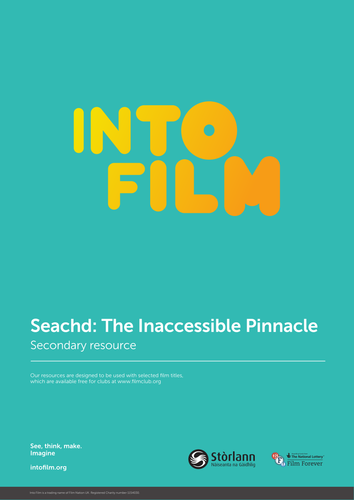 This Into Film resource, designed to be used across third and fourth level in Scotland, explores a range of issues and curriculum areas through the film, Seachd: The Inaccessible Pinnacle. It has been created in partnership with Stòrlann Nàiseanta na Gàidhlig, the agency charged with co-ordinating the production and distribution of Gaelic educational resources throughout Scotland. These teachers' notes should be used in conjunction with the PowerPoint presentation found at http://www.intofilm.org/seachd-gaelic-resource. To find out more about Into Film and start a film club visit: www.intofilm.org.
1) Fascinating 8 min. video from BBC horizon. It demonstrates how our brain processes colours differently depending on our native language!! 2) The first video on this blog, 'The Stuff of Thought,' is a 17 min. video about languages and how they shape our views on the world. In English, but you can add subtitles in 28 languages to hit additional lesson objectives. Fascinating but long, I would not recommend showing this in its entirety.
3 interesting articles on linguistics for advanced pupils: 1) BBC article on bilinguals being 'smarter' 2) BBC article on scientists converting brainwaves into speech!! 3) New York Times article on how your native language shapes how you think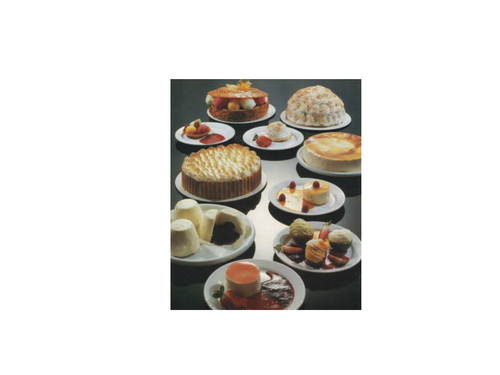 Powerpoint of 26 pictures of food/beverages. Use to revise food/beverage vocabulary.