198Uploads
125k+Views
114k+Downloads Included in each booket: Knowledge tests after each section of specification content A wide range of different exam questions Structure strips for the 9 mark questions Detailed case study sheets Various activities all linked to the specification to aid students revision Space for DIRT/FIT work Can be set as homework or in class revision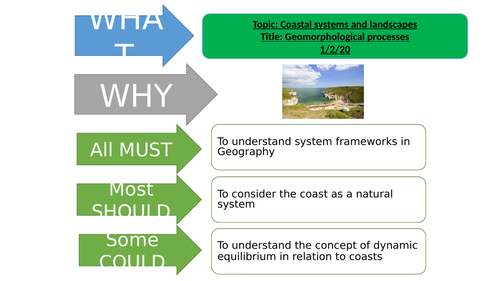 12 lessons with a variety of tasks including: Links to the specification Case study sheets Exam questions and mark schemes Lesson 1 - Coasts as natural systems Lesson 2- Energy at the coast Lesson 3 - Sediment sources, budgets and cells Lesson 4 - Processes Lesson 5 - Landforms of erosion Lesson 6 - Landforms of deposition Lesson 7 - Sea level change Lesson 8 - Coastal management Lesson 9 - Holderness Lesson 10 -Odisha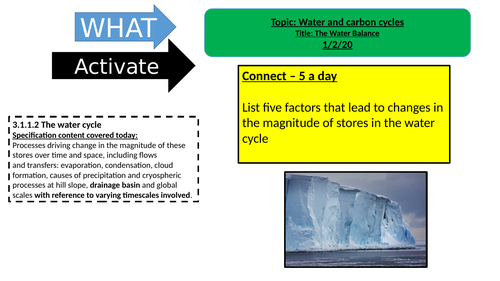 Variety of activities, exam questions, knowledge tests etc. Lesson 1 - Systems and the global water cycle Lesson 2 - Changes in the magnitude of the water cycle stores Lesson 3 - The drainage basin system Lesson 4 - The water balance Lesson 5 - Flood hydrographs Lesson 6 - Factors affecting changes in the water cycle Lesson 7 - The global carbon cycle stores Lesson 8 - Global carbon cycle transfers Lesson 9 - Changes in the carbon cycle Lesson 10 - The carbon budget Lesson 11 - Water, carbon and climate change Lesson 12 - The tropical rainforests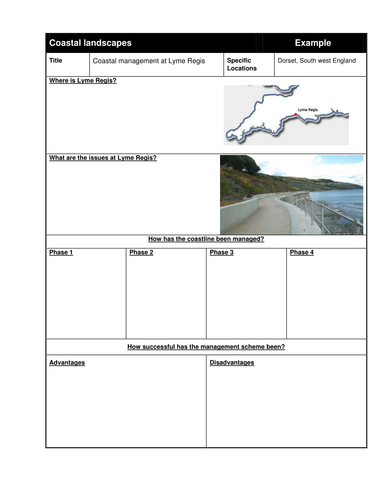 Fully resourced lesson - case study sheet for students to complete, exam question, video, map task, newspaper article and sorting task Development gap resources: 11 fully resourced lessons looking at the development gap unit for the new AQA Geography GCSE. Huge variety of different resources available. Exam question at the end of each lesson. Made for non-specialists so really easy to follow. Lesson 1 - Our unequal world Lesson 2 - Measuring development Lesson 3 - The DTM Lesson 4 - Changing population structures Lesson 5 - Causes of uneven development Lesson 6 - Uneven development - wealth and health Lesson 7 - migration Lesson 8 - reducing the gap - aid and trade Lesson 9 - reducing the gap - free and fair trade Lesson 10 - reducing the gap Debt relief Lesson 11 - reducing the gap - tourism in Jamaica Changing UK economy resources A collaboration of lessons created for the 'Changing UK economy topic' from the new AQA geography specification. I have included a large range of resources e.g. mysteries, market place tasks, desk mats, dilemmas, case study sheets, mind maps, research tasks, graphs, card sorts and lots more. I have also included practise exam questions to go with each lesson. The lessons are as follows: Lesson 1 - Changes in the UK economy Lesson 2 - A post industrial economy Lesson 3 - UK science and business parks Lesson 4 - Environmental impacts of industry - includes examples Lesson 5 - Changing rural landscapes Lesson 6 - Changing transport infrastructure - roads, ports, airports and railways Lesson 7 - The north south divide Lesson 8 - The UK in the wider world Lesson 9 - The UK in the wider world - EU and commonwealth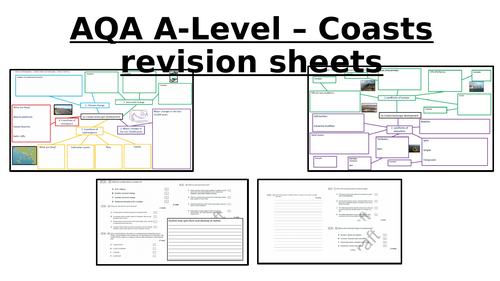 Revision sheets for students to complete for the new AQA Geography A-Level Coastal Systems and Landscapes topic. Each revision sheet covers each point in the specification. There are 5 revision sheets (to be printed on A3). Example questions for each point in the specification also included. I print these double sided so students can revise and then complete exam questions based on the content.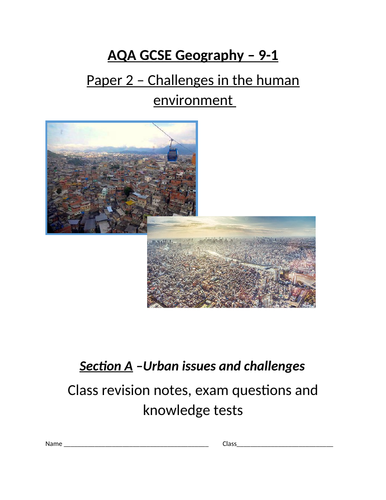 Links to the specification Activities Case studies Exam questions and mark schemes Knowledge tests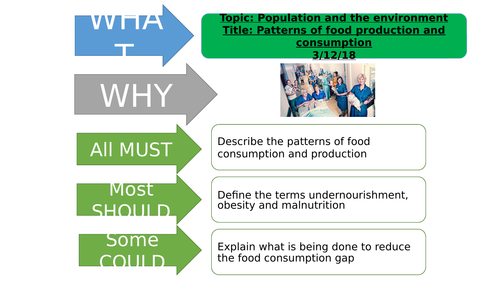 27 lessons covering the new Population and the Environment topic. Huge variety of resources included e.g. card sorts, news articles, videos, exam questions, case study sheets, group work tasks and lots more. Some lessons refer to the Oxford Textbook.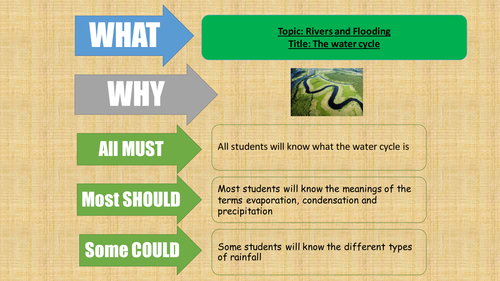 Fully resourced lessons created for non-specialists to teach the rivers and flooding unit to year 8. All resources included. A huge variety of resources included for example mysteries, card sorts, coding tasks, case studies, exam questions, assessment, videos, pop-ups, dominoes, fill in the gaps tasks and lots more. Lesson 1 - The water cycle Lesson 2 - Pop-up drainage basin Lesson 3 - River processes Lesson 4 - Pop up waterfall Lesson 5 - Meanders Lesson 6 - The river Tees Lesson 7- Flooding Lesson 8 and 9 - Boscastle Lesson 10 and 11 - Bangladesh Lesson 12 - Flood management Lesson 13 - assessment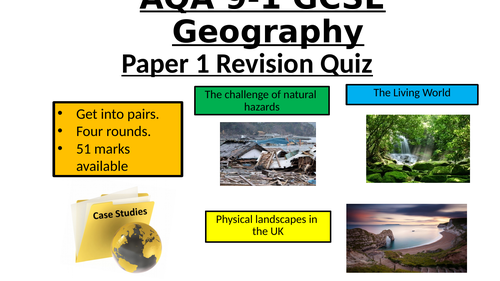 A thorough revision quiz for Paper 1 of the new AQA GCSE Geography specification (9-1) 4 rounds: a) The challenge of natural hazards b) The living world c) Physical landscapes in the UK d) Case studies and examples 51 marks available. ANSWERS INCLUDED AFTER EACH ROUND. These fully resourced lessons cover the whole of the hazards topic - introduction to hazards, vulcanicity, seismicity, tropical storms and wildfires. Fully resourced lessons. Included with this bundle: Over 30 hours of lessons Various activities - card sorts, reading tasks, retrieval quizzes, exam questions and mark schemes, multiple choice questions, forms quizzes and lots more.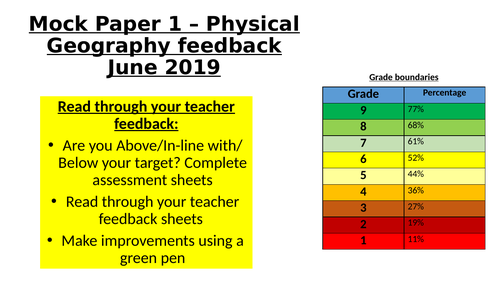 Feedback PowerPoint lesson for the Summer 2019 Paper 1 examination. Model answers included for some questions.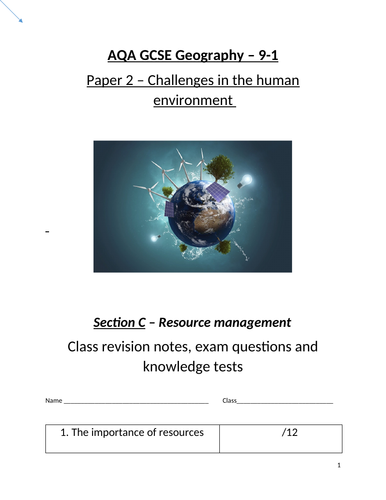 Student revision work booklet for the resource management topic and energy topic. These can be set as homework or in lessons. Included: Each section linked to the specification Knowledge tests Activities Case studies Revision notes Exam questions Mark schemes are attached on a seperate powerpoint. Revision booklets for each section of Paper 1 can be found in my shop.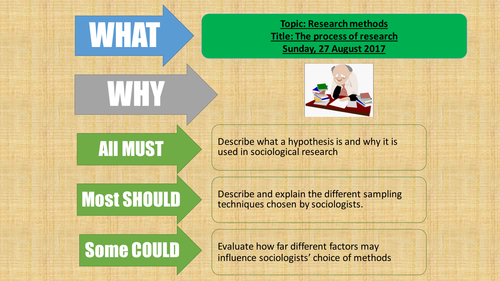 4 hours worth of lessons covering Topic 1 of section 3 'Research methods'. Lessons cover the following: Primary and secondary data Differences between quantitative and qualitative data Practical, ethical and theoretical issues influencing a sociologists research Differences between positivists and interpretivists Factors influencing choice of topic The process of research Sampling techniques Wide range of resources and activities e.g. sorting tasks, exam questions and discussions Some references to Napier Press book - but mainly ppt based.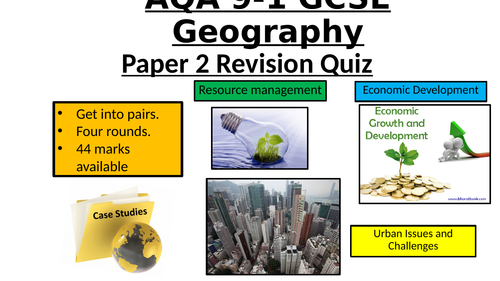 This is a quiz that I will be using with year 11 during their final revision session for paper 2. Questions for each section of the paper - each one linked well to the specification. Answers at the end of the quiz. Section 1 - Urban issues and challenges Section 2 - Economic development Section 3 - Resource management Section 4 - Case studies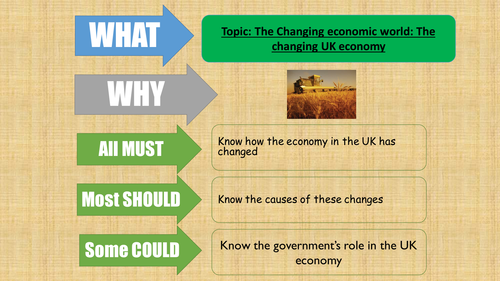 A collaboration of lessons created for the 'Changing UK economy topic' from the new AQA geography specification. I have included a large range of resources e.g. mysteries, market place tasks, desk mats, dilemmas, case study sheets, mind maps, research tasks, graphs, card sorts and lots more. I have also included practise exam questions to go with each lesson. The lessons are as follows: Lesson 1 - Changes in the UK economy Lesson 2 - A post industrial economy Lesson 3 - UK science and business parks Lesson 4 - Environmental impacts of industry - includes examples Lesson 5 - Changing rural landscapes Lesson 6 - Changing transport infrastructure - roads, ports, airports and railways Lesson 7 - The north south divide Lesson 8 - The UK in the wider world Lesson 9 - The UK in the wider world - EU and commonwealth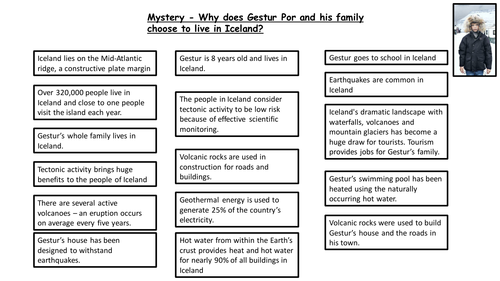 A fully resourced lesson looking at the advantages and disadvantages of living in areas at risk from earthquakes and volcanoes. Tasks included; Rearrange the learning objective so that it makes sense Map analysis - Who lives in areas at risk? Mystery task - Why does Gestur choose to live in Iceland Internet research task - Iceland and geothermal energy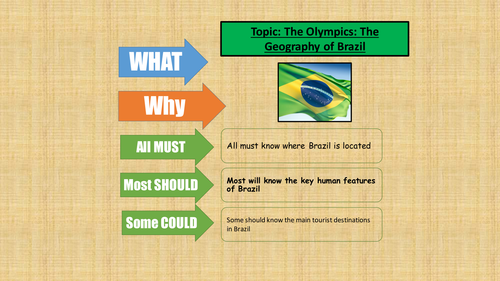 This is a collaboration of lessons about the Geography of Brazil linking it to the 2016 Olympics. The lessons are as follows: Lesson 1 and 2 - Brazils Geography Lesson 3 - Inequality in Brazil Lesson 4 - Brazils climate Lesson 5 - Brazilian culture and carnival Lesson 6 - Redevelopment for the 2016 Olympics Lesson 7 - Design an Olympic site Lesson 8 - The Amazon Rainforest Lesson 9 - Amazon adaptations Lesson 10 - The people of the Amazon Lessons 11-14 - Olympic country research project - could be used as an assessment Fully resourced lessons for the new AQA Geography GCSE topic - Coastal landscapes. Wide range of resources available including case study sheets, exam questions with mark schemes, videos, sorting activities, newspaper articles, Venn diagrams and lots more. Example studies included - Dorset (coastal landforms) and Lyme Regis (Coastal management)