50Uploads
23k+Views
1k+Downloads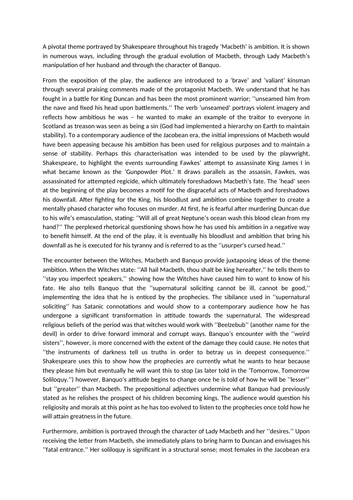 The following answer scored 28 out of 30 marks (exluding SPaG) marks and is focused on ambition in Macbeth. It can be used as an example essay after mocks or used as a source of revision for students hoping to attain higher grades. *For SPaG, the answer was awarded the full 4 marks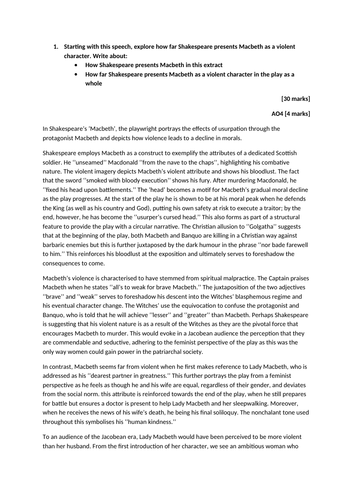 The following essay was written in response to the following question: ''Explore how far Shakespeare presents Macbeth as a violent character'' for an AQA exam. The answer was high attaining and achieved 28 marks. It can be used as a form of revision or when responding to feedback to help students enhance their essay skills and further develop their analytical writing style.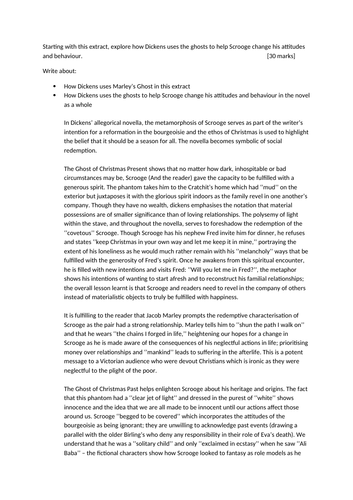 A high-level response to the 2019 AQA 'A Christmas Carol' exam question: How does Dickens use the ghosts to help Scrooge change his attitudes and behaviour? The answer, in total secured 26 / 30 marks. The following page then contains a responding to feedback sheet to prompt students to redraft and improve their own answers A revision guide for the OCR Classical Civilisation Myth and Religion Paper. In total, it is 53 pages long This booklet covers all eight topics and is ideal for retriving knowledge as well as understanding how to structure their answers.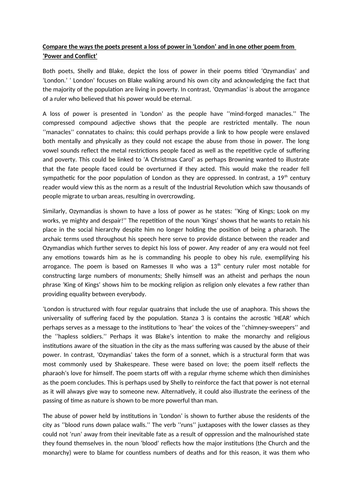 The following answer was written in response to the question: Compare the ways the poets present a loss of power in London and in one other poem from power and conflict. The overall essay managed to achieve 27 marks. Students can use this to further develop their analytical and essay writing skills.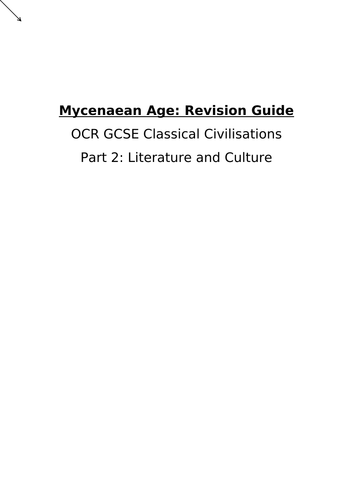 This is a revision guide covering the contents of the Mycenaean Age for Paper 2 of the OCR Classical Civilisations Exam. It includes notes on: Ancient sites Life (hunting, jewellery, frescoes) Death In addition to this, there is also knowledge recap tests within this guide alongside how to answer the questions and a list of key terms.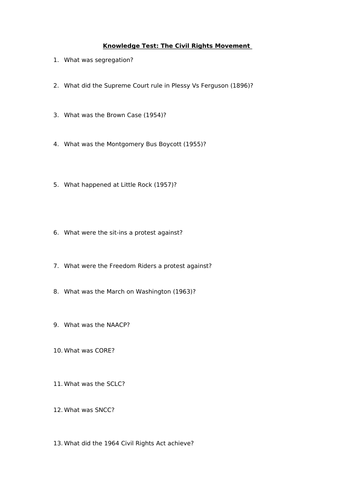 These resources were originally designed as revision for AQA: America - Opportunity and Inequality, which includes the Civil Rights Movement as part of its specification. Though it is primarily aimed at GCSE students, it can also be used by Key Stage 3 students. The PowerPoint offers summaries of the key events of the Civil Rights Movements as well as extra information not included in the information booklet. It also includes the answers to the tasks included in the fill-in guide. If using for KS3, it can also be used as a lessons for the whole unit. The information booklet contains in-depth information that can be used alongside the PowerPoint to create revision materials and is also needed to fill in the fill-in guide. There is a knowledge test that can be used to test how much knowledge has been obtained. This revision guide has been designed for the OCR GCSE Classical Civilisations specification covering Roman City and Life. It covers the 4 major topics included within the unit: Roman Housing Roman Home and the Family Roman Society Leisure and Entertainment It also includes the key information for prescribed sources (these are marked using * ) as well as a glossary of key terms found within these topics. It has been attached as both a word and PDF document.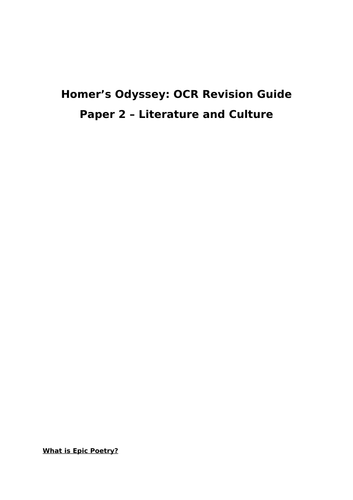 A text guide which can be used alongside the actual text to provide more information and a more simplified version of notes. It includes summaries on key characters, epic, context and an overview of the prescribed books. There is also an information sheet attached at the end which could encourage students to produce their own notes. The following essay was written in response to the question: Who honoured Hercules more, the people of Olympia or Rome? It was written as part of a mock paper for the OCR Myth and Religion exam and achieved the full fifteen marks. It can be used as a source of revision to help prompt students on how to answer essay based questions or used when responding to feedback.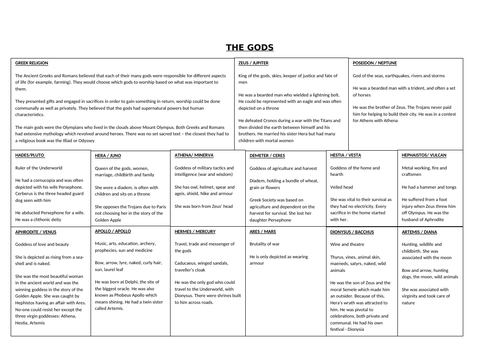 A sheet summarising the key roles and aspects of the Greek and Roman Gods.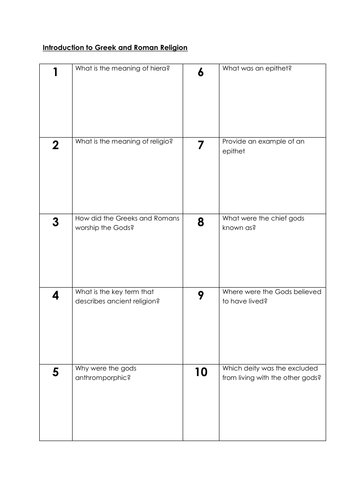 These quizzes have been designed for the OCR GCSE Myth and Religion unit (GCSE Classical Civilisations) and contain 21 quizzes covering all topics found for this part of the course. Each quiz contains questions covering the 8 topics found within the specification and relates to essential information students should have. They can be used as a starter activity before lessons or as a source of revision to help knowledge retrival. There is a total of 210 key facts. These have been attached both as a word and PDF document to allow you to adapt or change any questions as you so wish. The answers are also included. (Work best if two quizzes are put onto a landscape document and then printed on A4. They should then be cut into 2)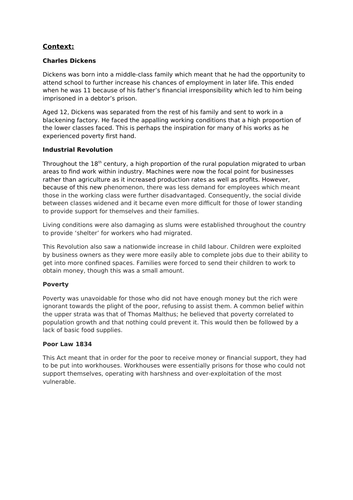 A short summary of the key contextual ideas relating to Dickens' 'A Christmas Carol' allowing students to further enhance their analysis.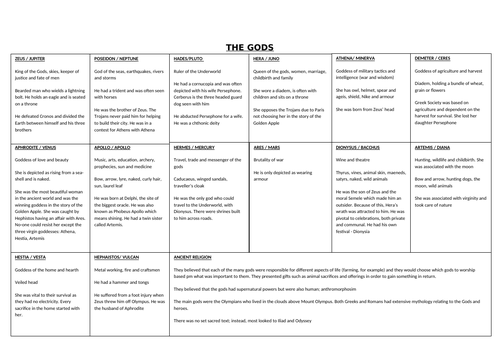 This knowledge organiser summarises the key information for all topics in Myth and Religion (OCR). It includes relevant notes on: The Gods Hercules Temples Foundation Myths Festivals Myth and Symbols of Power Death and Burial Underworld This can be used as a placement in lessons or can be used alongside the revision guide to help aid knowledge.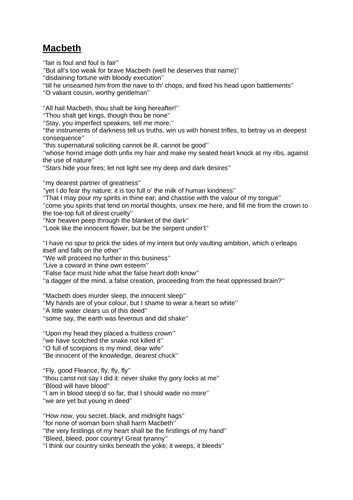 A selection of key quotes that students can use to aid their revision and for use when analysing the play.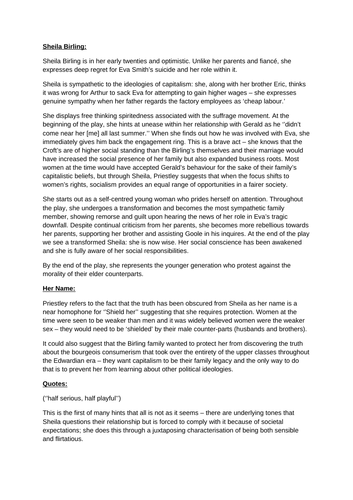 A short summary of the character development of Sheila Birling and analysis of key quotes to support understanding.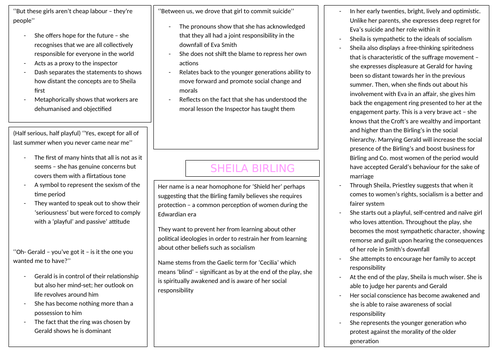 A mind-map summarising the key concepts of the character of Sheila and how she undergoes her development through the course of the prose. key analysis of 'main' quotes brief summary of how she undergoes this character development links to context Used as a great source of revision to promote personal study of 'An Inspector Calls'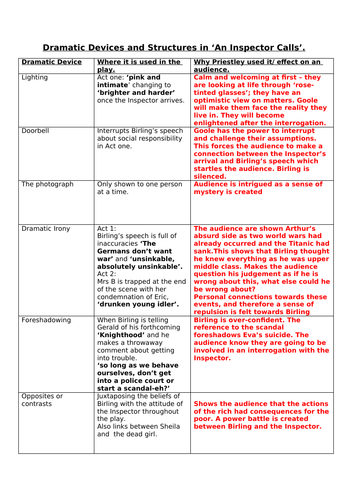 A short summary of the dramatic devices used by Priestley to create tension within the play. This can be used a source of revision for students - can be made into flashcards to test each other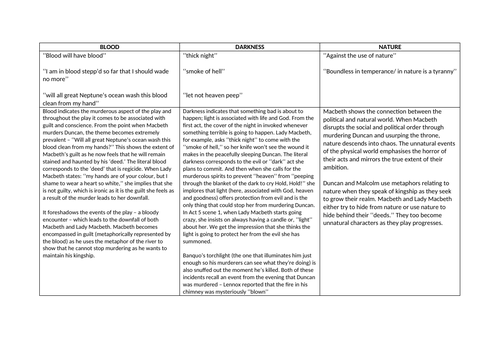 This resource covers the key motifs found in Macbeth and provides students with an analysis of what they suggest in relation to the context of the full play. It could be used to enable students to further develop their answers as well as to encourage them to find their own interpretations of the motifs mentioned.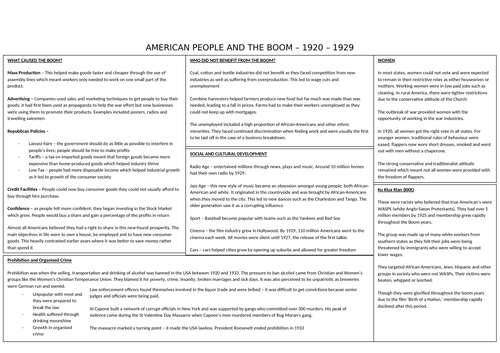 This knowledge organiser contains summaries of the key topics covered within the AQA: Opportunity and Inequality specification for America and is supported by the relevant facts/knowledge needed. It covers: the Boom years, The Great Depression and recovery under the New Deal and the Post-War years (including summaries of the key events of the Civil Rights Movement)