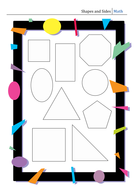 2D shape
A simple handout for children to color. This can help them with recognizing and naming 2D shape and counting their sides.
Read more
Other resources by this author
A powerpoint presentation introducing the London Olympics, mascots, motto, emblem and the events taking part within it.
lbrowne
A colourful animated powerpoint aimed at discussing transition with pupils who are moving on to new classes or schools.
lbrowne
A collection of pictures and discussion points around friends and relationships. Supporting Seal and PSHE + C lessons. Great for visual learners an...
lbrowne
Popular paid resources
A self-contained game to be played in pairs. Use to revise reading coordinates on a grid. Best played once coordinates have already been introduced...
Miss-Becky
Differentiated worksheets for children to complete. Each worksheet contains photographs of shapes that the children must construct then answer ques...
juliannebritton
There are about 17 (practical and fun) lesson activities, tasks or worksheets to cover the following 2014 objectives: Recognise angles as a propert...
jreadshaw
Updated resources
This carefully selected compilation of exam questions has fully-worked solutions designed for students to go through at home, saving valuable time ...
Maths4Everyone
This worksheet is really good for revising Area of a Triangle (using the sine of an angle). The questions cover the full range of skills tested in ...
Maths4Everyone
This is my poster for SOH CAH TOA, which shows all three types of calculations for this topic. I give students the A5 version for revision and have...
Maths4Everyone