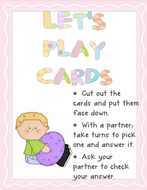 Adding and Subtraction Word Problems
Make SATs/National Test prep fun with these Easter themed word problem cards.

• Cut out the cards and put them face down.
• With a partner, take turns to pick one and answer it.
• Ask your partner to check your answer

7 pages, including blank cards for you to write your own word problems.
Read more