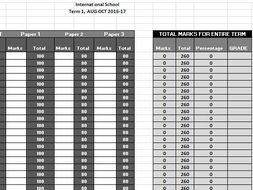 Automated Spreadsheets templates for Whole school Grades Summary
Dear teachers, it's time to impress school management and parents during term reports and PTC's. Show-off your work on these four automated spreadsheets.

These Spreadsheet templates can be used by primary, lower secondary and upper secondary year groups. Teachers can choose a template which best suits their work. The End-term Analysis template calculates both summative and formative grades in 40% and 60% and then displays term grade out of 100% marks. Teachers can change grade boundaries and percentage for summative and formative assessments. These templates also calculate maximum and minimum grades and displays them graphically. There are five worksheets in one Spreadsheet. Each spreadsheet displays a different analysis i.e attendance, modules, term marks, grades, comments, exam grades and their graphical representation. Teachers need to enter grades in the third worksheet. The rest is all calculated automatically.

Last but not the least, teachers can print out 4-5, A4 sized Spreadsheets in Landscape orientation, with all detailed analysis mentioned above.

All templates are password protected for additional security. Some rows and columns have cells locked in to avoid accidental deletion of formulas.

I have added several nested functions, such as the SUMIF and COUNTIF functions etc.

So sit back and relax because once you download these template, you will not need to calculate grades manually, anymore.

I am offering this simplified solution at a very reasonable price. I am sure these templates will bless you with more time to concentrate on other aspects of your job. Hope you like them and use them every day.

NOTE:
Please make sure to download this resource immediately upon payment. You can send me a private message or contact me on my site for any further FAQs.
About this resource
Info
Created: Nov 15, 2016
Updated: Mar 17, 2018
By adding a School licence it allows you to share this resource with colleagues at your school. Without it, this resource is licensed for use only by you. Read licence details
Get this resource as part of a bundle and save up to 48%