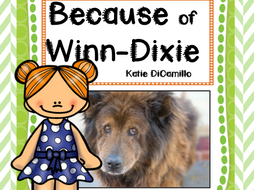 Because of Winn-DIxie Study Guide Comprehension Questions
Because of Winn-Dixie by Kate DiCamillo

This study guide includes literal and inferential comprehension questions for each of the 26 chapters. The front cover can be printed on card stock to make a durable workbook or it can be used chapter by chapter, as homework or weekly assessment.
40 Pages + Answer Key with page #'s for easy reference.
Read more