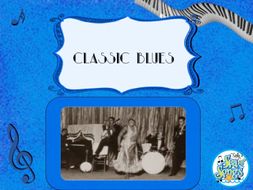 Bessie Smith & the Classic Blues PowerPoint
This PowerPoint show can be the basis for a unit on the classic blues. Slides contain facts and links to YouTube videos about Bessie Smith, characteristics of classic blues, 12-bar blues structure, sing the chord roots, write your own blues, and 4 quick quiz questions useful for exit tickets.

Also included is a song lyrics PowerPoint for Backwater Blues, and a student blues writing worksheet.
Read more