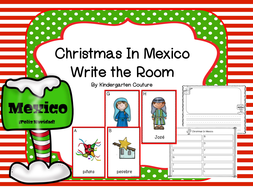 Christmas in Mexico -Write The Room
Are you looking for a way to integrate Christmas around the world into your centers? Here is a write the room center to go with one of the countries. The posters could also be use as a picture reference. I have included a one page picture poster for extended writing at the center on the writing/illustration page provided. Students will love having the chance to walk around the room searching for the Christmas in Mexico posters that you have placed around the room.
For this center all you need to do is copy the cards, laminate and stick them up around the room. Students then take a clipboard and recording sheet and write the words they find next to the picture on the recording sheet. Pictures include tamales, bizcochitos, girl, poinsettia, Maria, Jose, candle, cactus, rosca, gift, pinata, and pesebre.
Read more
About this resource
Info
Created: Aug 30, 2016
Updated: Feb 22, 2018