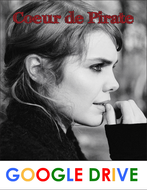 Coeur de Pirate - Google Drive edition - reading for French learners
Coeur de Pirate is the stage name for Beatrice Martin, a young woman from Quebec with a striking voice and an interesting style. Learn about how she went from unknown to international concert tours in this article and activity.

This Google drive edition includes a 2-page reading activity with comprehension questions in both English and French. Students can answer the questions either in their Google drive or using Google forms. Includes instructions on how to grade using Flubaroo.
Read more