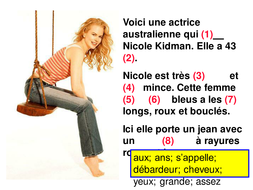 Describing People
A powerpoint with a reading exercise for 6th to 8th grade students to use recently acquired description vocab. Students use words from the box to complete a cloze exercize. This can also be used to model sentences for a writing task.
About this resource
Info
Created: Mar 14, 2010
Updated: Aug 19, 2015
This resource is designed for US teachers. View UK version .
Other resources by this author
1. Set of notes on possessive adjectives to complete and paste into exercise books. 2. Worksheet on the use of possessive adjectives when talking/w...
suedyer
A very annoying (hence the kids will love it!) Bébé Lilli song with lots of animal vocabulary. One sheet has the lyrics and a link to the Daily Mot...
suedyer
Terrific song on those who choose not to work. Introduces some good work/non-work vocabulary, as well as some French institutions.
suedyer
Popular paid resources
PowerPoint and accompanying workpack designed to encourage pupils to use a variety of complex structures in their spoken and written French. An ext...
maryjane1969
Print out the cards and laminate them. Pupils work in pairs or small groups and race against each other to form the perfect tense with the cards af...
maryjane1969
This is a lesson I produced for my Lower Sixth to introduce the subjunctive. There is a worksheet to accompany the presentation with a fairly compr...
maryjane1969
New resources
Article and exercises on family topic - the nature of mother-daughter arguments. Practises conjugation/grammar section of AS exam. Pupils must fill...
leptir109
Full explanation of why accents are used in French including activities and a section for pupils to search in a dictionary and find accents they ca...
leptir109
Updated resources
This Power Point introduces the French Demonstrative Adjectives: ce, cette, ces , cet. Useful for MIDDLE or HIGH school French 1.
lmcgovern-bs-74
Beautiful A3 posters to display in your classroom or simply to print for your IB students, explaining what the five themes are for the 2020 French ...
Cynthia-G