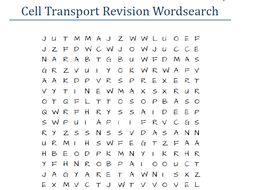 Differentiated Cell Transport Revision Wordsearch
Differentiated cell transport revision wordsearch. Students need to solve crossword clues to identify the words.

Words: Active transport, diffusion, osmosis, exchange surface, concentration gradient, surface area, respiration, water, transport, passive

Suitable for AQA GCSE Biology
About this resource
Info
Created: Feb 26, 2017
Updated: Feb 22, 2018
Categories & Grades
Other resources by this author
Two crosswords created using the Year 5 and 6 word list. Differentiated in that one version of each crossword has a word bank. Answers included. Cr...
Grefintec
This is a Brainstorm detailing the key points of the AQA Biology 8461 syllabus. I have used it as part of a group brainstorming activity, as follow...
Grefintec
Set of four differentiated worksheets for use in an introductory lesson on the process of diffusion. Great to use after pupils have observed the di...
Grefintec
Popular paid resources
Print on A3. On sided revision. Mark Scheme for most questions on slide 2
kirstylheath
For Students studying CIE AS Level Biology 9700. The Multiple Choice Past Paper Cambridge exams up until 2016 (papers 11/12/13) have been sorted by...
njt555
Includes - 3.6.1.1 - Survival and Responce 3.6.1.2 - Receptors 3.6.1.3 - Control of heart rate 3.6.2.1 - Nervous impulses 3.6.2.2 - Synaptic Transm...
tlockhart3nr9
New resources
These are my revision notes made for A level biology for the new specification for Edexcel Salters Nuffield. These notes were developed through sev...
armani2867
Classroom poster detailing the comparison between the stimulus response pathway of conscious and unconscious (reflex) actions that include the rela...
rokerroar
Updated resources
Module 2.2: Biological Molecules- Protiens and Lipids BoardWorks PowerPoint presentation featuring interactive slides to test
aizaibiyakin
OCR Biology A-Level Revision Notes / Mind-Maps A mind map for each topic- covers almost everything you need for the exams! (no practicals are inclu...
lauren_payne212
Contents: 1x 2018 Biology B2 GCSE Predicted / Mock Paper 2X 2018 Biology B2 GCSE Predicted / Mock Mark Scheme This paper is sutiable for use with A...
tingham2