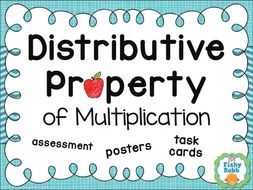 Distributive Property of Multiplication
Of all the properties of multiplication, the distributive property is the most challenging to teach. This step-by-step pack will make it easier. Includes:

Anchor Charts/Posters:

• Definition poster
• Distributive property using arrays
• Distributive property using decomposition

Activities:

• Task cards and recording sheet
• Assessment/worksheet

Answer keys are included.
Read more