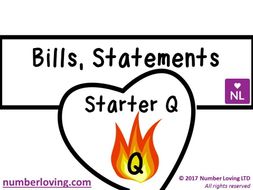 FREE 9-1 New Spec Bills, Statement Quick Fire Questions
UPDATED WITH BONUS QUESTIONS
This starter is to be used alongside our premium resource Bills, statements Task cards
Pupils complete the ten quick fire questions on slides 3 on wards on mini white boards. With discussions and methods discussed with each question.
Each question helps to introduce terminology and recap basic skills of addition, subtraction and multiplication in relation to bills, pay statements and bank statements as required in the new GCSE mathematics specification.
About this resource
Info
Created: Mar 28, 2017
Updated: Apr 7, 2018
Get this resource as part of a bundle and save up to 69%
Other resources by this author
This resource includes three differentiated worksheets; Green-Harder Amber-Middle ground Yellow-easier Pupils complete the worksheet at their level...
NumberLoving
UPDATED!! New extra content This resource has been updated March 18 and now includes six worksheets covering a range of questions on topics which c...
NumberLoving
UPDATED MARCH 18 Previous buyers please get in touch (contact below) if you have an trouble re-downloading! This resource has been updated and now ...
NumberLoving
Popular paid resources
This pack of resources covers Year 2 place value for the first week of the autumn term. The resources support a mastery approach to teaching mathem...
RustyMaths
I created this code breaking maths lesson for an Ofsted observation. The children thoroughly enjoyed it and had so much fun (whilst still learning)...
jodieclayton
Flip- chart moves through stages of multiplication as repeated addition and then an array. Can be made more practical (fun) by having a collection ...
jreadshaw
New resources
A PowerPoint giving information about the 2018 Winter Olympics, South Korea and the events involved etc. Resource also includes a lesson plan and K...
Jemmab100
This is pack 1 of 3 on Year 1 place value for the spring term and covers the small steps: - Numbers to 50 - Tens and Ones - Represent Numbers to 50...
MKConnolly
A simple number assessment grid so you can highlight whether a pupil can recognise a numeral. Simply type or write the pupil's name in the left han...
teacher-daniel
Updated resources
Catchphrase style Powerpoint game and pdf answersheet for revision on calculation skills designed for year 6 ahead of SATs. The Powerpoint contains...
oborgnis
This resource provides 68 different EDITABLE digital coupons for food and beverages that can be used with problem solving in Maths. Coupons can be ...
erinbrasington
This resource provides** 68 different digital coupons** for food and beverages that can be used with problem solving in Maths. Coupons include disc...
erinbrasington