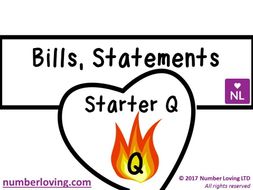 FREE 9-1 New Spec Bills, Statement Quick Fire Questions
UPDATED WITH BONUS QUESTIONS
This starter is to be used alongside our premium resource Bills, statements Task cards
Pupils complete the ten quick fire questions on slides 3 on wards on mini white boards. With discussions and methods discussed with each question.
Each question helps to introduce terminology and recap basic skills of addition, subtraction and multiplication in relation to bills, pay statements and bank statements as required in the new GCSE mathematics specification.
Read more