Practising perfect tenses in the MFL classroom
Introductory presentations, games and interactive activities to practise the perfect tenses
Teaching the tenses is one thing, but making sure pupils know how to use them in practice is a different story. Have a look at these handy resources and perfect your students' knowledge of the perfect tenses.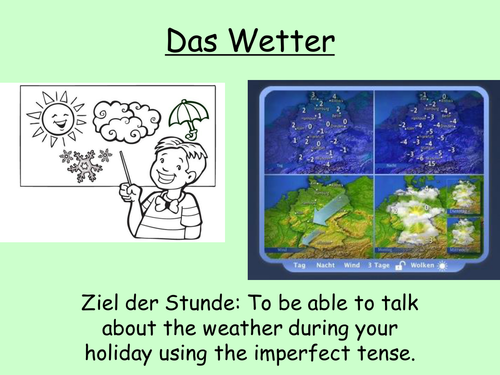 A Powerpoint to help pupils review previous vocabulary related to describing the weather in German plus introduction to saying the weather in various past tenses (imperfect and perfect tense). Plus, a short worksheet to help pupils identify the differences between the three tenses. Not intended to take up an entire lesson, feel free to add whatever suits you.
By
mllemaki
This is a fast paced activity reviewing the perfect tense conjugation of German verbs. There are over 100 slides and five games to play. Slides give the English and pupils have ten seconds to find the German translation. The presentation is easily adaptable and can be used either as a whole lesson or as several short activities within a lesson. You can come back to it as often as you like. It helps pupils to perfect their translation of verbs in preparation for exams and helps boost confidence when speaking.
By
Maryjane Bennett
GCSE GERMAN VERBS CONJUGATION PERFECT TENSE My students have always found these quick conjugation activities really useful as both a practice and revision activity. There are 25 high-frequency irregular and mixed verbs, with 150 'quick' conjugation questions across 3 differentiated conjugation challenges in the perfect tense. I use them in a range of learning contexts, such as independent work either in class time or at home, holiday refresher work, or individual activities for cover/sub lessons. My students like to have several opportunities to work through the workbook, a couple of times a semester across a whole school year. This helps them to map progress in a very clear and structured way. .
The workbook has ten pages with the following quick conjugations:
Two alphabetical verb reference lists: GERMAN-ENGLISH and ENGLISH-GERMAN.

Three conjugation challenges, each with 50 individual conjugations:
CHALLENGE 1: each verb conjugated in GERMAN across a range of pronouns, with students writing the corresponding ENGLISH verb conjugation.
CHALLENGE 2: gives the infinitive of each verb in GERMAN, specifying the target pronoun. Students write the corresponding verb conjugation in GERMAN.
CHALLENGE 3: students write the corresponding GERMAN verb conjugation, and its infinitive, from an ENGLISH prompt.
NOTES & NEXT STEPS sheet, which encourages students to think about how their understanding of GERMAN conjugation works, what progress they have made, what their targets for improvement might realistically be, and what they might reasonably do in order to meet those targets.
There is also a 6-page ANSWER KEY booklet which my students really like to have, either to self- or peer-assess - answer keys are also great time-saver for teachers, as well as a way of encouraging students to really assume more responsibility for, and independence in, their learning.
There are 3 non-editable files in a zipped format. Please read the TERMS OF USE carefully - the resource is copyright, and for single-teacher / purchaser / classroom use only.
VIELEN DANK UND VIEL SPAß BEIM KONJUGIEREN!
By
LivelyLearning