Scaffolding and prompts for MFL students
Resources to support pupils with their speaking and writing skills in the target language
Confidence is something that secondary students often lack in the MFL classroom. We've selected a range of visual resources to encourage reluctant pupils to be more prepared, to take risks and to experiment with their speaking and writing. From reference mats to frameworks and sentence builders, these resources provide learners with a range of tools, which will enable them to feel independent and secure in their language production.
KS3 resources to practice writing and speaking skills in Spanish.
Worksheets with differentiated speaking and writing tasks.
By
Aude BIE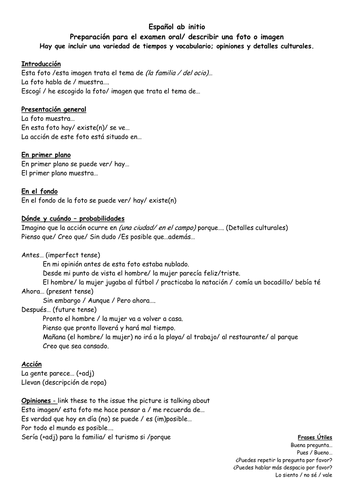 IB Spanish ab initio Oral Exam (25%)

Presentation - help sheet on how to structure an answer to include a variety of tenses
By
JUpsall
Two longer writing tasks on the topic of family, with a clear checklist of success criteria for pupils and key vocabulary, connectives and structures to include.
By
SecondaryMFLresources