Scaffolding and prompts for MFL students
Resources to support pupils with their speaking and writing skills in the target language
Confidence is something that secondary students often lack in the MFL classroom. We've selected a range of visual resources to encourage reluctant pupils to be more prepared, to take risks and to experiment with their speaking and writing. From reference mats to frameworks and sentence builders, these resources provide learners with a range of tools, which will enable them to feel independent and secure in their language production.
French Resources
Give older students guidance on how to check their work carefully alongside this helpful checklist of tenses and agreements, relevant to both spoken and written tasks. If you want to work on structure, have a look through this discursive writing helpbook and use reading comprehension as a tool to guide learners through developing their own cohesive essays.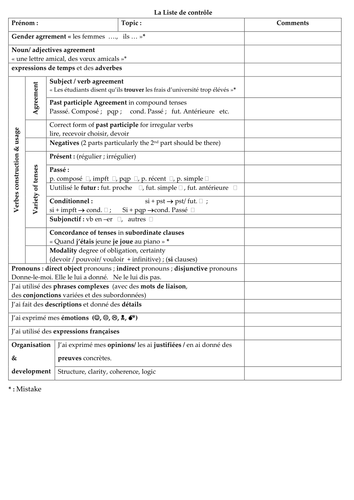 A handy checklist for the students to have under their eyes when producing extended spoken & written material. Could be used for self assessment, peer-assessment or teacher assessment or by the language assistant.l
By
hengameh
Discursive Writing Helpbook contains 3 sample discursive writing pieces framed as reading comprehension exercises, 3 pages of discursive phrases (appropriate complex and sophisticated language) for the Discursive Writing element of the Advanced Higher exam plus 2 pages of (49) practice questions.
When printed out the booklet has the phrases in French and space for the pupils to translate into English.
Discursive Writing Answerbook has the English translations so could be given simply as a vocabulary resource but I have used this version to display the translations on the Smartboard.
The reading comprehension gives the pupils a taste of what is expected and guides them through structuring their own writing as well as introducing useful phrases. I have used the marking instructions to discuss with the class how the examples fulfil or fall short of the standards. They can then refer to these when writing their responses to the sample questions.
By
lapoirebellehelene
KS3 resources to practice writing and speaking skills in Spanish.
Worksheets with differentiated speaking and writing tasks.
By
Aude BIE
German resources
Support learners as they discuss their last holiday, prompted by this vocabulary-focused writing frame to ensure they structure correctly and don't miss out any important details. To hone confidence in speaking, check out this fun set of prompt cards designed to get students talking and practicing separable verbs in the present tense. The accompanying reference sheet also gives students the chance to reflect on their learning and create their own questions and answers in the writing template provided.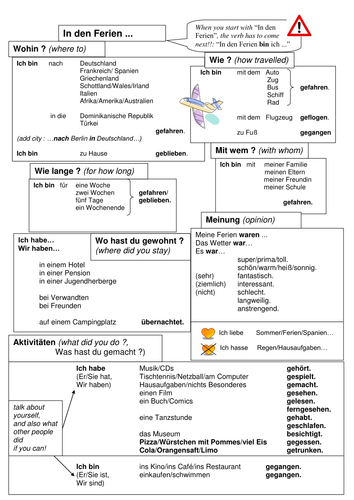 Vocab sheet/writing frame to help pupils include all important details when writing about their last holidays
By
VFS
PERFECT FOR DEVELOPING SPEAKING SKILLS IN GERMAN - QUESTIONS AND ANSWERS WITH A FOCUS ON SEPARABLE VERBS IN THE PRESENT TENSE - 100 QUESTION & ANSWER CARDS WITH REFERENCE BOOKLET
PERFECT for speaking practice, and multi-skill language learning, TALK TIME IN GERMAN is a set of 100 question and answer prompt cards that give your students structured talk opportunities, and will also get them listening, reading and writing. They're ideal for independent learning, and perfect for pair and small-group work. The prompt cards feature language and structures that your students are likely to meet in the earlier stages of their GERMAN learning - I've classed the resource as suitable for ages 11-18, but it really does depend on the age at which your students began their GERMAN learning, and the stage they're currently working at.
The reference booklet includes all the questions and answers written out in full. Students use the NOTES AND NEXT STEPS template to reflect on their learning, and think about what they might reasonably do to progress in their learning.
The question and answer writing templates give students the opportunity to apply their GERMAN very practically, as they create both questions and answers for each other. This is a great team activity too.
This set is a great complementary resource to other sets in the TALK TIME series in terms of learner progression, but it works perfectly well as a standalone resource too. You can also use the prompt cards for a whole range of games, and I've described how to play several games and activities that you can start with.
The prompt cards do take a bit of prep: printing and laminating. Laminating is definitely recommended, as you'll be able to use the cards for years to come. Print out an appropriate number of question and answer templates (black and white is fine). Students should ideally have their own individual reference booklet that they can keep in their learning folders to use for reference, practice and revision when they need to.
SETS 3 & 4 with 200 conversation cards and two reference booklet, with a focus on separable verbs in both the present and perfect tense, are available as a combined resource for £5.00:
https://www.tes.com/teaching-resource/german-speaking-cards-3-and-4-11417814
The resource consists of two non-editable files in a zipped format; please read the TERMS OF USE carefully.
VIELEN DANK UND VIEL SPAß BEIM PLAUDERN!
By
LivelyLearning