Christmas activities for MFL
Seasonal teaching resources to explore cultural traditions and festive language in French, German and Spanish
As pupils' excitement about Christmas gains momentum, it presents the perfect opportunity to capture their enthusiasm in MFL lessons. That's why we've hand-picked a selection of Christmassy resources to help raise your students' cultural awareness, expand their vocabulary and practise core language skills.
A Christmas MFL post wouldn't be complete without a bingo resource. With the advantage of being pictorial and re-usable in different language lessons, this one includes 30 pupil boards and a master teacher copy to keep track of all the seasonal phrases as you call them out.
French resources
Introduce your KS3 classes to the Nativity in French using this presentation, which can be built into an interactive lesson using flashcards and incorporating physical actions to represent key words. Useful as a starter or filler, practise descriptive writing and forming negative sentences with this wintery find-the-difference activity.
For older students, this comprehension task describes common French traditions and typical Christmas Eve celebrations. With suggested vocabulary, the follow-up questions require answers in English and more-able learners can attempt a written comparison in French.
If you're looking for an excuse to focus on oral work, this bundle includes worksheets to support speaking activities with a seasonal twist, such as a naughty-or-nice survey and tense-sensitive mime prompts.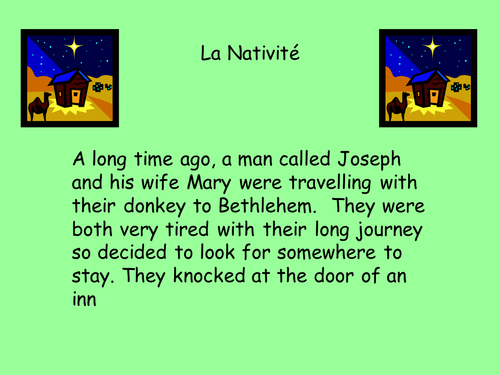 This is a simple version of the nativity story which I use with nativity flashcards I put on a couple of years ago and we do actions for each of the key words before we look at the play eg hand out to the side as though holding staff for Joseph. Hands together in inverted v for the stable etc There is also a song Petit Jesus that I put on a couple of years ago that sings to the tune of Frere Jacques which brings in all the nativity characters.
By
sandy59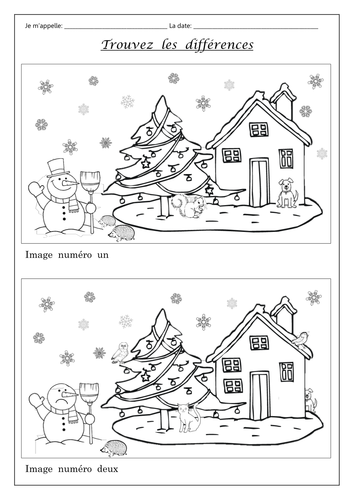 Two pictures to discuss and find the differences on a Christmas theme. Practises Christmas vocabulary, animals, weather, numbers, negatives, prepositions and the expression 'il y a&'. An enjoyable way for children to talk about what they see in the two pictures and for them to be able to compare the differences. If this worksheet is of any use to you, please take the time to leave a comment. Your feedback is very much appreciated.
By
labellaroma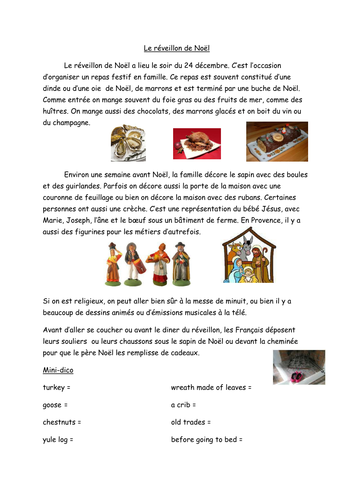 Short text to read, with vocabulary and comprehension questions, followed by differentiated activity higher or foundation level
By
amtrousset
Spanish resources
Once you've introduced the traditional Christmas vocabulary, check pupils' understanding in a creative way with this Pictionary-themed presentation. Then, get students learning all about Spanish traditions during the festive period as part of this whole lesson of activities, including a round-the-room reading challenge.
Complete with supporting language and extension questions, this seasonal presentation looks at particular Spanish celebrations and customs, with an emphasis on comprehension skills and tackling unfamiliar words.
Why not use the context of Christmas to work on the subjunctive? This resource centres around a satirical pantomime and requires students to choose the subjunctive correctly, before responding to questions to ensure they've understood the text.
German resources
Planning a trip to a Christmas market? Don't leave without this questionnaire! Challenge pupils to answer cultural and language-based questions to motivate them to interact with German stallholders.
Kick off festivities in the classroom with this simple match-up worksheet on 20 key phrases, which can lead nicely into a discussion about German traditions.
These three short reading texts work well as stimulus to get students writing about what presents they got last Christmas. Or, focus on the use of "denn" and "weil" with these worksheets on wish lists, starting with a comprehension, grammar questions and culminating in a writing task.