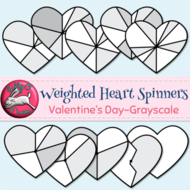 Greyscale Heart Spinners Clip Art
This 10 piece, high resolution set of weighted spinners clip art is great for Valentine's Day and useful for prize wheels or games where the probability of landing on certain outcomes is more fun when it's weighted.

Spinner Options go from hearts in sections of 1 to 10. The heart can also be used to create a gameboard or have student create their own spinners. This set contains a printer-friendly Greyscale.
Read more