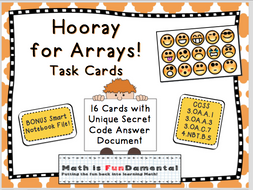 Hooray for Arrays Task Cards - Multiplication Practice with Unique Answer Code
If you are viewing this product, then you probably already know of the usefulness and versatility of task cards. They work great for centers, partner activities, and general review. Kids love them because they can move around and work at their own pace, too.

I designed this set of 16 task cards with various examples of arrays. Students should find the matching multiplication problem on the answer key and place the code letter on the array card in the . They should also work the multiplication problem. This task card set is unique because it has a coded message answer document that allows you to check the student's work very quickly! I created this like the 4 x 4 crossword puzzles that I love in USA Today. As students answer each problem, the answer to the clue is revealed in by eight four-letter words spelled horizontally and vertically.

Enjoy!
Read more