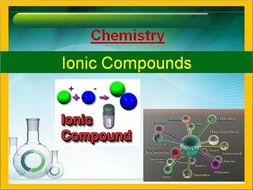 Ionic Compounds - Chemistry PowerPoint Lesson, Worksheet & Notes Package
Product Description
Everything you need to teach Ionic Compounds as an introduction or review is right here including the lesson and a worksheet with answers provided. The Power Point is interactive, engaging and to the point.

Included in the lesson package is:

- a review of ions
- a comprehensive introduction to ionic compounds
- drawing Lewis structures for ionic compounds
- writing the name for ionic compounds (both typical and multivalent)
- writing the formula for ionic compounds (both typical and multivalent)
- the criss-cross rule
- properties of ionic compounds
- Practice worksheet with Answers

The student version of the power point contains multiple blanks that need to be filled in throughout the lesson. These blanks are conveniently underlined and bolded on the teacher copy. I have found this to be the most effective means of keeping my students engaged and active without having them write everything out. This also leaves more time for discussion and activities.
Read more