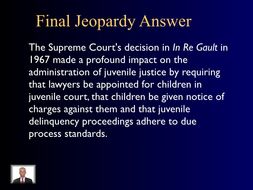 Jeopardy Law Game Juvenile Crime Constitutional Protection Juvenile Law
A 53 slide powerpoint presentation on the Juvenile Justice System in Jeopardy game format.

This has the usual escalating difficulty of questions which is the basis for the Jeopardy show.

I am a retired lawyer, law instructor and published legal textbook author.
Read more