Le Jeu des 7 familles
This card game is to help pupils with the 'passé composé' in French. One card game is for a group of 6 pupils. The aim is to gather as many full conjugated verbs (=families) as possible by asking other players 'dans la famille attendre je voudrais j'ai attendu...) Pupils are allowed another go after they get a card. Just print, laminate, give all players 6 random cards and you're ready to go! :)
Last updated Jan 20, 2015, created Dec 14, 2011
Error occurred while adding this resource to your favourites list. Please try again later.
Ages
Categories
Nice idea and can easily be adapted to any verb we want the class to practise.

The rules of "Go fish" card game. Use the past tense with the following "avoir" verbs: aller, téléphoner, regarder, boire, attendre, finir.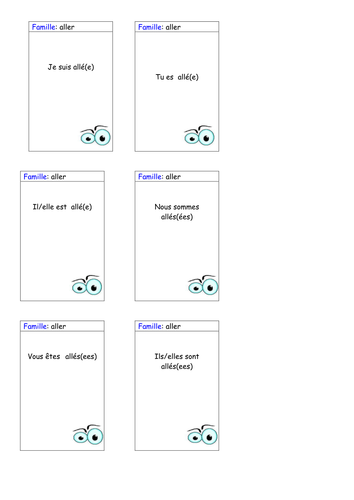 Downloads

531

Views

2115

Created

Dec 14, 2011

Updated

Jan 20, 2015