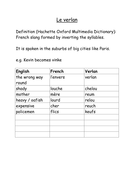 Le verlan
Very quick/simplistic guide to verlan..
Read more
This resource is designed for US teachers. View UK version .
Other resources by this author
See the document - all explanations are there.
MelKnibb
Assembly on energy drinks devised last year and used for a KS4 assembly,
MelKnibb
I wrote Carla Bruni's biography using a range of websites, and after asking a colleague to record the script, I animated a photo of Carla Bruni usi...
MelKnibb
Popular paid resources
PowerPoint and accompanying workpack designed to encourage pupils to use a variety of complex structures in their spoken and written French. An ext...
maryjane1969
This is a lesson I produced for my Lower Sixth to introduce the subjunctive. There is a worksheet to accompany the presentation with a fairly compr...
maryjane1969
Print out the cards and laminate them. Pupils work in pairs or small groups and race against each other to form the perfect tense with the cards af...
maryjane1969
New resources
Article and exercises on family topic - the nature of mother-daughter arguments. Practises conjugation/grammar section of AS exam. Pupils must fill...
leptir109
Full explanation of why accents are used in French including activities and a section for pupils to search in a dictionary and find accents they ca...
leptir109
Updated resources
French definite articles video with online dictionary skills. Suitable for a homework or class-based task either to consolidate the grammar rule or...
darbonator
Aurelia McNicol and myself have just done this Long Term scheme of work for the new IB French B HL/SL. We thought you might appreciate using it as ...
amande7
The worksheet is aimed at learners in KS4 and KS5. There is a little starter followed by 4 differentiated exercises : match up, filling in the gaps...
arianel