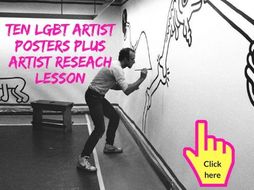 LGBT history month artist research lesson: February
A two-lesson mini scheme to celebrate LGBT history month: a research lesson on one of 10 artists, followed by a lesson to present and give feedback.

The structure of the lesson is quite straight forward and resources are provided (ppt to go through the lesson tasks and handout sheets on the 10 artists). Computers will be needed and a projector/interactive whiteboard for the student presentations back the class. Students work in groups of about 3 for this task.

Timings can be adapted to suit the length of your lessons, and the project could be extended to involve students making their own practical response to their artist.

Students learn about a rich variety of LGBT artists through the research and presentations, as well as developing artist research and group work skills.

A lesson that puts the emphasis on the students: researching, presenting and then giving peer feedback.

Plus handouts on the artists can be used as posters for classroom display & an interactive pdf with weblinks for internet research on artists which can be shared with the class digitally or printed as a poster/handout!
About this resource
Info
Created: Dec 30, 2016
Updated: Feb 1, 2018
Get this resource as part of a bundle and save up to 48%
Other resources by this author
A fun art 'formal elements' word search PDF file with 17 key terms to find including colour line shape tone form texture space design balance contr...
amimamim
A great resource to support student in becoming more independent and taking responsibility for their projects. 23 pages which can be photocopied in...
amimamim
A two page PDF resource (can be photocopied back to back and laminated for repeated use) on the artist Gustav Klimt. Can be used as a sub lesson du...
amimamim
Popular paid resources
Entire unit of work for the theme "Natural Forms". Suitable for KS4, particularly year 10. This unit will run over 6 school terms. The unit include...
Piper-maru
A Powerpoint to support the sketching of 'winter trees' I made this for a year 3/4 class to show them examples of Winter trees with no leaves for d...
dave_orritt
A 21 page, fully editable Art Department staff handbook. Be OFSTED ready with this thorough resource. Provided as a Word document so that it can be...
StartEducation
Updated resources
Kandinsky quotes, on his abstract painting art: color line, composition and on his artistic life: Blaue Reiter and Bauhaus for pupils, students and...
Matrozenhof
A suitable resource for differentiated visual art classes as an introduction to artist studies. Using Gardner's multiple intelligences and incorpor...
theshropshirelass
Frida Kahlo quotes, of the Mexican woman-painter who painted her own life - a physically limited life for pupils, students and teachers in art Frid...
Matrozenhof