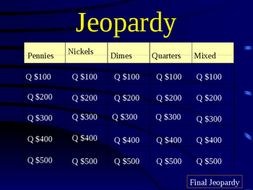 Math Jeopardy- Counting Coins
This easy to use PowerPoint transforms your classroom into a game show. Students have an exciting time answering questions involving counting coins and earning points for their efforts. Work in teams or use this as an individual review.

Teaching Tips:

This works great as a full group activity or review. It can also be used as a center, an individual review, or as a game with teams.
Read more