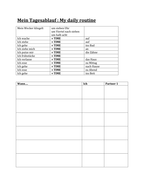 Mein Tagesablauf - my daily routine
Vocab presentation and worksheet with phrases and a grid for oral work in class. Students should be able to discuss and write about their daily routine.
Other resources by this author
Step by step worksheets taking you through formation of regular and irregular adjectives, both before and after nouns with exercises as you go along.
leptir109
Long (2 hour) worksheet - find the missing words, pick the right statements, translate these sentences - based on article about a racially motivate...
leptir109
Easy reading comprehension on my family with questions to answer in English and a writing task at the end.
leptir109
Popular paid resources
Bundle containing powerpoint presentations, wordsearch, bingo cards, and 2 worksheets to practise talking and writing about the weather in German. ...
happyfrau
Powerpoint introducing various ways of greeting people in German and how to answer the question 'wie geht's?'. Includes listening exercise.
CrookedSteeple
One of the keys to motivation is to build classwork around subjects which interest students, and to use those subjects as vehicles for exposing stu...
linguascope
New resources
Quiz quiz trade cards for internet activities with gern and nicht gern and frequency phrases
nilex
This resource introduces 14 pets with a range of practice activities. It introduces the question 'Hast du ein Haustier?' and a range of possible an...
cgazzal
Reading and writing resources to support "in meinem Leben" and "Mein Vorbild". Easy to print and edit. Can be used as classwork...
rooney33
Updated resources
Start every German lesson with a quick revision of past, present and future and inversion by giving them one verb to conjugate. For students that a...
jusch12
IDEAL ACTIVITY FOR DEVELOPING UNDERSTANDING OF HOW TO CONJUGATE REGULAR GERMAN VERBS IN THE PRESENT TENSE - WORKBOOK WITH 3 DIFFERENTIATED CONJUGAT...
LivelyLearning
PERFECT FOR DEVELOPING UNDERSTANDING OF HOW TO CONJUGATE REGULAR GERMAN VERBS IN THE PERFECT TENSE - WORKBOOK WITH 3 DIFFERENTIATED CONJUGATION CHA...
LivelyLearning