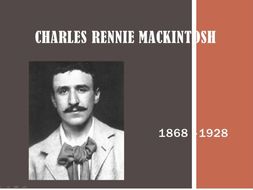 Middle School cross curricular Powerpoint lesson - Artist Charles Rennie Mackintosh
Middle School Powerpoint lesson on the artist and architect Charles Rennie Mackintosh. Series of 24 slides telling the story of his life and works. The slides are interactive and promote discussion within pairs and small groups. Pupils will learn the features of art nouveau/deco architecture and furniture design, identification of geometric shapes in designs, and use of images to create their own geometric pattern/design. Pupils will use the Mackintosh rose as a stimulus to create their own floral design and identify the features of Mackintosh's watercolours through comparison of his most famous works. There is a link to a Youtube clip explaining how to paint with watercolours and the final activity is a research task to find out the auction price of some of Mackintosh's works.
Can be used as a whole lesson or series of lessons which lead into practical cross curricular activities.
Read more