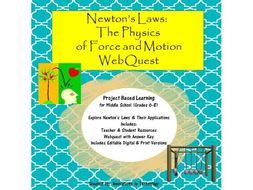 Newton's Laws: The Physics of Force & Motion Webquest (Internet Scavenger Hunt)
This webquest / Internet scavenger hunt is a perfect one day activity for middle schoolers to learn more about the Sir Isaac Newton's laws of physics and their application. In addition, they'll learn a little about some of the other things Newton was famous for!

Lesson includes resources for the teacher and student, the student handout and an answer key. This is a great lesson to leave with a sub too!
Read more