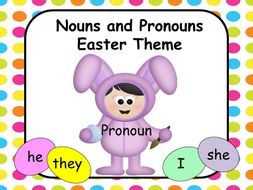 Nouns and Pronouns - Easter Theme
This Easter theme resource reviews nouns and pronouns. Students read the words on the cards and sort them by nouns and pronouns. Student directions, answer key and center cards are included.

All you need do is print the packet, laminate and cut out the pieces. Store the centers in file folders, manila envelopes or Ziploc baggies.
Read more