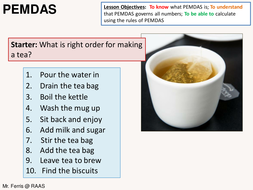 Number: PEMDAS (order of operations) - US Version (+ Resources)
This is a whole lesson on teaching PEMDAS.

It includes 2 starter activities, very clear teaching with use of MWB for AFL activity, questions with answers and a plenary. It also comes with a worksheet, a help sheet for the least able (went down very well when being observed!) and a Tarsia activity.

NOTE: feel free to browse my shop for more excellent free and premium resources and as always please rate and feedback, thanks.
Read more