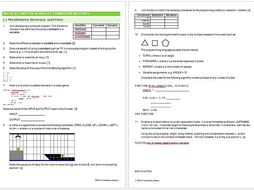 OCR GCSE Computer Science 2.2 Programming Techniques Exam Assessment Questions
12 page document
36 questions and answers, covering 2.2 Programming Technique.
Students should answer questions on separate paper (saves photocopying)
A range of questions for all abilities
About this resource
Info
Created: Feb 14, 2017
Updated: Feb 22, 2018
Other resources by this author
This is a funny script taking around 10 minutes to perform. It is essentially about a knight plucking up the bravery to ask out the princess. It ha...
clickschool
https://www.clickschool.co.uk/seatplan **LATEST**: Online seating plan generator - paste lists from SIMS or similar, group/distribute students, sho...
clickschool
The idea is that students complete them on the computer, then upload to their eportfolio/VLE. The worksheets can be modified to suit your requireme...
clickschool
Popular paid resources
When these booklets are printed you have 8 theory lessons primarily based on the BBC Bitesize website. Follow the bitesize online pages and activit...
anthellison
Lesson: Merge sort, (lesson plan & x 6 resources) (GCSE Computer Science) • To understand and explain how a merge sort works An easy to follow ...
Teacher_aesg
Includes the following x1 hour lessons: linear search binary search bubble sort merge sort Format of the lessons: Starter activities Presentations ...
Teacher_aesg
Updated resources
This is a fun active lesson for GCSE Computer Science pupils that uses a version of an "Escape Room" game. The pupils work in teams to complete a n...
nwilkin
This game helps students relate X & Y axes to the real world. It should be used with my Drawing with Scratch Advanced-ish download to get stude...
jkemm
Use this worksheet in lesson or set it for homework, plan what your sprites will look like in Scratch, how they will move and how they interact wit...
jkemm