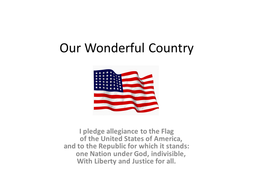 Our Wonderful Country: Presidents, liberty
The PowerPoint presentation includes the Pledge of Allegiance, photos of Washington D.C., information about presidents, and being a good United States citizen.
About this resource
Info
Created: Jul 28, 2015
Updated: Aug 19, 2015
Categories & Grades
Other resources by this author
Students will view and discuss the artist Jim Dine then recreate their own heart art. A simple art lesson that relates to Valentines day with a hea...
peppergill
During the middle ages, monks would copy books by hand and would illustrate the first letter of the first word on a page or at the start of a parag...
peppergill
Students will view the PowerPoint and discuss the positive and negative spaces and shapes created by cutting away shapes from the heart shape and g...
peppergill
Popular paid resources
3 YEARS OF KS3 PSHE - complete package (110 hours). This 3 year KS3 pack covers all the PSHE Association's recommended topics for Years 7, 8 and 9 ...
EC_Resources
20 Resources

5% off

$87.42

$

83.05
A 6 hour PSHCE unit all about Human Rights and responsibilities. The unit covers what rights and responsibilities are, how we are affected by these...
EC_Resources
General Elections Citizenship Resources. 1 hour PP, worksheets, clips, well differentiated, KS3/ KS4. These resources have been designed to be enga...
EC_Resources
Updated resources
Comprehensive Presentation that Covers: Socialism Definitions, Socialism and Human Nature, Socialist Values, Social Class, Class Conflict, Socialis...
jh081326
'Getting It Together: From Colonies to Federation' is a middle years resource provided by the Museum of Australian Democracy. This extensive resour...
MoADLearning
Designed for use by teachers as professional development, this interview unpacks objects which align with content in the Australian Curriculum. Tea...
MoADLearning