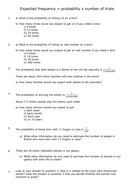 Probability - Expectation and Murder
Cross-curricular lesson looking at how probability can be used and misused in criminal court cases.

The aim is to represent probability as something vital that needs to be understood by everyone (including juries) and something memorable.

Looks at expected frequency, but could just as easily be adapted to cover conditional probability as well.
Read more